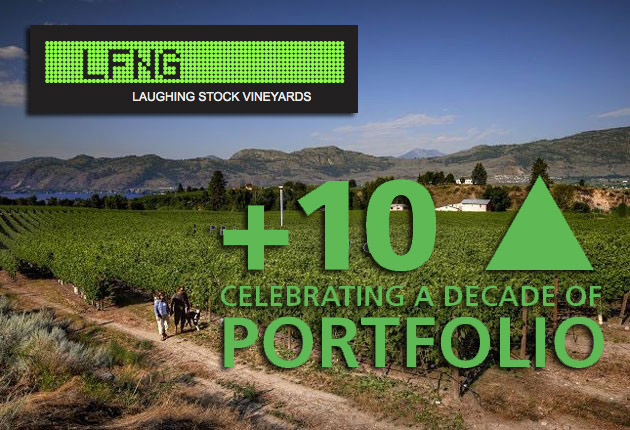 There is a quality winery Laughing Stock (www.laughingstock.ca) on the Naramata Bench in the Okanagan Valley of British Columbia that deserves more recognition. Consultants in the investment business who switched to wine now finds Cynthia Enns the family vineyard manager and her husband David Enns is the winemaker. There were 100 wineries in BC when they started with their first vintage of 2003 but now the industry has exploded to over 273 today. The 37th Vancouver International Wine Festival (VanWineFest.ca) showed 170 wineries from 14 countries spotlighting Australia as the 2015 theme country. Still it was a wonderful opportunity for the Enns at a popular seminar moderated by this writer to spotlight a 10 year vertical of their amazing Bordeaux blend called Portfolio. Here are some brief impressions of the wines served:
2003     64 merlot 33 cabernet sauvignon 3 cab franc. Only 500 cases of a very hot vintage of 1494 degree days with nearby forest fires is on a ripe stewed slightly alcoholic plateau with smooth textures of merlot for best drinking now. Only 8 Tons from 3-10 year old vines.
2004     55 merlot 35 cab sauv 10 cab franc. Cool year like 2011 left for 21 months in oak but is lean herbal and drying out but would show better with food. 32 Tons
2005     59 merlot 33 cab sauv 3 cab franc 4 malbec 1 petit verdot . Year of firsts-new gravity fed winery, all 5 varietals, foot stomped grapes, cap air turned, sorting tables-shows blueberries charm and drinking delightfully. 43Tons.
2006     61m 16 cs 16cf 5malbec 2pv. Right bank Bx styling with lowest amount of cab sauv using some whole berry ferment making an open softer forwardly statement.
2007     56m 25cs 12cf 6m 1pv. Still a deep colour with elegant balance using larger puncheons and more familiar with their vineyards.
2008     53m 24cs 12cf 9m 2pv. Finding the style they want plus using some in-barrel ferments because so juicy quality lovely delicious fruit here. Aging well and the group 2nd fav tie
2009     36m 27cs 22cf 14m 1pv. Full rich balanced impressive fruit with sage herb complexity of the terroir. Highest cab franc with 2012 and adds real middle body quality and length. Ranked 1st by group.
2010     32m 42cs 6cf 18m 2pv. Most cabernet sauvignon with cooler fruit and harder edges of power and concentration. Will improve.
2011     42m 32cs 17cf 7m 2pv. Coolest year with only 1195 degree days with late picking of merlot October 14-cabernet sauvignon 2nd week November is very herbal but structured for further aging.
2012     45m 25cs 22cf 7m 1pv. More oak showing but deep ripe with a special sweetness. So classy. Needs more time to evolve and develop but already group 2nd fav tie.
Exciting progress already made with amazing quality in the cellars of ripe consistent fruit from both 2013 & 2014 in the pipeline. Get in line to order.
Like the non interventionist policy used by the Enns with low sulphur, little racking, no fining, no filtering, tight grain aged French oak staves and not over oaked. Cab franc doing well in picking up oak early from 500 litre puncheons.
The Global focus for the latest Festival was 170+ expressions of Syrah-Shiraz from the Rhone to the Barossa. However Laughing Stock also makes a fabulous one and 2012 Syrah which is their 5th release with 4% viognier certainly brings the ripe cool fruit of Northern Rhone and Cote Rotie to mind.  Recommend you check this winery out for these excellent wines!
---
You might also like:

Loading ...