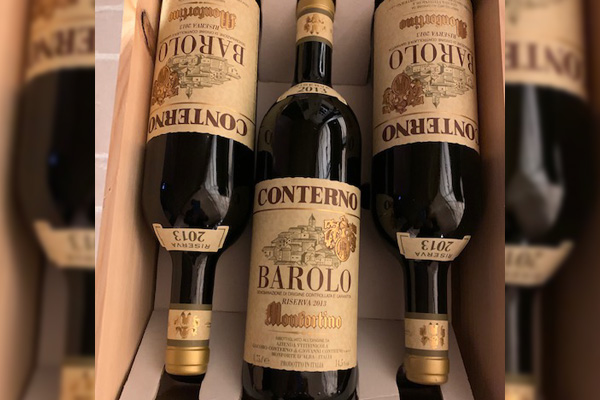 Time of the Year to reflect back on the wines you enjoyed most during 2019. There are so many Top 10 wine lists out there for your consideration. They usually range from good values to the esoteric to super expensive. In these days of record high prices for "trophy" wines it is becoming something most special to have opened and to experience some of these rarities as they usually instead go to an auction. Your scribe was fortunate to try so many cherished bottles during the past year. Some highlights include outstanding aperitif bubbles in best format of magnum with 1990 Pol Roger, 1990 Dom Perignon, & 1976 Krug Collection through dramatic digestif sipping of 1967 Chateau d'Yquem, 1966 & 1963 Vintage Ports, 1939 Rose Muscat Gurzuf vine The Massandra Collection The Crimea from Sotheby's, 1863 Taylor Single Harvest Pre-phylloxera Tawny, and 1827 Madeira Bual Henriques & Henriques. Lots of exceptional white and red table wines with appropriate food pairings included historic 1990 & 1978 Hermitage Blanc J-L Chave and 1990 Clos St. Hune Trimbach; 1990 Rhone: Cote-Rotie La Moulin Guigal, Hermitage Rouge J-L Chave, & Chateau Rayas Chateauneuf du Pape; 1990 now opening up red Burgundy: DRC, Dujac, Rousseau, and Vogue; 1989 Haut-Brion, still remarkable rich 1982 Bordeaux (such as Mouton, Grand Puy Lacoste, and Gruaud Larose) and surprising old style California cabernets led by excellent 1991s J. Phelps Insignia & Mondavi Reserve and a wonderful 1974 Mayacamas magnum. Any of these would be worthy candidates for a Top 10. However also enjoyed so many treasures from Italy in 2019 including 1988 Masseto, 1988 Sassicaia, 1985s Brunello from Soldera Casse Basse & Biondi-Santi Riserva to fond memories of 1968 Taurasi Riserva Montemarano from Mastroberardino. In the end decided to go with only one meal and all Nebbiolo wines for the summit of my 2019 wine and food experiences.
A dinner in Piedmont on October 12, 2019 at La Ciau Del Tornavento in Treiso was a tour-de-force by Chef Maurilio Garola, Chef Marco Lombardo and Nadia Benech with several local wine principals attending the event which resulted in it being the most memorable indeed. Check out the amazing menu! Including also a few other wines for consideration from earlier dinners on October 10 at 3 star Michelin Piazza Duomo with Chef Enrico Crippe and Vincenza Donatiello (young 1982 Barbaresco Santa Stefano Riserva Bruno Giacosa, wine of the night 1982 Barolo Cascina Francia Giacomo Conterno, elegant balanced 1978 Barbaresco Sori San Lorenzo Gaja, and concentrated 1978 Barolo Villero Giuseppe Mascarello) and on October 11 at Ristorante Guido Da Costigliole Relais San Maurizio Santo Stefano Belbo of Andrea Alciati & Monica Magnini (1990s Barbaresco Santo Stefano Riserva Bruno Giacosa & Barolo Monfortino Riserva Giacomo Conterno) in my final wine list.
Fortunate to sit next to Maria Teresa Mascarello (MTM) of Bartolo Mascarello (BM) at this October 12 dinner and to receive her valuable knowledgeable insights. We liked the Rinaldi flight so vibrant fresh with high acidity (especially 1989) but preferred the balance of 1971 but MTM says "too young". First flight of BM great with 1990 charming bouquet (1989 usually a better a year) which MTM says "is ready to enjoy now with perfect balance and softer tannins" almost Burgundian styled while 1986 more Bordeaux-like structure with younger stronger tannins. 1986 opens with airing in the glass and "will develop well". Both grand format BM 1958 & 1955 are sensational mature yet still fresh made by her father and grandfather. "Recipe is still the same every year traditional in making 1000-1200 magnums." MTM "would have the 55 on its own without food because it is a joy with soft tannins." 1958 perhaps more delicate and refined but drying out a little bit. 1955 has more depth of fruit left and more acidity and MTM loves the "smoky nose". The Giacomo Conterno flights show a more powerful rich style compared to the lighter elegance and finesse of BM. Depends on the Nebbiolo style you prefer. All producers have done an outstanding job in letting the terroir of Barolo vineyards sing brightly in its many complex genres. MTM prefers the somewhat earthy 64 (improved and cleared with airing) and "believes the balance of lively acidity and tannins to be the key for best Barolo" while 67 has a touch of VA (some sommmeliers preferred this so must have been bottle variation) and 61 most complete. Excellent Zalto Barolo glasses being used here helps a lot. Monfortino is a very special unique vineyard from Cascina Francia and all three of these vintages 61, 58, and 55 are truly majestic putting a smile on your face. The plethora of delicious white truffles with every course didn't hurt either. Roberto Conterno jokingly said that the host "for 2 years has been annoying us with communications and visits to make sure this dinner is properly set up." Our generous host of this remarkable event so aptly put it all into perspective stating that "wines that make me happy are the best wines – not 100 pointers!" I heartily agree. Very happy 2019 indeed.

center
---
You might also like: