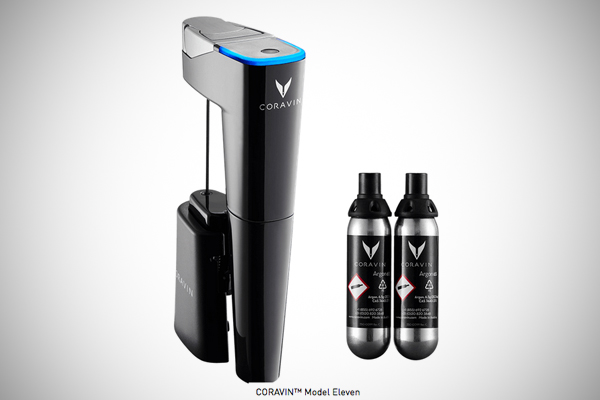 Since your scribe first alerted you to the growing popularity of virtual tastings these new wine seminars have really taken off. Seems now like the old days of appointment television is back only updated. Every day features some interesting program you need to tune into to educate yourself on wine. Luckily many of them are being saved for later viewing on websites and on YouTube. Many of them are listed for your old TV Guide reference on a useful virtualwineevents.com website.
One eye opener event last week was the inspiring interview of Greg Lambrecht the inventor of Coravin by Antonio Galloni on Vinous Live. Greg's background is physics and business school with an early medical tech job in using needles under the skin for chemotherapy treatments. Greg developed an early interest in wine with "a labor of love" reason to find a way to sample some great bottles. His first Coravin was back in 1999 using a trumpet valve. Much testing with refining followed including using various needles plus different gases from nitrogen to carbon dioxide to finding the magical argon before the first Coravin was marketed in 2013. He tells good stories about some wine professionals still not believing it works until they do a blind test with at least 4 glasses of the same wine (some with and without the use of Coravin). He thinks it could be an inherent bias against "in your head as the placebo effect" until you do an actual blind test to prove validity to yourself. He has kept bottles after Coravin use for 14 years that still are in good shape. Recommends if used on cold bottles or very old ones to leave standing up to seal the hole in the cork ("like blood clotting") before lying down for longer storage. Stresses the importance of press & release to save argon plus cleaning your Coravin when finished for the night with hot water so no cross-contamination results next time. His exciting Model Eleven (that number used because he can't count like in "Spinal Tap") was released last year the first of the new digital series. Overall sales are up as consumers stay home sampling their wine collections of special bottles even though restaurants which are heavy users are closed. Check it out.
For more information check out the Vinous Live interview of May 15, 2020 on YouTube and an excellent detailed article of September 16, 2019 by Evelyn Lok Deputy Editor of lifestyleasia.com in their Food & Drink on Coravin founder Greg Lambrecht.
You might also like: