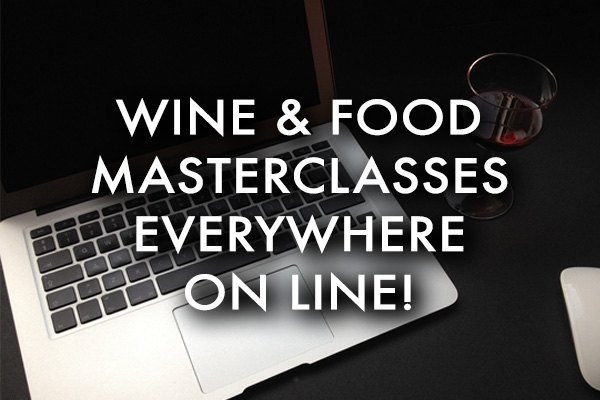 Hard to believe this unusual 2020 year is nearly one third over already. Started out by attending many wine and food Masterclasses in person but the past 6+ weeks has seen a plethora of them on line. This last week your scribe monitored over 25 of them. Get a life! Perhaps too many are disguised seminars as simply marketing tools to stimulate sales for a specific product or brand. Still there are some fantastic insightful educational ones out there you need to watch. For everyone in lockdown stay at home mode it is an unbelievable opportunity to learn more about our favourite subject of wine and food. Referenced this happening of Virtual Tastings in last week's Blog but it has exploded more so in just one week. So many highlights including BC wines 2019 Vintage Preview Part 1 (Part 2 on April 29), 67 Pall Mall in depth wine features, California Wine Institute Episode 3 with Rory Williams on Frog's Leap Winery (Episode 4 with Jason Haas of Tablas Creek on April 28), Benchmark with Sommelier Eric Segalbaum, Justerini & Brooks interview of Katharine Prum on Mosel, Chefs' Table Society of BC on Comfort Foods, Blackbird with winemaker Aaron Pott, Churchill's Port, Red Mountain Washington among others. Two that are standing out as especially informative for can't miss appointment viewing are Acker Wines with Sommelier Arvid Rosengren, Northern Rhone focus, and Jean-Marc Roulot (upcoming Riesling with Paul Grieco April 27 & Carlton McCoy of Heitz Cellars April 29) + Vinous Live with Antonio Galloni (and sometimes Neal Martin) Monday to Friday one hour in depth with Roberto Conterno, Andy Beckstoffer, Kevin Systrom, Saskia de Rothschild, and Whitney & Rob Fisher (with 5 more scheduled this week).
For IWFS branches not presently able to hold meetings suggest members catch a 90 minute substitute now posted on You Tube by Halpern Wines of Crew Classe At Home with Chef Daniel Boulud & Frederic Engerer Volume 7 from April 24. Tour de Force event organized by Adam Halpern with winemakers from 5 properties of Artemis Domaines paired with appropriate food courses as follows:
1. Domaine D'Eugenie with Michel Mallard: 2014 Batard Montrachet showing young, fresh, stone expressive, with a long palate paired with Daniel Boulud delicate lightly smoked Danish smoked salmon with caviar and buttered brioche. Raj Vaidya his head sommelier chimed in with the wine needing rich food for the taut firm character of acid tension in 2014 white Burgundy.
2. Chateau Grillet with Jaeok Chu Cramette: 2017 Chateau Grillet just released from tiny 3.5 hectare monopole from a hot year is golden yellow intense and powerful with some spice & alcohol. Daniel from nearby Lyon suggests Sole Polonaise (or mushrooms) with a bit of black pepper. Raj finds the wine earthy with stone fruit pairing well with the cauliflower, capers, and bitter almonds in the dish.
3. Michel back with 2016 Vosne-Romanee Clos de Eugenie red (neighbour of La Tache) with energy, aromatics of spice & mint from this elegant vintage. Paired with Tuna wrapped in Panchetta an original recipe from 27 years ago when Daniel restaurant was first opened in NY. Not smoked and crisp outside from cooking plus chanterelles, sweet & earthy young garlic with pork jus in the sauce. What a pairing.
4. Clos de Tart with Alessandro Noli with 2017 from this legendary winery now undergoing major renovations having cellars now finished with 15 new tanks (replacing 8 stainless steel ones) for different sectors of the vineyard all to be completed by next year. 100% whole bunch complex aromas with red & black fruits plus roses & violets with structured silky tannins matched with whole roasted duck with rhubarb & braised turnips. Raj impressed with charming 2017s so forwardly aromatic so young and approachable.
5. Chateau Latour with Helene Genin (since 2002 & winemaker since 2007) showing 2012 to be released soon. Wet & cool Spring with long slow ripening extracted very gently to keep tannins easier. Tight but elegant and though less concentrated is balanced, delicate and spicy. Course to match is perfectly grilled juicy lamb seasoned with herbs of mint, sage, and thyme plus dried black olives for earthy tones but soaked in water first to get out the salt and then add in EVOO.
6. Eisele Vineyard with Helene Mingot showing 2016 Napa Cabernet Sauvignon (also have a citrusy flowery Sauvignon Blanc from heavier clay soils at the back of the canyon) paired from Daniel's kitchen with quintessentail American Burger with spinach, avocado, homemade tomato sauce, smoked Hawaiian salt and garlic grilled bread.
Time to check out some of these Masterclasses. Do you have any recommendations for us of your own picks? Wonderful substitute for the old real in person connections and likely will be seeing a lot more of these in our future. Stay safe!
You might also like: