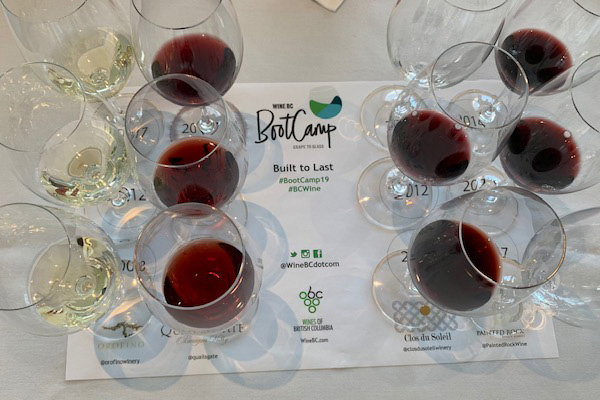 Just attended a wonderful educational program called Wine BC BootCamp organized by the always forward thinking BC Wine Institute to increase global awareness of this Province as a unique premium wine region. This was the third annual one and the best yet with knowledgeable influential enthusiasts invited from all over Canada plus USA, UK, Hong Kong and Shanghai China. The sessions were organized and ably moderated by Rhys Pender MW and his team over 4 days including meals with insightful wine pairings plus cutting edge Masterclass topics for discussion led by winery principals. A brief summary of 10 highlights would include these:
1. What makes British Columbia wine country so UNIQUE? History lesson welcome looking at climate and #BCVQA quality standards. Changing from 75% white to now only 25% but still with only some 12,000+ acres far behind leaders Spain 1.24 million, China & France at 1.9 and Italy 1.7. Nearing 300 wineries (3 times that is growers) with 84% total acreage 185 wineries 4 GIs in Okanagan Valley, 6% Similkameen 15 wineries, but diversely spreading to 32 Vancouver Island, 25 Fraser Valley, 4 Gulf Islands, 2 Lillooet, 4 Thompson Valley, 10 Shuswap, and 6 Kootenays. Some important factors of climate influence on resulting wines:
(a) Naturally high levels of acidity
(b) Naturally intense fruit flavours
(c) Naturally high levels of tannins in the reds
(d) Warm to hot days over a shorter compact season with cool nights
(e) Long sunlight hours
(f) Cold winters
(g) Rain shadow dry conditions
2. Diversity-Terroir, Culture, Cuisine in Southerly Oliver Osoyoos region of 33 km from McIntyre Bluff to USA border supplying 60% of all grapes grown in BC.
3. Soils & Geology. Soil scientist Scott Smith gave a detailed review of the silt loam sandy character lower down, granite & gravel above on the higher slopes together with calcium carbonate of spreading alluvial fans all contributing diverse complexity. Admirably using more science to base his evolving GI (Geographical Indication) expansion of BC appellations than used in òother places.
4. Digging Deep in Similkameen Valley examining 3 pits dug out at Corcelettes Estate Winery showing typical dirt, Stemwinder with some chalk, and mixtures of soils with and without stones but with that constant wind blowing through cooling down plus keeping the grapes clean.
5. Brilliant highly recommended new Row Fourteen Restaurant at Klippers in Cawston highlighting the micro-climates of the Similkameen wines at delicious lunch using local ingredients.
6. Tasting 88 top BC wines and choosing some which match best to regional chef preparations for a dinner menu. Classics like a Rhone white blend with Arctic Char to a daring Syrah with dark chocolate dessert worked well.
7. The "Why" behind the "Where" of 30 wineries along a winding 15 km road of Naramata Bench on the east side overlooking Okanagan Lake.
8. BC's Top Varietals featured not the most planted Pinot Gris & Merlot varieties but Riesling, Chardonnay, Pinot Noir and Syrah both tasting disclosed textbook fine examples plus trying blind against International examples and faring very well indeed!
9. Super "Natural" BC including Orange, Wild Ferments, Concrete, Ancestral…
10. Built to Last – The Ageability of BC Wine. Longevity most promising from natural acidity, intense fruit, and impressive structure shown in 4 mini-verticals each of 3 wines each held at Painted Rock where long hang time for reds there continues into November for this promising but cooler year 2019. All these wines certainly showed encouragement for aging:
(a) Riesling Orofino 2008 still pale vibrant colour same young look as 2012 & 2017 but has lovely developing petrol. John Weber says all high acid (9-11) with low residual sugar (2012 has most at 9 g/l)and drinkable either young or older with more complexity. Your choice.
(b) Pinot Noir Quails' Gate Stewart Family Reserve 2017 and earlier picked 2013 holding well as is warmer year 2009. Ross Baker says style changing somewhat with less skin contact (16-18 days) and 45% new French oak but giving the consumer what she expects from it. Richard's Block is a different clone with more structure and allows them to play, push, and experiment more with the variety. Place is key for pinot noir with sandy soils lighter more forwardly while more structured to age from most appropriate soils including clay.
(c) Signature Bordeaux Blend Clos du Soleil 2008, 2012, and 2015. Michael Clark started with south side of Osoyoos fruit but 2008 had that plus some younger Similkameen while 2012 only 5% from Okanagan and 2015 only their 2 Similkameen sites. Getting more of that distinctive graphite, mineral, smoky notes of his specific terroir own grapes now with the future looking bright indeed. His wine science background is valuable and he is managing his 3 tiers of Bordeaux blends well with a sometimes "less is more" mentality for excellent aging potential.
(d) Cabernet Sauvignon Painted Rock 2007, cooler 2011, and 2014 all still developing. Owner John Skinner after long search for great property potential planted in 2005 and first crop 2007. Smart to plant Chardonnay on north part where 5 degrees cooler and this cab on the warmer sections. Encouraged by Consultant Alain Sutre telling him that his yet to be picked 2019 reds should be his best cool year yet. Structure and approach make for long aging wines.
BC wine is on the move with wines looking more age worthy all the time.


center
---
You might also like: