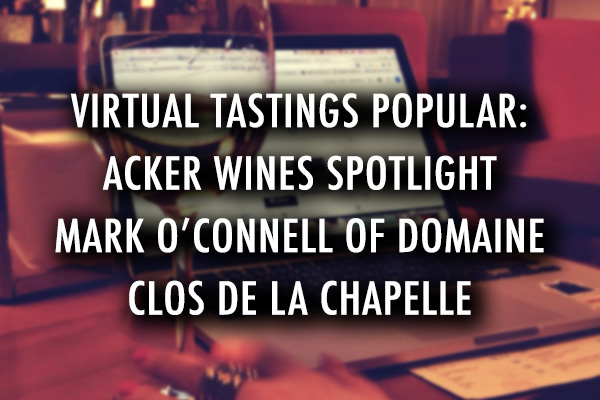 Busy past week spent at home including many video-audio webinar virtual tastings. A superb new way to pick up more current wine knowledge. Lots of them out there now on the web anxious to get your following. Enjoyed many including on Vinous most ably hosted by Antonio Galloni (Alex & Graeme Macdonald in Napa, Gaia Gaja, Cathy Corison, Morgan Twain-Peterson MW on Zin), Wine Institute hosted by knowledgeable Elaine Chukan Brown (Jasmine Hirsch Sonoma Coast & Cathy Corison Napa,), Benchmark (Erik Segelbaum on Bordeaux Unlocked,), Blackbird in Napa with Winemaker Aaron Pott, and Adam Halpern interviewing Sangiovese innovator Paolo De Marchi of Isole E Olena Chianti Classico & son Luca De Marchi of Propieta Sperino in northern Piedmont. Also some good showcases by dynamic John Kapon of Acker Wines both on Zoom & Instagram with legendary importer Martine Saunier and new Burgundy producer Mark O'Connell of Domaine de la Chapelle.
This last one your scribe found especially fascinating. Here you have a wine lover attending France regularly and buying wines at Hospices de Beaune auction through Christie's 2006-2009. Mark expands his interest in 2010 working a harvest for the first time and in 2011 buying (with Philippe Remoissent and Pierre Meurgey) a monopole vineyard in Volnay Domaine Clos de la Chapelle founded by Victor Boillot in 1865. He quickly moves to owning 11 different appellation wines (all 1er Cru & Grand Cru with 3 whites and 8 reds) and obtaining an oenolgy degree at UDavis. They are introducing changes in vinification and following organic and biodynamic farming practices. Mark claims now to be the only American owner-winemaker in Burgundy. 2011 was the first year he actually made wine and this year 2020 already will be their 11th vintage. WOW!
Mark's vintage opinions on his wines are briefly summarized as follows:
2010 loves structured wines of this vintage even though he didn't make them;
2011 rather good Cotes de Beaune results hot early harvest end of August but 100% destemmed grapes – quite a contrast to 2016 in style;
2012: Lost 80% of the crop resulting in very concentrated wines expressive now but better complexity with 5-9 years more aging;
2013 & 2014: Quite tiny crops for them;
2015: Classic breeding reds with 20-25 years still to go;
2016: Cooler year later harvest end of September with much lower yields (frost & mildew) with 50% whole cluster (50% destemmed) with more fruit plus elegance;
2017: Really likes it with no disease and compares 1999 & 2002. Good young like 2000 (but still good today too) with less breeding than his 2015 & 2016;
2018: Believes these are his best reds ever made from Clos de la Chapelle;
2019: Warm and very ripe with concentration even more than 2015 & 2016.
Like his emphasis on expressing vineyard terroir. Describes so well the differences in his Volnays:
EN CARELLE at slope bottom with 50% clay & 50% limestone is simpliest with straight forward very Volnay style intro for drinking first;
CLOS DE LA CHAPELLE has more refined mid-palate in a "Lafite" style;
TAILLEPIEDS can "cut your feet" on the 2/3 limestone & 1/3 clay higher up on the hill. Lower pH with darker colour. Serious wine brooding more powerful textures in a "Latour" style.
Amazing story already and he hasn't raised his wine prices since inception. Mark is a wine collector appreciating to try in establishing first a reputation for fine wines and building a producer following. Well done values.
Lots more wine webinars scheduled for this week. Worth checking some of them out!
| | | | | | |
| --- | --- | --- | --- | --- | --- |
| SKU | QTY | Wine | Price | | Score |
| 133646 | 6 | Clos de la Chapelle Beaune Champs Pimont 2015 750ml | $ 79.00 | | 90pts, JG |
| 142155 | 36 | Clos de la Chapelle Beaune Champs Pimont 2016 750ml | $ 79.00 | | 91+pts, JG |
| 148770 | 13 | Clos de la Chapelle Beaune Teurons 2017 750ml | $ 70.99 | | 92+pts, JG |
| 143230 | 10 | Clos de la Chapelle Corton Bressandes 2013 750ml | $ 119.00 | | 93+pts, JG |
| 142156 | 12 | Clos de la Chapelle Corton Bressandes 2016 750ml | $ 119.00 | | 95pts, JG |
| 148776 | 14 | Clos de la Chapelle Corton Bressandes 2017 750ml | $ 109.00 | | 95+pts, JG |
| 145578 | 6 | Clos de la Chapelle Corton Le Rognet 2014 750ml | $ 109.00 | | 94pts, JG |
| 145162 | 9 | Clos de la Chapelle Corton Rognet 2011 750ml | $ 79.00 | | 92pts, WS |
| 8878 | 24 | Clos de la Chapelle Pommard Chanlins VV 2014 750ml | $ 69.00 | | 94pts, JG |
| 133647 | 12 | Clos de la Chapelle Pommard Chanlins VV 2015 750ml | $ 79.00 | | 94pts, JG |
| 142153 | 36 | Clos de la Chapelle Pommard Chanlins VV 2016 750ml | $ 79.00 | | 94pts, JG |
| 142153 | 10 | Clos de la Chapelle Pommard Chanlins VV 2016 750ml | $ 69.99 | | 94pts, JG |
| 142160 | 12 | Clos de la Chapelle Pommard Grands Epenots 2016 1.5L | $ 209.00 | | 94+pts, JG |
| 142154 | 36 | Clos de la Chapelle Pommard Grands Epenots 2016 750ml | $ 99.00 | | 94+pts, JG |
| 148777 | 2 | Clos de la Chapelle Pommard Grands Epenots 2017 3L | $ 594.99 | | 94+pts, JG |
| 148772 | 10 | Clos de la Chapelle Pommard Grands Epenots 2017 750ml | $ 109.00 | | 94+pts, JG |
| 142174 | 10 | Clos de la Chapelle Volnay Carelle 2006 750ml | $ 59.00 | | |
| 142151 | 36 | Clos de la Chapelle Volnay Carelle 2016 750ml | $ 64.99 | | 91+pts, JG |
| 145875 | 9 | Clos de la Chapelle Volnay Clos de la Chapelle 1er Cru 2017 750ml | $ 89.00 | | 94+pts, JG |
| 111489 | 2 | Clos de la Chapelle Volnay Clos de la Chapelle 2010 750ml | $ 99.99 | | 94pts, JG |
| 8749 | 5 | Clos de la Chapelle Volnay Clos de la Chapelle 2014 750ml | $ 79.00 | | 92+pts, JG |
| 145874 | 2 | Clos de la Chapelle Volnay Clos de la Chapelle 2015 750ml | $ 109.00 | | 94pts, JG |
| 142158 | 12 | Clos de la Chapelle Volnay Clos de la Chapelle 2016 1.5L | $ 179.00 | | 94+pts, JG |
| 142148 | 36 | Clos de la Chapelle Volnay Clos de la Chapelle 2016 750ml | $ 82.99 | | 94+pts, JG |
| 148780 | 4 | Clos de la Chapelle Volnay Clos de la Chapelle 2017 3L | $ 615.99 | | 94+pts, JG |
| 145163 | 5 | Clos de la Chapelle Volnay En Carelle 2011 750ml | $ 49.99 | | 91pts, BH |
| 145164 | 2 | Clos de la Chapelle Volnay Les Taillepieds 2011 750ml | $ 79.00 | | 90pts, WS |
| 143232 | 12 | Clos de la Chapelle Volnay Taillepieds 2013 750ml | $ 99.00 | | 93pts, JG |
| 8812 | 10 | Clos de la Chapelle Volnay Taillepieds 2014 750ml | $ 99.00 | | 93pts, JG |
| 142152 | 36 | Clos de la Chapelle Volnay Taillepieds 2016 750ml | $ 79.99 | | 94pts, JG |
| 148781 | 2 | Clos de la Chapelle Volnay Taillepieds 2017 3L | $ 551.99 | | 94+pts, JG |
| 148773 | 6 | Clos de la Chapelle Volnay Taillepieds 2017 750ml | $ 99.99 | | 94+pts, JG |
| 142157 | 12 | Clos de la Chapelle Corton Charlemagne 2016 750ml | $ 159.00 | | 95pts, JG |
| 143373 | 24 | Clos de la Chapelle Corton Charlemagne 2017 375ml | $ 85.00 | | 95pts, JG |
| 143372 | 36 | Clos de la Chapelle Corton Charlemagne 2017 750ml | $ 159.00 | | 95pts, JG |
You might also like: