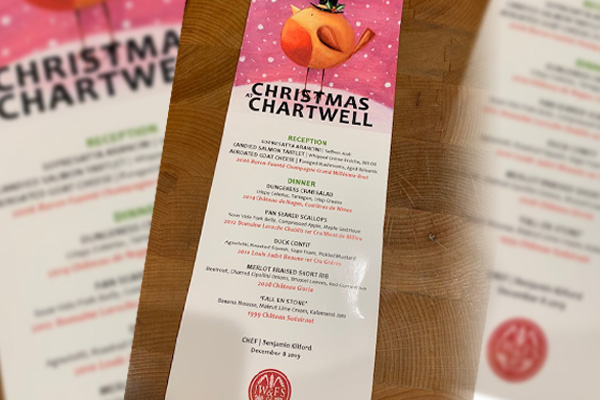 The IWFS Vancouver Branch has a long history of memorable successful year end holiday celebration dinners. Earlier days focused on member's doing the cooking of special dishes to show how different countries spotlighted a variety of their key food items in festive menus. More recently these events have been held at hotels or private clubs but four of the last five have been in the historic majestic surroundings of Chartwell at the Four Seasons Hotel. It was most appropriate that this one on Sunday December 8, 2019 was held there for the last time as the hotel will close down on January 31, 2020. A nostalgic evening remembering some of the many outstanding meals enjoyed there since the hotel opened way back in 1977. It indeed was a training ground for so many talented chefs over the 40+ years starting with the brilliant Chef Michel Clavelin preparing French cuisine to the present Chef Benjamin Kilford. Look at the photos of the enticing flavourful dishes prepared by Chef Kilford and his brigade. Member Nick Wright cleverly toasted both Canadian founder-owner "Issy" Sharp's vision of the importance of service in hospitality from the guest's perspective plus fondly that outstanding gentleman the late Ruy Paes-Braga with his amazing personable hands-on approach for such a long time as GM-VP. Some great memories but sad it soon all is coming to an abrupt end.
The Vancouver Branch of IWFS is thriving under the leadership of Milena & Jim Robertson who do such an admirable job of organizing a diverse yearly program of food & wine functions that are always stimulating. This latest one again showed how astute they are together with the insightful help of members Kim Mead & Alvin Nirenberg in acquiring delicious excellent wines at the best most reasonable price for the advantage of our members. Other Branches could get valuable tips from them in buying the best Quality-to-Price-Ratio QPR for wines to be served. Kim commented on the wines in her usual well-researched way with a delivery of personal comments that held your attention. Well done.
Your scribe was impressed with the amazing smart choices QPR of these wines:
2006 Baron-Fuente Champagne Grand Millesime Brut is a negociant but owns vineyards and also buys "sur pied" picking the grapes themselves of this value priced riper vintage blend of 45% Chardonnay, 40% Pinot Meunier, and 15% Pinot Noir with long lees aging resulting in a rich creamy toasty style.
2014 Chateau de Nages ButiNages ("gather nectar") Costieres de Nimes Blanc is from younger vines in Southern France of Grenache Blanc & Roussanne in an unoaked pure rich spicy stone fruit with lots of easy flavours. Dungeness crab is the perfect outstanding "treat" for the holiday season!
2012 Chablis 1er Cru Mont de Mileau Laroche is intense citrus with minerals again good value for a classic Chablis so suited for seafood.
2010 Beaune 1er Cru Greves (one of the best of 36 Premier Beaunes) Louis Jadot is a perfect fairly priced pinot noir from a top vintage matching well with the agnolotti duck confit course.
2008 Chateau Gloria St.Julien unclassified but textbook still underrated from the early days of Henri Martin to the present with this sleeper vintage. Good fruit definitely QPR on lovely drinkable plateau.
1999 Chateau Suduiraut Sauternes with lots of attractive pineapple coconut lush notes paired delightfully with the dessert.
Happy holiday season is under way.


center
---
You might also like: