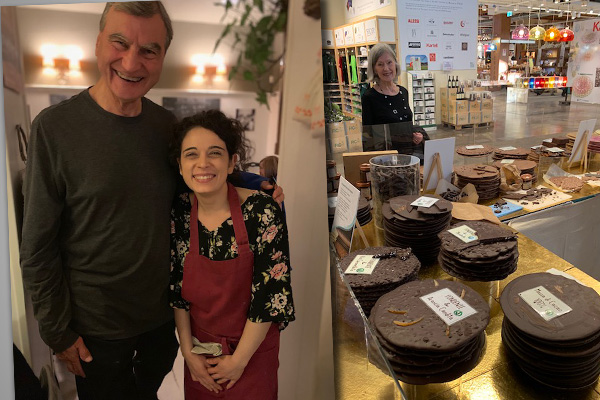 One of our favourite cities for a holiday is Bologna Italy. It is the most populated city of the Emilia-Romagna region (ahead of Parma & Modena) but much more. A lively rather small university town that is so perfect for covered walking with overhead protection from sun, rain, snow, wind and other weather elements. In fact there are some 40 kilometres of these unique porticos including the 666 arches of the invigorating uphill walk from the Cathedral of Bologna to the hillside Sanctuary of the Madonna of San Luca. Lots of historic sites and tourist attractions to keep you busy. However the main draw for us is the continual exploration of their still underrated but special food scene. Long known particularly for their salty salumi cured meats like mortadella and salami (including more coarsely ground sopressata) change is definitely coming. Pasta especially Tagliatelle with Bolognese meat sauce is still prominent and delicious but newer exciting menu ideas are emerging too.
Enjoyed an 11 night stay this September in Bologna and impressed again at the amazing quality of the restaurants and the still outstanding values for both meals and wines with top service included. Share a Top Ten of some highlights for you:
1. Traditional style places with bargain prices:
(a) Trattoria Anna Maria – Check out Tortellini en brodo but use the smallest worst wine glasses ever.
(b) Osteria Dell'Orso – Popular student hangout crowded for cheap pasta Bolognese.
(c) E'Cucina – Excellent for meat, fish or veg plus included water, vino, bread & coffee.
(d) Sfoglia Rina – Good Lasagne verde & Grimigna pasta with sausage at Community table.
(e) Tamburini – Right in downtown centre cool deli for lunch buffet with octopus salad.
(f) Pasta Naldi – via del Pratello 69 for freshly made pasta take away
(g) Pizza MozzaBello – via del Pratello 65 daily specials.
2. Places to be among the stylish crowds include the many food shops between Le Due Torri & Piazza Maggiore especially on Via Orefici & Via Pescherie Vecchie. Check out Eataly nearby.
3. Fico Eataly World – a newer Italian immense free agri-food supermarket/food fair on outskirts easily reached by Bus #7 for 7 euros return. There are processing factories, restaurants, markets, outdoor animals and lots to see and learn about but no one is there.
4. Great coffee – Caffe Terzi, Forno Brisa, and Forno e Risto Pallotti breakfast.
5. Outstanding gelato – Fav chocolate best ever at Cremeria Cavour, plus Santo Stefano, Galliera 49 (delicious intense nocciola), Il Gelatauro and of course Grom.
6. Market produce – Mercato Delle Erbe 25 via Ugo Bassi. Two useful lunch spots Banco 32 with posted website daily changing fish menu & Altro with change of pace fresh market cooked vegetables.
7. Super Grocery Store – PAM on via G. Marconi & Riva Di Reno.
8. Bologna is on major rail lines for day excursions to Modena, Parma (take bus 23 to last stop Parceggio Est and tour the Parmigiano Reggiano dairy followed by their tasty lunch at Caseificio Ugolotti), and Firenze – Must have world's best Grand Cappuccino at Caffe Rosana, visit Mercato Centrale, wood fired pizza at Gustapizza, and two best gelato places of treasured Vivoli (best chocolate orange) and Neri (best passion fruit).
9. LA TRECCOLA via Mascarella 75. Newly opened but so impressed with quality ingredients and cooking talents plus ideas of Chef Di Matteo and Maitre d/Sommelier Paulo that we dined there for 2 dinners. Innovative Maltagliati pasta with pumpkin, Linguine with dried salted cod baccala, delicate light gnocchi, fresh fish, and their own home made digestif of limoncella, basil, or fav one rich chocolate. Smart wine buying too included remarkably fresh lovely bottle of 2018 Falanghina white from Puglia (not from the usual Campania region) for a steal at 17 euros and local Romagna Sangiovese red from Nicolucci for only 16 plus their excellent 2018 Tre Rocche Sangiovese Superior with some wood aging for 19. Wow! A place to monitor for deserved future recognition. Go now.
10. TRATTORIA VIA SERRA via Luigi Serra 9 (behind central Train Station). Outstanding lunch enticed us back for a dinner as well. A must as Chef Tommaso Maio & Manager Flavio Benassi are doing fantastic culinary adventures here. Wonderful dishes like salted cod with cauliflower, succulent stuffed thigh of guinea fowl, tortellone di ricotta with butter-sage, cylindrical shaped caciotta with fresh porcini mushrooms. Value 2016 Aglianico Campania for only 22.50 euros. Delightful charming service by Emmanuella. What a fantastic Trattoria!
Have you been to Bologna or do you have another food destination in Italy you would share?

center
---
You might also like: