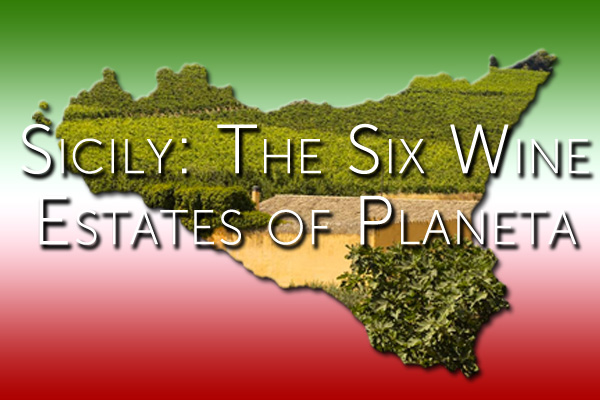 Image courtesy: planeta.it
In 1995 the 17th generation of the Planeta family embarked on a Sicilian wine journey that has already reached some 22 wines from 6 quality Estates in different regions of Sicily. A well done wine venture!
Impressed by my visit this month to their first one of 93 hectares ULMO near Sambuca di Sicilia producing 5 wines led by their oaky from 50% new barrels international styled Chardonnay plus a slightly sweet yet savoury white blend Alastro featuring 70% Grecanico (+15% each of Grillo & Sauvignon Blanc), Plumbago is drinkable ripe plums Nero d'Avola, single vineyards Sito dell'Ulmo juicy Merlot and Maroccoli minty spiced Syrah. Smart how they planted early on here in 1985 with the international varieties like Chardonnay, Merlot, and Syrah to see the potential of wine in Sicily and with the success shown have now turned to focus on the native varieties.
Their largest Estate of over 120 hectares in vineyards is DISPENSA also in Western Sicily on the hills of Menfi. Enjoyed staying right in the vineyards at their 2009 built ever so comfortable La Foresteria resort with outstanding food and hospitality. Definitely recommended. The 5 wines were interesting too with my favourite the flowery 2014 Cometa white from 100% Fiano grapes. Different from the more well known Fiano from Campania this one displays intriguing tangerine, chamomile, hay, with herbal basil and thyme. Should be a good pairing even with Thai or Indian cuisine. The big powerful 2010 Burdese Cabernet of 70% Sauvignon and 30 % Franc has a tannic structure with 14.5 alcohol. The popular blends of La Secreta Bianco & Rosso make for easy every day drinking as does the strawberry Rose of equal parts Nero d'Avola & Syrah.
DORILLI in Southern Vittoria has 34 hectares on red sandy soils with enticing aromatics for the 3 wines of floral spicy roses Frappato and Sicily's only DOCG (since 2006) Cerasuolo di Vittoria & their special Dorilli Classico both aged in bigger 500 liter casks. These last two a blend of a majority Nero d'Avola with Frappato have an extraordinary elegant fruit character of strawberries and cherries with a compelling citric acidity. This impressive 2014 vintage will only get better with a little bottle age.
At the south east tip of Sicily by the picturesque town of Noto is 51 hectares of BUONIVINI featuring Nero d'Avola and Moscato. The hit is the well structured Santa Cecilia of 100% Nero d'Avola that does particularly well here in Noto. The 2011 was showing fragrant jasmine, orange zest, blackberry and graphite with only previously used Allier oak barriques. The limestone soil and the big range in daily temperatures in the summer are both keys to the complexity obtained.
The exciting new Etna project at FEUDO DI MEZZA is one to watch. It began with plantings in 2008 on those northern slopes around the old village of Passopisciaro with a winery in 2012. They have a refreshing sparkling Brut from Carricante grapes used as well for a still Bianco & Eruzione 1614 (with 10% Riesling) marking the legendary eruption of that year. The star is 100% Nerello Mascalese for both the Etna Rosso & Eruzione 1614 red. Lovely forest floor and spice with a unique minerality from the terroir including lava and volcanic dust!
The final Estate is their small 8 hectare north east Mamertino DOC called LA BARONIA on Capo Milazzo. Mix Nero d'Avola with 40 % Nocera for a lower alcohol easy drinking red fruity wine. Innovative experimental plantings are being studied of varieties like Vitraruolo,Lucignola, and Catanese Nera. Monitor this. Also 20 hectares of old olive groves.
Their admirable SOStain program evalutes 10 top resources including ground, water, energy, human, etc. for best sustainable agriculture. They have improved every year and are now nearly perfect with over 90% success.
Quite a winery success story by Planeta in just over 20 years. Congrats and keep it going!
---
You might also like:

Loading ...