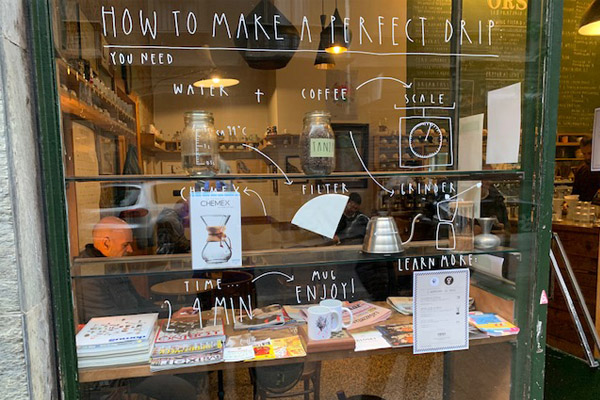 Living in North America your scribe does not usually imbibe in the morning coffee routine enjoyed by so many. Find the beans and methods used are too often resulting in very high acidity with less mellow flavours plus finishing bitterness all not really desired. Usually opt instead for green tea. However when ever visiting Italy a morning coffee is a must treat. IMHO Italy has definitely the know how, the water, the best beans, the best roasting and the best crafting of this beverage in the world. Sort of like comparing drinking a plonk wine against cherishing a Grand Cru.
Discovered so many delightful coffee treasure locations over the years that have become must return visits. Mentioned in an earlier blog how the large Cappuccino at Caffe Rosana in Firenze is a real must. Just discovered another one in Turin that has to be added to my top 5 list. It is ORSO Laboratorie Caffe Via Berthollet 30g (orsolaboratorio.it) embarked on a specialty coffee concept since 2014. Their focus on quality and diversity to suit your preferred taste is most commendable. The result is real coffee of amazing mellowness and complexity that finishes so pure and long that lingers on your palate for some time without bitterness. So balanced. A good thing! Highly recommend you check it out.
Do you have a coffee place you would share with us?


center
---
You might also like: