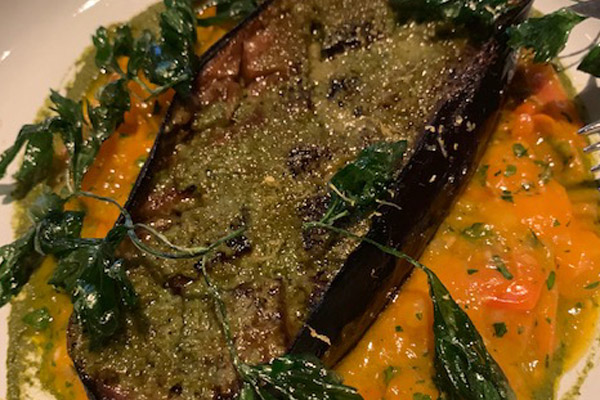 We see more and more specialized theme restaurants these days. It can be difficult to execute one type of cuisine well yet alone diversify. Steak houses have been around for ages with their emphasis mainly on the top quality beef served. Look at what Wolfgang Puck has done more recently with his successful CUT chain around the world with his latest one in Washington DC. You might expect some complementary sides to accompany that steak like mushrooms, onion rings to feature potatoes – like those legendary one pound "gargantuan" baked Idaho at Canlis, Mortons, and Smith Wollensky. However, generally you don't think of choosing to go to a Steak House and not ordering steak. That is exactly what your scribe did last week.
Elisa Steakhouse was one of the very best new restaurants to open in Vancouver last year. An ambitious project by the outstanding Toptable Group that already has so many winning restaurants but have added this one with an amazing unique wood-fired grill that lowers and raises the level for ideal cooking methods. It also helps that the capable team is led by the knowledgeable Executive Chef Andrew Richardson who has worked with the On Fire master Francis Mallmann. The beef selections are well chosen from some 9 different producers and are impressive indeed. Patrons also are excited about their whole slow-roasted chicken which has become a big hit since the opening. Lots of other menu choices to suit most everyone's preference in your dining group. A whole tartare section for appetizers leads off with the "classic" beef or smoked bison but a tasty vegetable one with avocado & taro chips is so popular.
This dinner visit though was a birthday surprise for my wife to celebrate it with a most delicious aged bottle of Taittinger Comtes de Champagne 1998. We wanted to match these special bubbles with the best fish dish in town to go with it. Of course an easy choice let's go to Elisa Steakhouse for their whole Branzino grilled over that fire with charred lemon and expertly deboned at your table. Wow! Really like too that starter of Roast Eggplant with basil pesto, slow cooked tomatoes, charred pea tip salsa verde & crispy herbs. Q.E.D.
Congrats to the whole Elisa team for taking this outstanding steakhouse to yet another level of diversity! Well done.


center
---
You might also like: