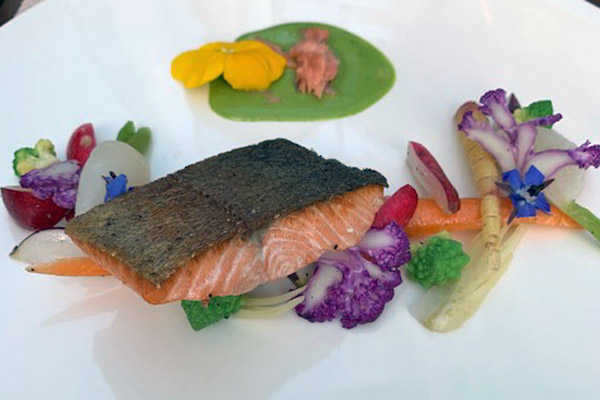 Some of us keen food aficionados have been a bit peeved by the usual Canadian omission from those annual lists of The World's Best Restaurants. Lots of different factors come into play for this result. One is the diversity of food products produced in Canada. Another is almost too many locavores and not enough focus on the national picture. This all is changing by the work done by a lot of us but brilliantly led by Anita Stewart, C.M., LLD (Hon), M.A.(Gastronomy), P.Ag (Hon) who is Food Laureate at University of Guelph with her #FoodDayCanada "Shining a Light on Canadian Cuisine". This year will be a bigger and better celebration than ever right across Canada with red & white lights shining on @FoodDayCanada August 3. See the website map but BC Place has an early one on August 1 followed by Confederation Centre in St. John's Newfoundland, CN Tower & St Lawrence Market in Toronto, Vancouver City Hall, BC Legislative Assembly in Victoria and so many more. In fact a Twitter Party will start things off on July 30 8-9 pm (EDT) for farmers, foodies and all of us. Join in. Recommend reading this interesting article of "Putting Canada on the Menu" with a shopping list of some 151+ "Maple Leaf on the Label" items to consider using. Canada really does have some unique and distinctively high quality products.
Your scribe attended a fantastic Food Day Canada Preview July 19 on the Wildflower Terrace at Fairmont Chateau Whistler. This dinner truly epitomized the quality that can be achieved by a skilled team using fresh local ingredients in a menu as shown here paired with Roche wines from BC. Executive Chef Isabel Chung, Executive Sous Chef Derek Bendig, Executive Pastry Chef (superb chocolatier) Anup Chaubal and their whole brigade led by Jason Gnanaprakasam Director of Food & Beverage did an outstanding culinary job with superb ingredients so artistically prepared. A bright spotlight of our top food right across Canada like this one is so appropriate. Support @FoodDayCanada please. We will make an impact on those world restaurant lists in the future.
Do you have a national food focus day like this one in your country? Chime in.


center
---
You might also like: