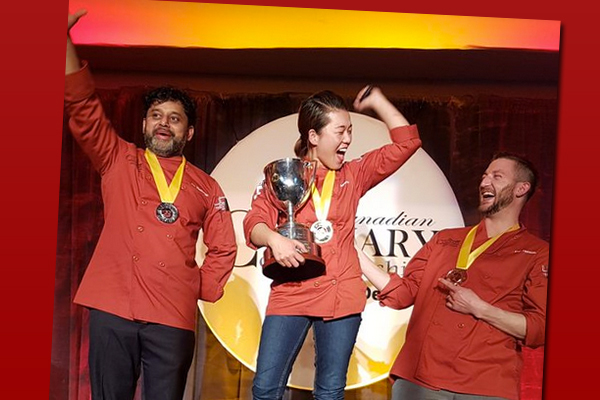 Image: goldmedalplates.com
The Canadian Culinary Championships (CCC) 2017 were held on February 2-4 in Kelowna British Columbia. Eleven chefs (listed below) fresh off their winning regional Gold Medal Plates competitions attended. Net proceeds from CCC are given to the Canadian Olympic Foundation which supports athletes and programs such as Own The Podium which already has raised nearly $12 million. The CCC consists of 3 main competitions: Mystery Wine Pairing, Black Box, and Grand Finale. Your scribe is a Senior Judge representing British Columbia who appreciated again the culinary challenges presented to the talented chefs and offers a few personal insights from the rigorous competition as follows:
MYSTERY WINE PAIRING: Each chef is presented at the VIP Thursday evening reception with a mystery bottle of wine (with no label or other markings) to study overnight and then shop on a limited budget of only $500 to prepare a dish for 400 people the following evening. The wine turned out to be a very variety focused 2014 Unsworth Pinot Noir Reserve with good acidity that lent itself as a good pairing with diverse dishes and wine compatibility was an important 30% of our final scoring (presentation 20, texture 10, taste 30, wow factor 10). Food ranged through fish crudo, chicken livers, pasta, carpaccio, red meat, pork belly and red beets with mixed success. Your scribe felt some chefs did not place enough emphasis on trying to match the bright well defined sweet cherry fruit shown by the wine in the flavours of their dish.
BLACK BOX: This is a difficult 1 hour task of preparing a dish from 7 surprise ingredients. This year the box contained Newfoundland Salt Cod, Saskatchewan Honey, BC Quail's Egg, Okanagan Frozen Tart Cherries, Unbaked Focaccia Dough, Whole Savoy Cabbage, Bottle of Ale. Some chefs presented excellent brandade-style dishes sometimes with less than the ideal amount of bread or potatoes available from their access pantry to soak up that excess salt. Ideally of course the recipe would have been more delicious by soaking the cod in water or milk for 24 hours if you had the time. Others didn't recognize the fish needed any soaking at all and accordingly had marks deducted when they delivered an extremely over salted dish. Creativity accounted for 40% (followed by taste 30, presentation 10, texture 10, wow factor 10). Your individual level of salt tolerance was a factor in your ultimate scoring. Tough!
GRAND FINALE: Unlimited budget and a chance for each chef to show their unique style and talents. Judging was based on taste 40% followed by presentation 20, texture 10, wine compatibility 10 and wow factor 10.  Wide variety of dishes and wine pairings were served as follows:
1. Jesse McCleery of Pilgrimme on Galiano Island BC:  Hay-Baked and Smoked Rutabaga, Onion, Pear, Sourdough, Kelp – Sea Star 2015 Blanc de Noir (also winning best wine competing in regional Gold Medal Plates as so judged by myself with 3 other wine experts).
2. Jinhee Lee of Foreign Concept in Calgary: "Cha Ca La Vong" ("Fry the Fish") Turmeric Fish Mosaic with Dill – Bartier Bros. 2014 Gewurztraminer Okanagan Valley BC
3. Eric Hanson of Prairie Noodle Shop in Edmonton: Spot Prawn with Plum Preparations – Culmina 2015 Unicus Gruner Veltliner Oliver BC
4. Garrett "Rusty" Thienes of Harvest Eatery and Fresh Market in Regina: Sous Vide Saskatchewan Lamb Belly & Pulse Crust, Herb & Nut "Chimichurri", Curried Fenugreek Kefir, Pickled Fennel, Carrot Puree, Pate Bon Bon, Crispy Barley – Dirty Laundry 2014 Kay-Syrah Okanagan Valley BC
5. Scott Torgerson of Radisson Hotel Saskatoon & Aroma Resto Bar in Saskatoon: Black Trumpet Crusted Roast Elk & Cactus Lake Beef Tenderloin with Porcini & Sunchoke Foam, Broccoli Puree, Parsnip, Beef Tendon Puff, Pearl Onion, and Micro Cress – See Ya Later Ranch 2015 Unleashed Pinot Noir Okanagan Valley BC
6. Jesse Friesen of Pizzeria Gusto in Winnipeg: Yellowfin Tuna Tartare, Avocado Crema, Pickled Mango, Serrano Chile Hot Sauce, Unagi, Cilantro, Crackling – Quails' Gate 2015 Dry Riesling Okanagan Valley BC
7. Amanda Ray of O & B Canteen in Toronto: Milk Braised St. Canut Porcelet with Hay Smoked Tamarack Farm Squash & Choucroute -Cave Spring 2015 "The Adam Steps" Riesling Beamsvlle Bench Jordan Ontario
8. Joe Thottungal of Coconut Lagoon in Ottawa: Kerala Spices Infuse Oil Poached Halibut + Fish Curry Crumbs, Woodland Mushroom Aviyal +Lentil Emulsion – Huff Estates 2015 Riesling Off Dry Prince Edward County Ontario
9. Sophie Tabet of Chez Sophie in Montreal: Crispy Veal Sweetbreads, Lobster Ravioli and Bisque, Mushroom Duxelle with Foie Gras & Hay Scented Poultry Jus – Vignoble De L'Orpailleur 2014 White Cuvee Natashquan Quebec
10. Ruth Wigman of Oppidan in St. John's: Crisp Seasoned Chicken Feet, Sichuan Style Glazed Dumplings, Charred Scallion Puree, Crustacean Reduction, Mixed Pickle – Arrowleaf 2015 Gewurztraminer Okanagan Valley BC
11. Mark Gray of Battery Park Beer Bar & Eatery in Halifax: "Degustation de Cochon" A Tasting of Classic Charcuterie Preparations: Mousse of Liver with Foie Gras, Pate of Shoulder Inlay of Tenderloin with Dried Cherry, Terrine of Belly with Apple & Fennel + Accoutrements of Apple Mostarda, Sourdough Crumb, Fennel Marmalade, and Pork Demi Cracker – "A Crafted Cocktail" of Wild Nova Scotia Apple Kombucha, Ironworks Gin & French Oak, Lunenburg Nova Scotia
Ultimately the scores were added up and the "Olympic" culinary medals presented on the podium to Jinhee Lee GOLD, Joe Thottungal SILVER and Eric Hanson BRONZE. Jinhee Lee is a an amazing inventive creative inspired culinary artist hailing from South Korea who I recommend you follow and she is a most worthy winner of gold. Congratulations to all eleven of you for showing us the high quality culinary skills of our chef talent right across Canada. Check out their restaurants!
---
You might also like: