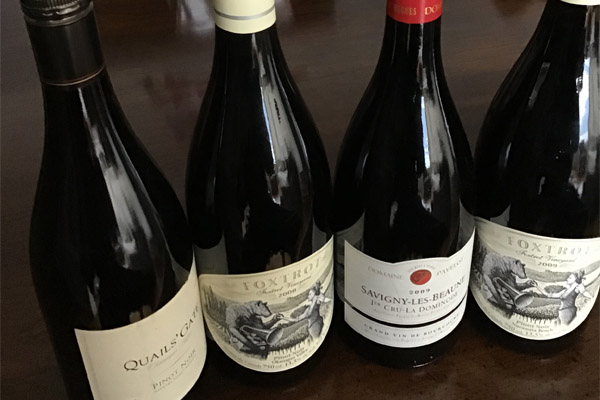 Your scribe announced here on August 6 last year that the purchase of the Foxtrot Vineyards by the Douglas E. Barzelay American syndicate was a big quality endorsement for their pinot noir wines but also for other quality Naramata pinots and all of British Columbia. Everything since then has only reinforced this opinion including discussions with Doug from a Confrerie des Chevaliers du Tastevin dinner at Clos Vougeot in Burgundy on October 6 to here again in Vancouver last week. The latest was a Valentine's Day dinner at Boulevard during their quick visit before they returned to New York on a red-eye flight that late evening. The five of us including my wife Joan, Doug, Managing Director Nathan Todd, and winemaker Gustav Allander had a wonderful experience of wide ranging wine discussions with a focused wine tasting. Naturally the talented team of Executive Chef Alex Chen, Restaurant Chef Roger Ma and Manager Sommelier JP Potters added immensely to the enjoyment. So did a very special vibrant mineral bottle of 2010 Chablis 1er cru Chapelot from Domaine Francois Raveneau matched with their superb seafood dishes. Another celebration toast made was for the newly launched fascinating wine tome by Doug together with Allen D. Meadows of Burghound fame called "Burgundy Vintages – A History from 1845" over 583+ mesmerizing pages plus photos. Really admire some of the candid comment assessments made on the different vintages. A must buy at $79.99 on the burghoundbooks.com site and check out the interesting sample pages from the book already posted.
Also fascinating was a double blind tasting at the inception of this early dinner of 4 red wines the identity of which was only known by your scribe. Much studying and spitting was done with the results a very strong endorsement for the quality and aging ability of Foxtrot pinot noir based on these wines in very tough company. The wines served:
A. 2008 Quails' Gate Pinot Noir Stewart Family Reserve. Only wine in screwcap. A legend already in the Okanagan and a consistent winner on release at the old Canadian Wine Awards and other wine competitions. Still fresh and fruity but lighter bodied with simpler layers. A bit reductive at first decanting but improved with airing in the glass. Holding well with good cherries. Nice elegance.
B. 2008 Foxtrot Pinot Noir. Young colour. Lovely complex stylish bouquet. So many layers of different flavours with a long spectacular finish. Impressive vibrant refreshing acidity knitting it all together. So refined with finesse and so aristocratic. Unique terroir! Cooler year of late picking from October 28. Mix of destemmed and whole cluster at low yields of 28 hl/ha cold macerated for 5 days all helps. This was the unanimous first choice of all of us – a clear winner – and an outstanding wine indeed! No rush to open this. Recommend trying to find it – or some other younger top vintage for your cellar.
C. 2009 Savigny-Les-Beaune 1er Cru La Dominode Domaine Pavelot. My favourite Savigny vineyard from that outstanding ripe fruit vintage. This was definitely darkest burly more concentrated with more alcohol. Popular style of big cherry liqueur fruit. Nice weight but not yet totally together. Should develop further even for this already forwardly year. Atypical vintage but has Burgundian styling nonetheless.
D. 2009 Foxtrot Pinot Noir. Paler rim than others. More herbal initially but developed an earthy forest floor creamy palate with velvet textures. Taste is better presently than the nose delivers. Canopy cover with earlier picking (October 9) at 33 hl/ha in this hotter vintage 2009 makes some difference in the style of the resulting wine. Still restrained and no rush to open. Should develop more.
Certainly another ringing endorsement for the quality of Foxtrot pinot noirs and how beautifully they are aging. Congrats to the whole team and their continuing success story.


center
---
You might also like: