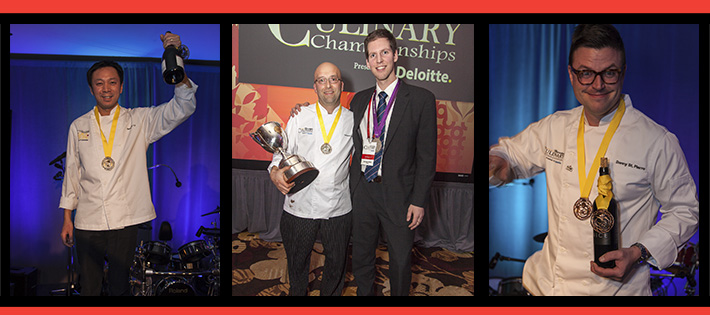 Silver Medalist Chef Duncan Ly, Canadian Culinary Champion Chef Lorenzo Loseto,
Olympic Silver Medalist Rowing Jeremiah Brown, Bronze Medalist Chef Danny St Pierre
Photo credit: goldmedalplates.com

Just back from a busy last week judging the Canadian Culinary Championships (CCC) of 11 competing chefs from across this country. I wrote up a blog on February 11 last year of the 2013 event which you can reference. These events are part of Gold Medal Plates (www.goldmedalplates.com/site/) to raise funds for our Canadian Olympic athletes and were especially topical this year being held while the Winter Olympics are presently being held in Sochi Russia. The CCC has developed into an important barometer of judging the art of culinary excellence in Canada.
All week there were many interesting articles preceding it (www.vancouversun.com/life/Whisks+ready+Canadian+Culinary+Championships+cooking+Kelowna/9483098/story.html) and (www.scoutmagazine.ca/tag/canadian-culinary-championships/) for a good build up of anticipation for the 3 parts of the competition involving a pairing with a mystery wine, cooking the 6 ingredients in the blind black box, and a grand finale dinner plate. It is a very long, gruelling and stressful few days for the chefs – like training for and competing in an Olympic event. Head judge James Chatto sets out a good prelude on his blog www.jameschatto.com together with his ultimate well written summary on the results. Other good results discussion some with photos of the dishes are set out in the blog of The Ottawa Citizen (http://blogs.ottawacitizen.com/2014/02/09/Toronto), Canadian Culinary Championship comes down to white-knuckle finish (www.vancouversun.com/life/Canadian+Culinary+Championships+white+knuckle+finish/9487143/story.html) and (www.flickr.com/photos/31296974@NO4/). Check it all out on Twitter as well with the hashtag #CCC2014.
Do you have a culminating culinary competition where you live? Let us know.

Loading ...