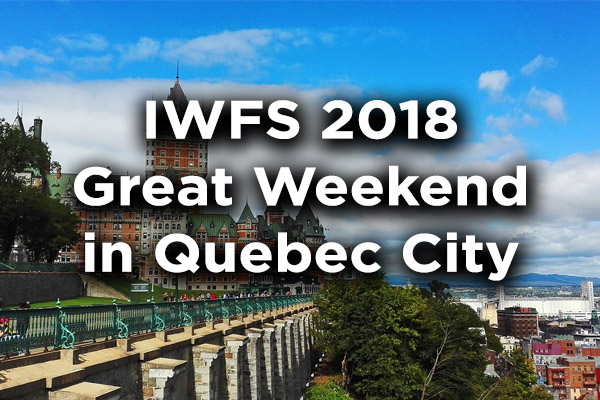 Another success achieved by IWFS Americas Inc.'s (Chairman Mike Donohoe & Director Andrew Jones) Festival & Events Committee (led by Chairman Steve Hipple & Vice-Chairman Steve Greenwald) this one held September 26-29 in Old Quebec City, a UNESCO world heritage site. Limited to just 80 members and an immediate sell-out on announcement the organization was ably assisted by a specially designed App by the E-Communications Committee (Chairman John Danza & Web Administrator Joe Temple). There will be a later more detailed report in our Journal but here are a few immediate highlights and photos:
WELCOME RECEPTION & DINNER on September 26, 2018 at Fairmont Chateau Frontenac in their dramatic Cellar.


center
CITY FOOD TOUR including highlights at Luzz, Tutto Gelato, Ninkasi Pub, Hilton Hotel 23rd floor club, and Cotes A Cotes.


center
CHEZ MUFFY LUNCH was classy but served flaked poached salmon that tasted like trout and lightly seared trout that tasted like salmon.


center
DINNERS AT LE SAINT-AMOUR  &  LE RESTAURANT INITIALE were split into more manageable groups of 40 and cleverly alternated nights. Preferred classic and innovative courses at Initiale by Chef Yvan Lebrun and brigade with enthusiastic service staff. They were brilliant with their wines available including two very smart value quality items of 2016 Auxey-Duresses Blanc from Benjamin Leroux that showed richness of bordering Meursault with vibrant minerals of the terroir & vintage and outstanding 2009 Segla the second wine of Rauzan-Segla in a ripe forwardly vintage. Saint-Amour attempted a matching of lobster with full red Marsannay 2013 from hot producer Joseph Roty that had some merit with the earthy mushrooms but didn't quite work. Best course was a memorable 4 contrasts and textures of chocolate quite memorable indeed.


center
LE PARLEMENTAIRE LUNCH – RESTAURANT DE L'ASSEMBLEE NATIONALE.


center
BLACK TIE HISTORIC DINNER IN JACQUES CARTIER ROOM FAIRMONT CHATEAU FRONTENAC with most informative food and wine commentary by knowledgeable key hotel management. Champagne was actually Drappier Charles De Gaulle composed of finest blend now non-vintage of 80% pinot noir & 20% chardonnay.


center
---


center
---
You might also like: