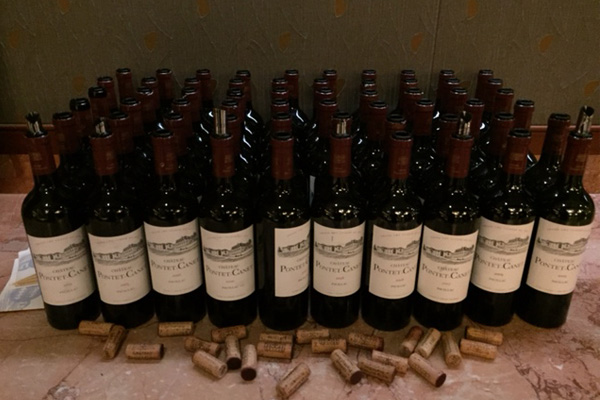 Some remarkable wine and food events were held this last weekend at the IWFS Festival in Baltimore. Highlights included a Madeira tasting, a Burgundian dinner featuring the top wines of Louis Latour, and a final dinner of the last ten vintages of Château Pontet Canet. Your scribe will review only the later function here (and hopefully the other two in subsequent postings).
Quality focused owner Alfred Tesseron was in attendance to lead this grand tasting at the scenic Centre Club with excellent most appropriate food courses of mushroom risotto, duck breast, and long braised Angus short rib successfully matching his excellent wines. True visionary Alfred together with his nieces Melanie & Philippine and the conscientious regisseur (estate manager) Jean-Michel Comme have embraced organic and biodynamic methods allowing that special Pauillac terroir to really sing. They now have 8 horses working 50% of the 81 hectares (planted roughly 65CS, 28M, and 5CF & 2PV) in 2 blocks with the front section of 50 on very gravelly soil. Authorization received for a stable of 20 horses will allow the whole vineyard to avoid the compacting earth factor of tractors but it takes time to integrate each horse into an expanding group one at a time. They also recently purchased the Pym-Rae large property in Napa Valley from the Estate of the late Robin Williams and Alfred was disturbed by the fact he is unable to get any news whether or not it has been damaged by the current wild fires ravaging the area. Also Robert Parker was scheduled to attend but during a physio session this month he badly dislocated his hip requiring immediate surgery so was not able to join us with comments on how these super wines are developing including his two 100 pointers of 2009 & 2010. Therefore here are some insights from Alfred Tesseron and my brief impressions on the vintages as served from oldest to youngest:
2005: First year of organic and biodynamic production shows this excellent vintage to advantage. Lighter than expected but so classic with a minerally delicious balance of fruit, acid and tannins just beginning to come together. Be patient. No rush. Excellent.
2006: Alfred says rain at harvest so maybe didn't pick at the perfect time but feels in a few years it will open up and show more. Found it a bit backward as slightly tough, harder, and drier presently.
2007: Difficult year with humidity and Spring mildew which required chemicals for one week to rescue. Alfred said he should have sat back and enjoyed one of his fine Cognacs and waited a week to see what happened first. Second guessing himself.  Nevertheless the wine is elegant and approachable quite stylish but leafy showing better with food.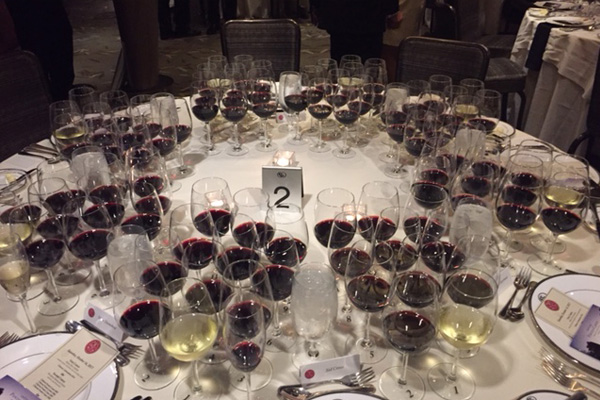 2008: First year used 3 horses and learned a lot about what was best for keeping the soil alive to give a better wine. Previously found this vintage smoother with mocha but more backward this night even though decanted at 2:30 that afternoon. Found it opening up and flavours much better with the succulent duck dish.
2009: Weather changed in June and a great year resulted. Softer but ripe lush easy big fruit almost drinkable now but concentration impressive for the future.
2010: Certified 0rganic-bio by Demeter in 2010. Tesseron family proud of being the only property to get 2 consecutive 100 point ratings by Parker. Your scribe very impressed by the classic structure here with real vibrancy to the intense cooler fruit. Classy Pauillac with an unlimited future!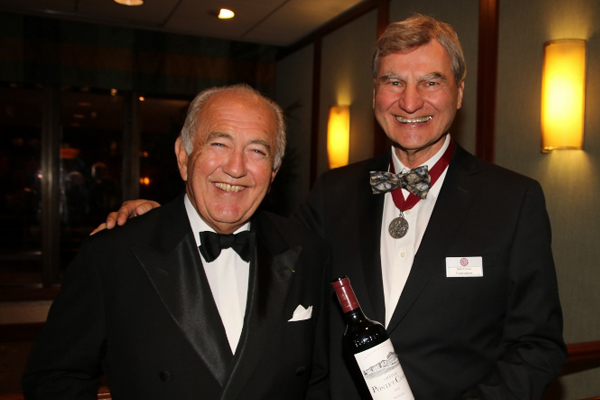 L to R: Alfred Tesseron & Sid Cross
2011: Pressure on them after 2 perfect vintages. Different growing conditions gave a clean but leaner simpler profile here.
2012: Started using some amphora (30-35%) in the cellar and less new oak decision because don't want to hide their good fruit. Solid for a less hearlded year with some spices.
2013: Extremely difficult conditions with nearly everything seeming to go wrong. 20 years ago the vintage would have been a total disaster. Rescued a good crop by strict selection (only used 1/3 of the crop) that Alfred feels is more Burgundian than Pauillac in style. Found it quite herbaceous presently.
2014: Back to normal quantity for them and a vintage that will be pleasant for many years on. Found it clearly best of the last 4 with full fruit and good depth. One to buy now. Also keep a eye out for the 2016 highly recommended!
Have you tried an excellent wine from Château Pontet Canet? Which Bordeaux vintage to you rate highest since 2005?
---
You might also like:

Loading ...