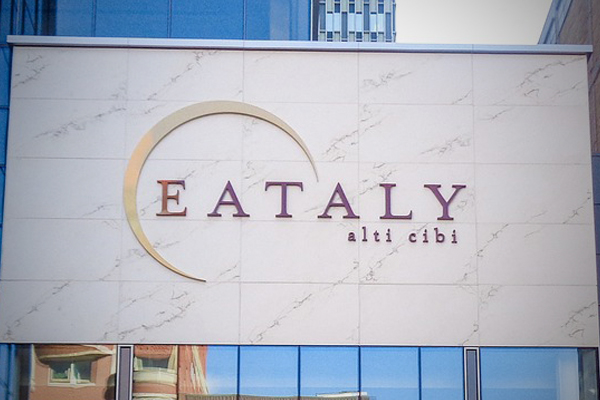 Your scribe last week was in Chicago and while attending Gourmet of the Year celebrations held by Society of Bacchus visited another of the ever expanding Eataly empire with now over 40 stores. Admire what the Founder Oscar Farinetti has done with his concept to spotlight high-quality ingredients in their extensive shopping marketplace and many restaurants. They appreciate the place, the produce and the stories behind everything they sell. You have to support the philosophy of "Eat, Shop and Learn" which really works for lovers of wine and food. Remember that first one opening in Turin Italy back in 2007 and the remarkable expansive New York space in Lower Manhattan (200 Fifth) starting in 2010 with now an added second World Trade Center location. Educational visits previously in LA & Boston and last year was impressed with the wide product selection at the Stockholm Sweden location and noted the wide selection of good value Fontanafredda wines an Alba winery in Piedmont in which Mr. Farinetti also has a major interest. Excited about Las Vegas and Toronto sites that are now in the works. More competition for Whole Foods and other specialty grocers. Looking forward to visiting the big Bologna one in 2019.
What I like a lot is the unique experience at each store using the help of different local suppliers of bakers, butchers, cheesemakers, farmers & fishers with some of their ingredients to include in the products for sale and the restaurant dishes there. It does encourage you to learn about especially quality food plus wines becoming more knowledgeable towards developing a better Slow Food lifestyle for yourself. Of course there are many choice Italian products such as Afeltra's air dried extruded pasta and the opportunity to explore foods from different regions in Italy. The store layout usually includes some "Tasting Labs" where you can perhaps see how fresh mozzarella is made and everything from pasta making, salumi, olive oils, vinegars, bakery, to gelato. La Scuola the cooking school for Eataly has a range of cooking classes, tastings, and culinary events. They are fortunate to have the talented Chef Lidia Bastianich as the Dean of the school overseeing the programs and sometimes teaching.
Recommend on your next travels around the world that you check their website (Eataly.com) to see if they have a location where you are going. Take advantage of this great opportunity to learn more about wine and food!
---
You might also like: