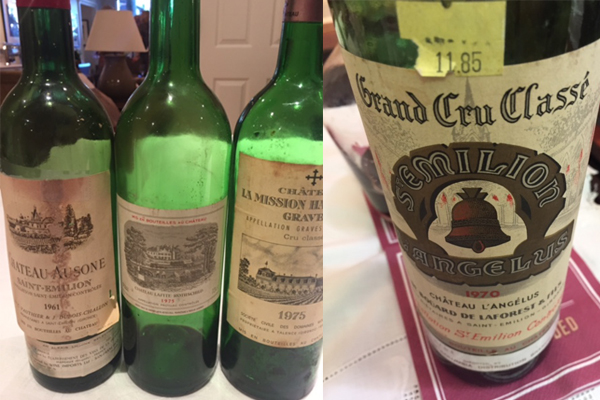 Sunday July 15 was the final of the World Cup with so many of us watching France defeat Croatia 4-2. It was more memorable for your scribe because of an exciting tasting of old red wines held by Alice & David Spurrell at their home. They are an amazing couple longtime contributors to the Vancouver Branch of IWFS but also to the overall thriving local wine and food scene in so many ways. Alice is a talented cook who started a catering business that evolved into the successful cheese shop Les Amis Du Fromage. Dave is a keen insightful wine taster who has been at it since the seventies with his ground breaking Vancouver Wine Club bringing in special imports especially from Germany & Bordeaux not available through the Government's still limited selection. They came up with a wonderful idea to share some of their oldest red wines in a themed "Drink or the Sink" tasting. You will see the list of 38 wines (actually have notes on 40 with 2 more of old style less clean only 14 degree alcohol 1974 Viccarie Amarone & still big fruit 1978 Taltarni Cab from Pyrenees western Victoria Australia by Dominque Portet) which featured reds mainly from Bordeaux and California during the seventies with some sixties as well. Concerned because the first wine tasted of Italian Cabernet Piave was badly corked – for the sink! However the next 39 were a marvellous tasting experience and definitely drinkable. As we all know when wines reach this age they are no longer consistent and bottles will vary – sometimes amazingly so. The service was so admirable with decanting and a walk around format. Some highlights among many:
California: Seventies produced some pioneering cabs led by Mondavi. Their 1975 Reserve not the complex 1974 but lovely smooth balanced elegant tobacco. Even Freemark 1975 holding on in a more herbal style. 1978 Mt. Eden from Santa Cruz & 1975 Mt. Veeder both much more big ripe concentrated fruit but the former had some brett issues. Two that surprised were first vintage lovely 1978 Duckhorn Three Palms Merlot (2014 was Wine Spectator #1 wine last year in Top 100) looks young and is lively though drying & 1979 Villa Mt. Eden by admired winemaker Nils Venge is still impressive. Some spoke highly for 1979s from BV Georges de Latour (great in 1968 & 1970) and simpler Alexander Valley Vineyards as well as rustic 1980 Inglenook at 12.5 & browning 1978 Ritchie Creek.
Bordeaux: So many brilliant bottles here still on useful drinking plateau in the older classic style winemaking. My three favourites were 1975 Lafite (can be bottle variable but this one exquisite open cedar cigar classy bouquet and pure balanced exceptional complexity!) Domaines Woltner 1975 La Mission Haut Brion (still concentrated but seems less tannic now and much more aristocratic more deserving of that once 100 points) and Alexis Lichine Selection by Wine Imports in San Francisco bottle of 1961 Ausone (remember it port styled previously but another well stored bottle here shows merlot/cab franc blend of delicate intensity rather than concentration). 1961 Beychevelle showed extra full richness from that outstanding vintage against their more typical styled greener but easy drinking 1979. Actually all 1975s showed well at 40+ especially an excellent smooth delicious La Lagune though have had better bottles of slower aging more sturdy vibrant Branaire Ducru. 1978 La Tour Haut Brion was another winner solid grand Graves from Woltner over other 1978 late miracle greener year shown typically in Figeac, Gloria and Leoville Barton (not clean some brett). Good comparison of the preferred 1966 against 1967. Showed the difference clearly with Pontet-Canet 1966 Pauillac nose and even some charm. 1966 Calon Segur the heart of St Estephe & St. Julien 1966 Talbot (but not Gruaud Larose depth) though 1967 La Mission does have classy text book Graves tobacco plus turned earth and Ducru Beaucaillou delightfully elegant. Four right bank 1970s were holding on well with L'Angelus (price tag on bottle only $11.85 but compare Paarl Roodeberg says a real bargain of $3.20) best over other two St Emilions of Carbonnieux and Le Pape and Pomerol Clos Rene.
Dinner catered by Dirty Apron delivered good wine pairing food for a unique white blend of Albarino & Verdejo and also a Viognier (last vintage in 2017) from Terra Vista. Foxtrot pinot noir 2015 is Raisin D'Etre single vineyard with 13 year old vines on clay soil using Clone 828 in a more earthy sturdy style than their superb Estate vineyard. Fun to taste 3 bottles of rich 1976 Gewurztraminer Selection Grains Noble from Hugel with 2 different Futs (barrel) all amazing in their depth but slightly different in their freshness with a preference for Fut 20 over Fut 67. Two 40 year old vintage ports showed off their 1977 year but also the house differences from drier Dow style to richer more mineral Warre.
Like this idea of a Drink or the Sink tasting. Very privileged lucky participants attended this memorable one. You should try one yourself to weed out some very old bottles that are gathering dust if you have any left. Quality red wines can age far better than you might think. They go so well with food as well. Hope you will be pleasantly surprised too.


center
---
You might also like: