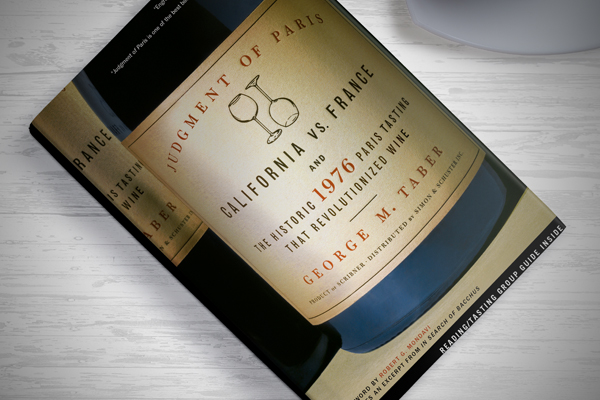 By Joseph Temple
This Tuesday marks the 40th anniversary of the Judgment of Paris—a blind tasting that proved to be a decisive turning point in the history of wine. Organized by British merchant Steven Spurrier in honor of America's Bicentennial, it was perceived to be a lopsided contest between France—the undisputed champion of winemaking—and California, considered by many to be a backwater region known mostly for jug wines and the infamous Thunderbird libation. With most experts predicting that the French would easily steamroll over their competition, every single journalist decided to pass on this event—except for one lucky American in Paris!
Writing for Time magazine, George Taber ended up getting the scoop of a lifetime when two American wineries, Chateau Montelena and Stag's Leap Wine Cellars, won for best Chardonnay and red wine respectively. By defeating France and its iconic terroir, the historic tasting marked a seismic shift for wine drinkers. By putting the Golden State on the map, suddenly all the lesser-known regions were given a fighting chance against the French juggernaut. "If the soils of the Napa Valley could produce wines that bested the best of Burgundy and Bordeaux, what could be done in Australia, South Africa, or Chile?" writes the author.
Documenting this Cinderella story in rich detail, Taber proves to be the ultimate primary source when learning all about this game-changing event. In his 2005 book, Judgment of Paris: California Vs. France and the Historic 1976 Paris Tasting That Revolutionized Wine, readers will not only learn about what happened that day at the InterContinental Hotel, but also the unique history surrounding the region that knocked France off its pedestal.
Nearly wiped out after the end of Prohibition, California vintners had faced hard times in the decades leading up the Paris tasting. With lackluster grapes like Alicante Bouschet and fortified wines dominating the marketplace, a complete and total overhaul was necessary in order to compete for global recognition. Like a last-place team rebuilding in hopes of someday becoming a dynasty, California benefitted greatly by drafting a group of eager and determined winemakers. One such individual was Mike Grgich, a Croatian immigrant who battled tooth and nail in getting to America; he eventually became the brains behind Chateau Montelena's award-winning 1973 vintage. Another was Warren Winiarksi, a Polish-American from Chicago who set up shop in Napa and risked his financial livelihood to create Stag's Leap Wine Cellars.
Backing up these winemakers was the groundbreaking research being done at the University of California, Davis. Studying the terroir at length, UC Davis decided to divide the state into five climate zones with recommendations for the best grapes to grow in each zone. "They determined, for example, that the Yountville area in the Napa Valley was similar in temperature to the Bordeaux region of France and would be a good area for growing Cabernet Sauvignon," writes Taber. "While the cooler Russian River Valley region of Sonoma County was more like the Cote d'Or section of Burgundy and would be well suited for cultivating Chardonnay and Pinot Noir."
Using this information to their advantage, California experienced a colossal transformation in the decade leading up to the Judgment of Paris. For example, according to Taber, from 1961 to 1973, the amount of acres dedicated to growing Cabernet Sauvignon went from 387 to 2,432 and Chardonnay during the same time went from 60 to 785 acres. Reading through the book, you can't help but root for the underdog while taking in all of these facts, complimented by several uplifting stories of competing winemakers working together for the greater good of the region. Realizing that a rising tide lifts all boats, the author quotes Robert Mondavi who sums it up by stating, "We all understood that the more the whole valley succeeded, the better it would be for each of us in it."
Leading up to the tasting, readers are given a detailed look at each wine scored by an assortment of mostly French judges. Unlike the film Bottle Shock, which uses a healthy dose of artistic license and focuses exclusively on Chateau Montelena and its owner Jim Barrett, this book takes the time to walk us through all the marvelous wineries featured in this contest, from Château Mouton Rothschild to Freemark Abbey. This is followed up with a brief biographical sketch of the eleven judges, which included Aubert de Villaine and Odette Kahn—who demanded her scorecard back after finding out that California had won.
But arguably the most important chapter of Judgment of Paris comes from the insight Taber offers us in the aftermath of the "buzz heard round the world." With a readership of 20 million, his Time article was the spark that caused other newspapers to cover this fascinating story, causing wine drinkers across America to rush over to their local shop in search of these hidden California gems. However, if he didn't show up or the magazine declined to run his piece, could the red-faced French have manipulated the narrative? Taber certainly believes so, writing, "If no one from the press had been present, it would have also been much easier for the French and others simply to deny or distort what had happened."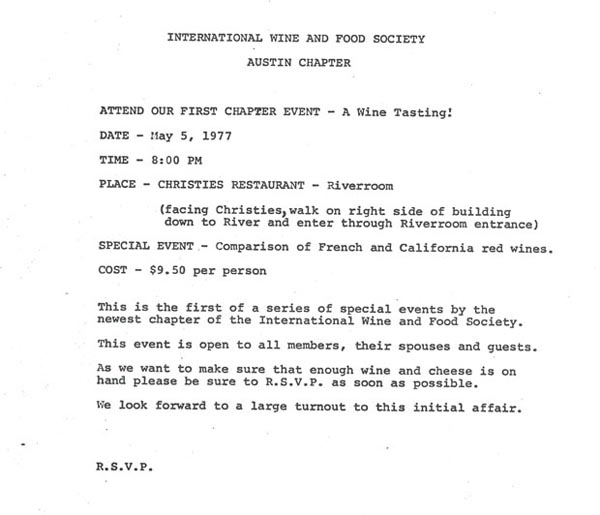 Above: The first event of  the IW&FS Austin, Texas Branch –
"A comparison of French & California red wines" – 05/05/1977
Backing up this claim are many in France who, four decades later, still continue to downplay the results, citing numerous inconsistencies that are discussed and debated in the book. While some point to the fact that California had six wines in each category as opposed to only four French wines, others believe that the vintages from France were too young or that Spurrier didn't select the best ones. Clearly, it is still a sore spot for many French citizens who take enormous pride in being the number one winemaking country in the world.
By interviewing key players along with his firsthand knowledge, Taber has undoubtedly written the definitive account on this legendary tasting. With a narrative that appeals to both seasoned oenophiles and casual wine drinkers, readers are given an important history lesson that impacts the way they purchase and drink wine to this day.
---
You might also like:

Loading ...