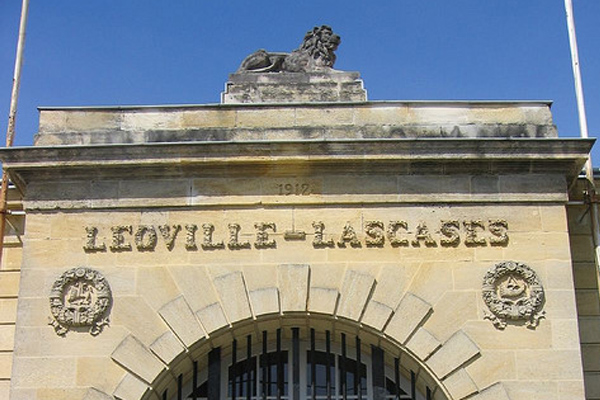 By BillBl (Flickr: Chateau Leoville Las Cases) [CC BY 2.0], via Wikimedia Commons
One of the most respected properties in Bordeaux is Château Grand Vin de Léoville du Marquis de Las Cases in St. Julien ranked a second growth in the 1855 Classification. In fact many collectors feel strongly that it is the best of the super seconds even giving the first growths a competitive run in most vintages. The late Michel Delon did a remarkable job during the eighties and nineties to raise the quality of this property starting what is now a common practice of strict selection of the best casks for the Grand Vin. Their second wine Clos du Marquis has developed a loyal following and is now recognized as an excellent St Julien in its own right at a fair price – check out the 2000 vintage! Michel's son Jean-Hubert carries on this tradition and all their wines remain so consistently elegant.
Your scribe follows this château closely and enjoyed the opportunity to try 9 vintages of same at a dinner vertical on March 28, 2017. Some brief impressions:
2003: Good roasted fruit showing full ripe extraction. A bit atypical for the property in a variable hot vintage. Actually prefer the excellent developing Pauillac Château Duhart-Milon 2003 over this one.
2000: Deep colour with a more classic still somewhat subdued nose expressing some cassis cedar and lead pencil notes. Like the full smooth textures with harmonious balanced pure flavours. Showing well indeed!
1998: Also dark but shows cooler fruit from a vintage that favoured the Right Bank in a fresh lively more herbal style just coming into its own.
1995: Very dark and deep look. Impressive concentration of mineral fruit in a textbook St. Julien style. Tried against the riper sweeter more highly regarded 1996 last year where the 1995 was of at least equal quality. Another excellent showing here where the strict selection for the Grand Vin clearly shows. No rush to consume.
1990: Surprisingly mature paling rim. First wine in vertical that has a compelling bouquet of aged complexity. Charming delicious more forwardly with a softer lower acidity concentrated profile. Popular.
1986: Impressive still young colour. Like the classic very Léoville Las Cases cabernet structure and easy to see why this was a favourite vintage of Michel Delon. Still showing fresh vigour in a drier still tannic mode. Be patient because the future looks very bright for this one.
1985: Interesting to compare with the 1986. This is lighter and showing more herbs from this merlot favoured year. The elegant balance and more supple tannins are lovely for earlier drinking before the younger year. 
1982: Fond history memories of this beauty. Recall trying it blind on initial release in the mid eighties at those exciting Vintner's Club tastings held every Thursday at Café Bedford 761 Post Street in San Francisco. Just think about this wonderful club concept and foresight of always serving most Thursdays 12 quality wines double blind for the member's amazing price of $6.50. One of them turned out to be 12 St. Julien wines of the 1982 vintage where your scribe was blown away by the impressive depth of power plus elegance of the 1982 Léoville Las Cases. This was confirmed shortly after that by another tasting in Vancouver by the Commanderie de Bordeaux of 12 wines from 1982 where Las Cases again showed best over Ducru, Lynch Bages, Palmer and worthy others. Been on a continual search for bottles of this wine ever since those tastings and have enjoyed many of the treasures collected. Here coming in with high expectations again the bottle was excellent & magical with extra dimensions but after 35 years there is inevitable bottle variation resulting in this one not being one of the top ones tried in the last 10 years. Not hedonistic enough! Still it can score close to 100 with a well stored best bottle.
1979: High fill bottle with red young colour preserved by the higher acidity. Leaner simpler from not a heralded year but was the surprise of the night. Holding so well and matches a slow roasted leg of lamb course brilliantly. Tried another 1979 last year against the 1978 with more fruit and the still tannic concentrated 1975 both of which showed more depth than 1979. Encouraging nonetheless to see how all these older vintages of Las Cases dependably age.
Have you tried Château Léoville Las Cases and do you have a preferred vintage?
---
You might also like:

Loading ...