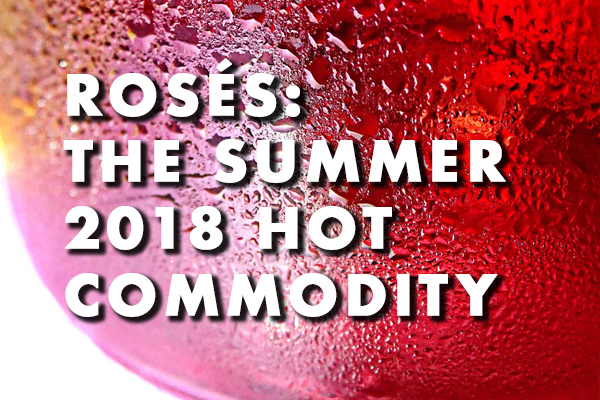 Hard to believe how popular Rosé has become recently. Not only on a relaxing patio during the warmer Summer months but served all year round too. Seems to be presently the go to wine for sure where ever you are. Taking smart advantage of this trend in Vancouver is Jean-Francis Quaglia Chef/Owner of restaurant provincemarinaside.ca & The Wine Bar with his forward thinking wine team. Jean-Francis has fond memories of drinking Tavel several decades ago in his home in the South of France at give away prices but his imported magnums of 2016 Tavel Prieure de Montezargues now cost a pretty penny. They have all the Cotes de Provence hot hits including despite their split Brad Pitt/Angelina Jolie's 2017 Miraval, Domaine de Carteyron: "Cuvee Malyse", Rimaureso Cru Classe mags, and so popular Sacha Lichine Chateau d'Esclans Whispering Angel in monster Imperial size!  Also impressive Clos Cibanne Cuvee Prestige Caroline Tibouren and even Domaine Moulin des Costes from Bandol. They have 48 Rosés with 41 served by the glass and 25% off on Sunday. What a statement!
Rosés seem to be coming from everywhere in the world. Italy is expanding with many indigenous grape varieties used from several regions such as Negroamaro in Salice Salentino Puglia to Chiaretto in Bardolino. Rosados from Spain using Tempranillo and Grenache have been around for a while but other countries testing the market include Portugal, New Zealand, Greece, Australia, South Africa, Germany, Austria, Chile, and Argentina. On your scribe's recent trip to Bordeaux there were lots of local Rosés made from Cabernet & Merlot grapes but these varieties are more difficult to get that cherished delicacy from though Clos de Soleil Winery in the Similkameen Valley BC has produced a full bodied fruity Cabernet one. IMHO the first obligation of Rosé is to be fresh, lively and most charming with the better grapes for that style outside of Provence including pinot noir, gamay, and increasingly pinot meunier. Checking out lots of worthy examples from both 2016 & 2017 consistent vintages in British Columbia. Really like the pink Sparkling Mariani Clone 509 gamay 2017 Rosé (90 cases) with 4 hours of skin contact from Jay Drysdale at Bella Wines. My 2 other favourite Rosés so far are Ann Sperling's delicious 2016 Pinot Noir Rosé with a 24-30 hour soaking at a fresh 11.5 alcohol and Heidi Noble's 2017 Chic Fille (50 cases from JoieFarm) interesting so charming lees character dry savoury Pinot Meunier with 8.6 total acidity and only 10.5 alcohol. Get hip and check out these outstanding Rosés!

center
---
You might also like:

Loading ...