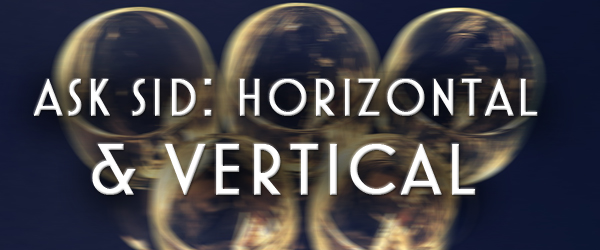 Question: What do they mean by horizontal or vertical?
Answer: Presume you are referring in connection with wine tasting! They are special words for 2 different ways of assessing a group of wines one against another all having something in common.
1. Horizontal tasting is comparing wines from the same year. Usually (but not necessarily) it has a narrower focus of that SAME vintage from a more restricted region – like 2009 red Burgundy, 2010 red Bordeaux or even more specific 2010 St. Julien. This is an educational tool in helping you evaluate at any point of time the quality of wines in that chosen year from the area selected.
2. Vertical tasting is focusing in on a specific wine and trying several DIFFERENT vintages of it – like Chablis 1er cru Vaillons Cuvee Guy Moreau from say 2014, 2013, 2012, 2011 and 2010. This also is very educational allowing you to assess the overall quality of the producer & property, the similarity of the wines, as well as how the yearly weather conditions have influenced each resulting wine.
---
You might also like:

Loading ...