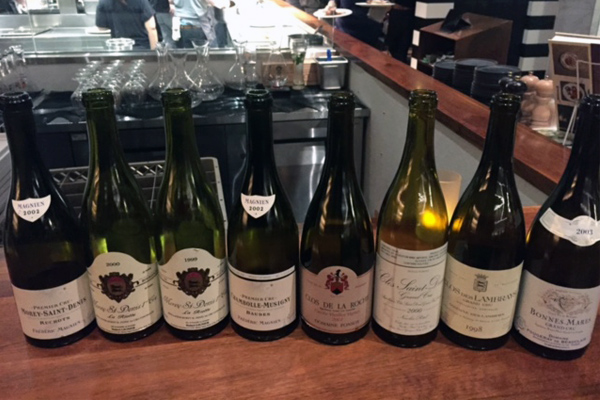 Your scribe wrote up a vertical tasting of Clos des Lambrays on this site on March 19, 2018. Continuing to study Morey Saint Denis (MSD) wines this most trendy of Burgundy appellations where two of the four Grand Cru were recently purchased: Clos de Lambrays in 2014 by LVMH & Clos de Tart from Mommessin by Francois Pinault (of Chateau Latour fame) in 2017. A dinner at Bauhaus Restaurant on May 8th served smoked duck breast, roasted broccolini, orange, and cauliflower veloute plus grilled beef hanger, onions in different textures, and roasted polenta both pairing well with two flights of 8 wines in total as follows:
1. 2002 MSD 1er cru Les Ruchots Frederic Magnien
2. 2000 MSD 1er cru La Riotte Hubert Lignier
3. 1999 MSD 1er cru La Riotte Hubert Lignier
4. 2002 Chambolle-Musigny 1er cru Les Baudes Frederic Magnien
Two stellar 2002 vintage from Frederic the son of Michel Magnien but both these by his son-in-law Patrice Ollivier after they acquired a new press in 2000 that produced a lovely less extracted style then previously made. The other 2 from Hubert Lignier (elder cousin of Georges) but wines made by his son Romain from 1991-2004. Les Ruchots one of twenty 1er cru over 33 hectares (out of 132 total for MSD) situated in a bit of a hollow but deep dark with impressive open nose that improved in the glass while the ringer Chambolle from adjoining south AC more delicate, fragrant and refined but slightly softer in texture as expected. Really like that Les Baudes vineyard and especially enjoying currently the 2009 from Drouhin. What an amazing difference between MSD La Riotte (tried more defined Perrot-Minot last year) Lignier of light peppery almost Rhone-like 2000 and solid young impressive fruit of 1999.
5. 2001 Clos de la Roche Domaine Ponsot
6. 2000 Clos Saint Denis Nicolas Potel
7. 1998 Clos des Lambrays Domaine des Lambrays
8. 2003 Bonnes Mares Domaine Fougeray de Beauclair
These second flight all Grand Cru over roughly 40 hectares with the largest Clos de la Roche just under 17 and other 3 between 6-8 ha naturally show much more impressively. Laurent Ponsot since 1982 a Burgundy legend with a delicious more big bodied balanced example. Potel from the old famous Pousse d'Or family delivers a Clos Saint Denis with textbook gentle delicacy and elegance. 1998 Lambrays picked early and situated in a narrower cool air valley is light forwardly drinking. The Bonnes Mares ringer from Chambolle is the majority of late Bernard Clair holdings leased to Fougeray de Beauclair. Remember this style of fruit from some of Louis Jadot Bonnes Mares over the years. 2003 vintage of much riper fruit with powerful concentration.
Tried yesterday a remarkable value purchase of 2015 MSD from Domaine Dujac that is highly recommended to seek out.
Good review of MSD. Definitely unique without the power & structure of the northern neighbour Gevrey and without the delicacy & fragrance of southern Chambolle but softer than G and more structured than C in a style between the two as expected. Try some.
---
You might also like: