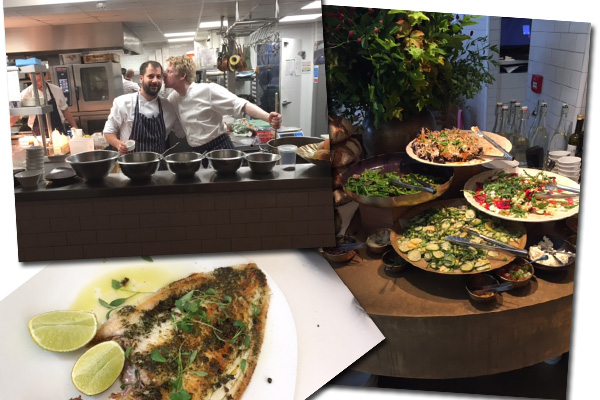 Just concluded participating in Burgundy week celebrations here in London with a tremendous weekend Paulee at Cabotte a wonderful French restaurant 48 Gresham Street on the east side near Bank. Some special bottles brought with notes made by your scribe on over 30 of them including outstanding Coche Dury whites and DRC reds among so many treasures. A later blog perhaps.
We are passionate followers of the recipe writer Israeli-British Chef Yotam Ottolenghi. Really enjoy so much making the dishes from his excellent 5 cookbooks including The Cookbook, Plenty, Jerusalem, Plenty More and Nopi. He is co-owner of several successful delis in London and one sit down restaurant Nopi (www.nopi-restaurant.com) at 21 Warwick just off Regent Street at Beak. Therefore privileged and delighted to have a delicious lunch today at Nopi. Tried several dishes and rated everything tasted very highly indeed! Their mixed seed lavosh with burnt Spring onion dip is an unreal nibbles starter. We loved the char roasted eggplant with tamarind yogurt, pistachio topped by pickled lemon to die for! Even their crispy potato chips and coconut salad mackerel dishes sing clearly. A big surprise highlight was the fresh whole lemon sole on the bone with burnt butter, nori & ginger. Wow what a winner! Another smart move by Nopi is their reasonable winelist together with a just released Summer "bright" choices list by the glass that includes sparkling, appropriate roses, and chilled reds. If you are visiting London this year I highly recommend you check this place out. Also their cookbooks.
Click to enlarge
---
You might also like:

Loading ...