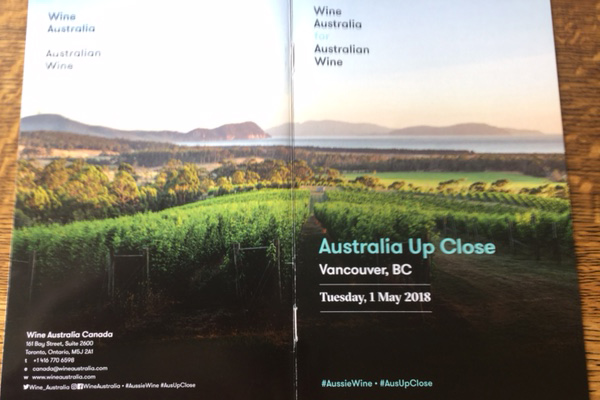 The annual trade wine tasting for Wine Australia "Up Close" on May 1, 2018 gave Vancouver a diverse showing of 165 wines from 17 regions. Impressed with some Riesling including certified organic limestone soil fresh Grosset "Springvale" Clare Valley 2017 and an older delicious textbook Pewsey Vale "The Contours" Eden Valley 2012. Also some Chardonnay like tangerine notes from BK Wines "One Ball" from Adelaide Hills 2017 and Voyager Estate "Broadvale Block 6" 2015 from moderate maritime Margaret River with that signature grapefruit combined with complexity exquisite balance.
The emphasis of a seminar brilliantly led by the entertaining knowledgeable Mark Davidson was focused on sustainability with 3 flights of wines divided into Organics & Biodynamics, Water Management, and Alternative Varieties. It was this latter category however that was a real eye opener. Mark prefers calling them Emerging Varieties but stats from a few years ago show still small but increasing fashionable plantings in hectares of: Tempranillo 750, Sangiovese 450, Vermentino 120, Fiano 110, Nebbiolo 110, Nero D'Avolo 80 among others. Six wines that were unique and quite "cool":
1. Paxton Wines "Organic" GRACIANO McLaren Vale 2017: Lovely aromatics here with funky Morello cherries. Mark calls it a "smashable red" for refreshing drinking like a Beaujolais!
2. Alpha Box & Dice "Dead Winemakers Society" DOLCETTO Adelaide Hills 2015: Made from 15 year old vines uniquely different from Italy but so stylish.
3. Brash Higgins "NDV" NERO D'AVOLA McLaren Vale 2016: Made by an ex New York Sommelier in small clay amphora pots spending 180 days on the skins resulting in a soft aromatic style – very pure apple cider nose!
4. Massena "Dadd's Block" PRIMITIVO Barossa Valley 2017: Different from the usual ripe prunes expected because so much fresher.
5. Lost Buoy "Sand and Pebble" FIANO McLaren Vale 2016: Grape from Italy's Campania displays here from the sea breezes a dry fresh lemony acidity for the floral notes plus pears and spicy ginger apples.
6. Soumah "Hexham Savarro Single Vineyard" SAVAGNIN Yarra Valley 2017: All lemon & lime in a different take on the Sherry-like Vin Jaune from the Jura. Also check out their more expensive 2015 Wild barrel ferment plus use of full solids.
Have you tasted any of these new alternative grape varieties being grown in Australia? Well worth checking out their progress.
---
You might also like:

Loading ...