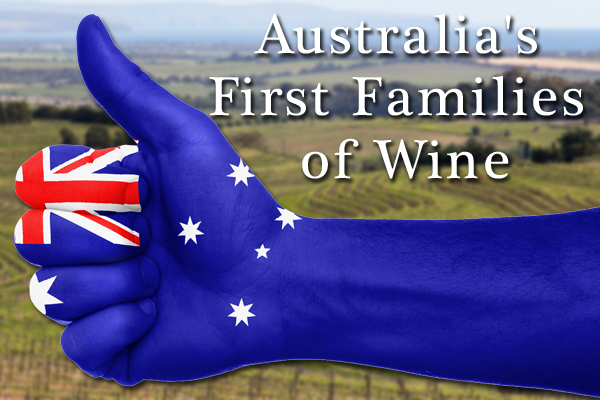 Australia's First Families of Wine (www.australiasfirstfamiliesofwine.com.au/) was created in 2009 by 12 leading multi-generational winemakers representing 16 regions across 4 states. They have just concluded their 2015 tour of USA (San Francisco, New York) and Canada (Montreal Toronto & Vancouver) using a "Speed Dating" tasting format in each city. Each family spends about 5 minutes with a different smaller rotating group showing 2-4 wines. They generously showed with family pride some of the very best wines of Australia. Some highlights:
BROWN BROTHERS  Making wine at Milawa in North East Victoria since 1889. Pure fruit with no wood 2014 Devil's Corner Pinot Noir from Tasmania and interesting take 2013 Tempranillo 18 Eighty Nine from Heathcote.
D'ARENBERG  Established in McLaren Vale in 1912. Hermit Crab 2014 Viognier Marsanne no oak and 2011 d'Arry's Original Shiraz Grenache from 130+ year old bush vines.
DE BORTOLI  Third generation from 1928 in Victoria. 2014 Yarra Valley. Estate Grown Pinot Noir 2014 and Noble One Botrytis Semillon 2011.
HENSCHKE  First vineyards planted in the Eden Valley in 1860s. Henry's Seven Shiraz Grenache Mourvedre Viognier 2013, Mount Edelstone 2010 60th Anniversary of ungrafted vines planted in 1912, and the remarkable 2005 Hill of Grace from 100% Shiraz with original vines over 145 years old.
HOWARD PARK  Cooler Great Southern region in Western Australia. Riesling Porongurup fresh 2014 with developing 2006 and Cab Sauv Abercrombie 2012 with 2008 matured 18 months in French oak.
JIM BARRY  Clare Valley in South Australia. The Florita Riesling 2013 with fresh natural acidity, The Armagh 2006 planted in 1968 low yielding very ripe fruit 15.6 alcohol, and stylish roasty 2002 McRae Wood Shiraz.
McWILLIAM'S  New South Wales back to 1877. Tumbarumba Chardonnay 2013 from higher altitude of 500-800 metres and Cab Sauv 2012 select blocks from Hilltops.
TAHBILK  Five generations with that iconic 1860 Shiraz block in Victoria. 2008 Museum Release Marsanne from world's largest single plantings of this variety, Shiraz "1860 Vines" from Nagambie Lake made in 150 year old open oak vats (first release 1979), and delicious mellow impressive 1992 Cab Sauv Reserve.
TYRRELL'S  Established in 1858 in Hunter Valley. 2010 Vat 1 Semillon with no malo has brilliant honey character just starting to develop, and 2011 Vat 47 Chardonnay again no malo French oak brought back fond memories of their outstanding 1979 made by Bruce's father Murray.
WAKEFIELD  Sold hotel business and into the Clare Valley by the Wakefield River. Single Vineyard St Andrews Block 30A Shiraz 2012 & the elegant 2009 The Visionary Cab Sauv.
YALUMBA  Established in 1849 in the Barossa near Angaston. 2014 Eden Valley Viognier 30 year vineyard ripens late to show personality, FDR1A Cab Sauv 78% Shiraz 22% 2005 "emery tannins", & a just recorked wonderful 1996 The Signature.
CAMPBELLS of Rutherglen is the remaining member but didn't show any wines in Vancouver.
Have you tried any of these producers? Do Families really make better wine?
---
You might also like:

Loading ...