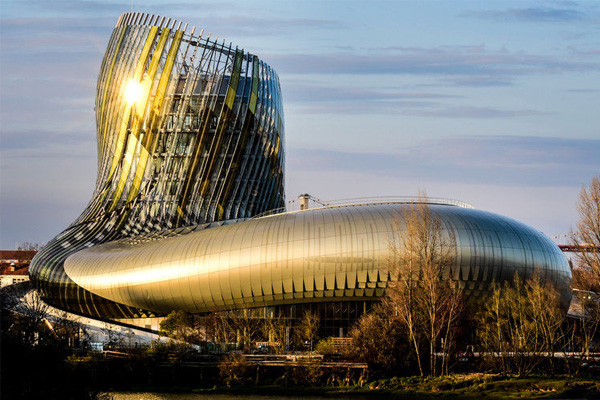 Image: laciteduvin.com
By Joseph Temple
Get ready to expand your definition of the term "wine tourism"!
Earlier this month, the city of Bordeaux unveiled a brand new and jaw dropping attraction—La Cité du Vin —a gigantic wine-themed museum that's guaranteed to lure in oenophiles from across the world. Described as a Disneyland for wine lovers, this ten-story building, which some say looks like a giant decanter, opened its doors to the public after seven long years of construction costing approximately 81 million euros. According to its website, La Cité du Vin "is a unique venue for culture and recreation where wine comes to life through an immersive, sensorial approach, all set within an evocative architectural design."
With an individual ticket price of €20 (which includes a glass of wine), visitors can expect to be blown away by a number of diverse attractions. For starters, you can head up to the eighth floor to the observation deck known as the Belvedere. Giving locals and tourists a stunning 360° view of the Gironde city, one can enjoy a wine tasting from an updated selection of twenty bottles while soaking in all this gorgeous scenery, from the Place de la Bourse to the Grand Théâtre de Bordeaux. Additionally, the Le 7 restaurant, operated by chef Nicolas Lascombes offers diners another spectacular panoramic view of the city.
Next is the permanent tour, which is described as an "immersive, sensory adventure to discover the cultures and civilizations of wine." Consisting of twenty different themed areas that explore "the many and varied facets of wine across time and space," the entire experience is enhanced by cutting-edge technology in the form a travel companion, allowing the visitor to create a virtual travel log in eight different languages.
Then there's Latitude20, the museum's wine bar. Housing a collection of 14,000 bottles from 70 different countries, visitors can sample vintages from around the world, from the traditional wine growing regions to the more exotic locations like Bali and Tahiti. Yes, apparently Tahiti makes wine! And once again, technology takes it to the next level with iPad installations that allow you to learn more about the wine you're about to drink by the world's top sommeliers.
Of course, America's footprint can be seen at this theme park whenever you enter the Thomas Jefferson Auditorium. Funded by American Friends of the Cité du Vin (which raised over $300,000 for this project), this theater named in honor of America's third president (and former ambassador to France) will serve as the venue for movie screenings, debates, presentations and concerts.
According to a story published in USA Today, museum staff has said that you can expect to spend at least 2.5 hours at La Cité du Vin. But don't think that this attraction is going to take away visitors from the local wineries: While inside you can learn about all about Bordeaux vineyards and even book an excursion. Aiming to draw over 400,000 visitors annually, "the Guggenheim of Wine" according to Bordeaux's mayor hopes to be one of the twenty most visited museums and parks in all of France. "Wine is part of our cultural and gastronomic heritage but also our landscape," said French president Francois Hollande at the grand opening. "It symbolizes how France is seen by the outside world; a country of freedom and culture and an emblem of the enviable lifestyle of which we are so proud."
---
You might also like:

Loading ...