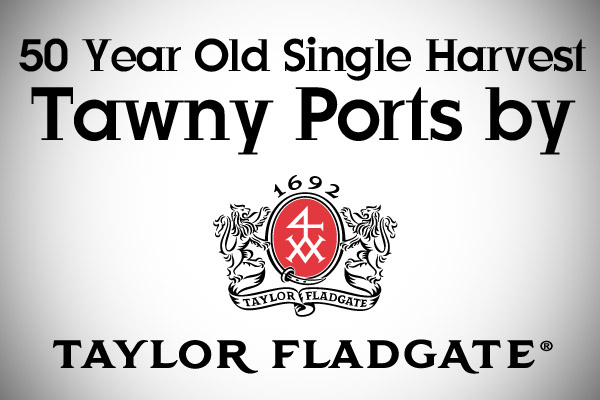 The Taylor port house dates back to 1692 and has never been bought or sold still carrying on now by their 7th generation. The quality of all their ports is impressive. Last week Jorge Ramos the Sales & Marketing Manager for The Fladgate Partnership (www.fladgatepartnership.com) that also includes Fonseca and Croft (acquired from Guinness in 2001) showed 4 rare consecutive Taylor Fladgate Single Harvest Tawny Ports at 50 years of age all selling at just under $260 Canadian per bottle presented in a special wooden box. They all are fortified at 20 degree alcohol from one specific year that has been aged in neutral seasoned wood barrels of 600 litre size for a longer time than the 10/20/30/40 year tawny ports on the market.
Our discussion noted that since the 1990s the better quality of grape brandy allowed from world sources has helped make Vintage Port more approachable earlier on. There is increasing demand for Vintage Port in the half bottle format. Jorge indicated 2 big issues that they are continuing to deal with in the Douro are erosion (angled terraces help with this and to collect water as no irrigation is allowed) and weed control (planting clover helps). They are following organic practices but don't label the bottles as such. The 2016 vintage is just concluding where their 10 properties utilized 425 workers for the harvest and the hard work endurance test of traditional foot-trodding of the grapes in the lagares.
1964: 112 g/dm3 residual sugar & 3.68 g/dm3 total acidity (tartaric) – first released in 2014 this has a lighter colour, drier with less sweetness of these four, lovely apricot and coffee notes are enticing.
1965: 163 g/dm3 residual sugar & 4.67 g/dm3 total acidity (tartaric) – greener year with warm but wetter conditions has produced a lighter colour like 1964 but shows wonderful smooth fine flavours now.
1966: 183 g/dm3 residual sugar & 5.55 g/dm3 total acidity (tartaric) – Acclaimed impressive Vintage Port year with the dry hot conditions (including near record May) and shows here as a darker mahogany green olive rim 5o year Tawny with most sweetness of residual sugar with refreshing acidity balance. Complex.
1967: 163 g/dm3 residual sugar & 5.10 g/dm3 total acidity (tartaric) – Irregular flowering and less ripeness than 1966 produced fewer bottles but has a similar deep mahogany look with freshness. There will be a special bottling of this 1967 to celebrate the upcoming 1867 Canadian Confederation.
---
You might also like:

Loading ...