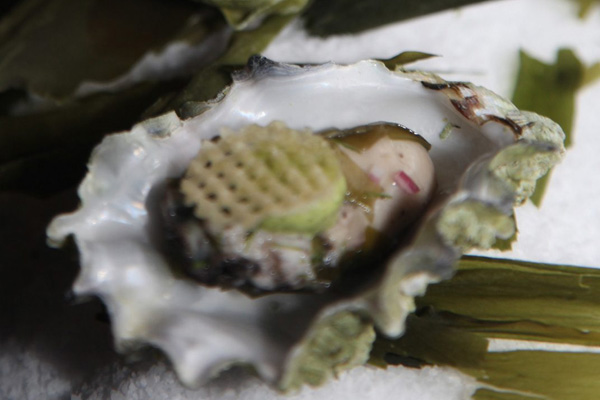 Image: BCSeafoodExpo.com
Seafood remains a popular hot commodity here on the West Coast of North America. The annual BC Shellfish & Seafood Festival and the BC Seafood Expo were established to drive national, international and regional long term awareness of the importance and diversity of all seafood. It has become the largest seafood marketing campaign in Western Canada with the next one their 11th scheduled with some 30 events from June 9-18, 2017 in the Comox Valley on Vancouver Island (BCSeafoodExpo.com and BCShellfishFestival.com). A media launch to help promote this upcoming Festival was held in Vancouver on March 15 with several highlights including:
1. Seafood menu selections were prepared by local chefs. Launch menu attached shows some of the innovative uses for seafood in outstanding culinary dishes. Rich moist sablefish was a delicious choice either baked in a taco or grilled after being marinated in mirin & tamari. Chinook salmon tartar uniquely served in a crispy dry-aged Prosciutto cup celebrated melded flavours and textures. Steamed mussels with Thai aromatics and Clams Creole style brought big flavours. Dependable year round available Steelhead from Lois Lake was turned into spicy gravlax.
2. Geoduck (www.geoduck.org) "nature's buried treasure" is trendy. I blogged about this special item back on March 21 of last year. Nostalgic memories of fast digging for these special clams in the sands of Boundary Bay many decades ago. Still makes a super chowder. It remains in high demand in the Orient continuing to drive up the price. Top fresh product can now be found locally but at the price of around $40 per pound. Smart service by Chef Nathan Fong using small portions as sashimi with miso mustard. Special treat.
3. A variety of many oysters were available. Diverse preparations from freshly shucked, panko breaded or even pickled with bull kelp! Fanny Bay Oysters (www.fannybayoysters.com) located in Baynes Sound on Vancouver Island since 1984 grow, process, market and distribute their farm grown oysters (as well as Manila & Littleneck clams and Salish mussels) as eco-friendly and are now the largest shellfish farm (17,000 square feet) in Canada. They now have opened their own oyster bar & shellfish wholesale & retail market "From Tide To Table" at 762 Cambie Street in downtown Vancouver.
4. Salish Sea Foods (www.salishseafoods.net) is wholly owned by the K'omoks First Nation indigenous people with a wide selection of smoked salmon nuggets from a moist dense meatier style to the drier "salmon bacon" jerky ones.
Celebrate these treasures of the sea!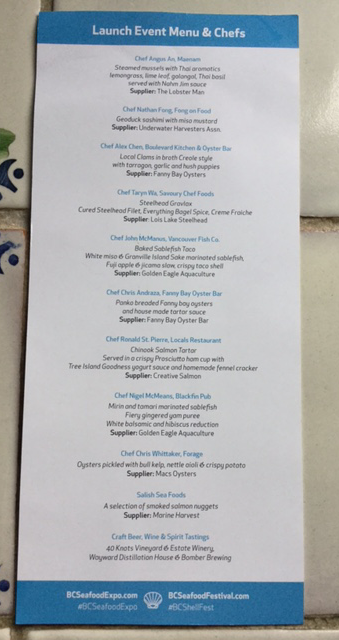 ---
You might also like:

Loading ...