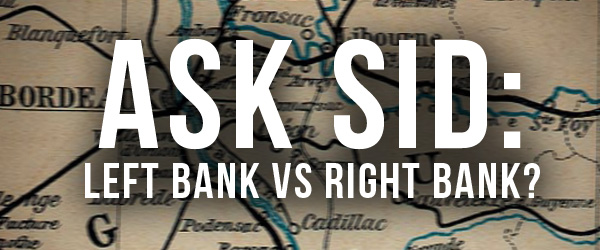 Question: What is meant by Left Bank & Right Bank in wine tasting?
Answer: They refer to the two sides of the Gironde river in Bordeaux France but more specifically Left Bank (LB) south of Garonne River & Right Bank (RB) north of Dordogne River. LB includes the Medoc with all the top properties of the 1855 Classification of chateaux. The grape plantings usually have more Cabernet Sauvignon followed by the usual mix of Merlot & Cabernet Franc and sometimes Petit Verdot + Malbec.  RB is dominated by Merlot plus some Cabernet Franc in the famous Saint Emilion & Pomerol regions together with many emerging nearby satellite appellations. Generally though with "Bordeaux blends" now being produced from around the world these terms have taken on a much broader meaning to describe their style of wine. LB tend to be more structured and tannic when young needing some time to open while RB are usually riper softer with less aggressive tannins being more accessible early on. These days though both "Banks" use modern winemaking practices resulting in refined tannins for earlier approachability in style.
---
You might also like:

Loading ...