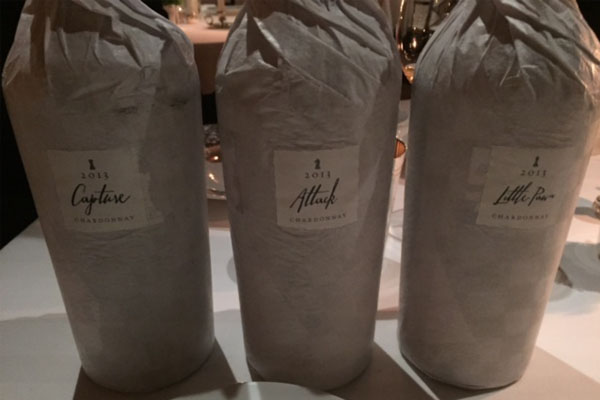 CheckMate Artisanal Winery (www.checkmatewinery.com) in the Okanagan Valley British Columbia Canada is getting global exposure plus admiring respect for their quality chardonnays. It is an exciting new project by the Von Mandl family led by winemaker & GM Phil Mcgahan (Queensland Australia lawyer turned intellectual winemaker ex-Williams Selyem in Sonoma). Their focus is on micro-blocks of 7 acres from 3 family owned Estate vineyards (40+ year old vines from gravelly alluvial Heritage Vineyard on Golden Mile Bench; porous soils low yielding Barn Vineyard on Black Sage Bench planted 1999; and Border Vista Vineyard on Osoyoos East Bench right at the USA border with Dijon grape clones planted in 1997 on warm sandy soils that nonetheless maintain best acidity) with the first vintage 2013 resulting in 5 small production chardonnays ranging from just 1 oval barrel to 17 barrels.
There is a Grand Master Set of these 5 bottles from 2013 selling for $520 on the website which includes:
1. Queen Taken $125 – Heritage Vineyard SW Oliver 40 year vines on Golden Mile shows good aromatics with toasty floral stone fruits plus full complex flavours on the finish
2. Attack $115 – Barn Vineyard Black Sage Bench with vibrant balanced acidity for the creamy textures
3. Little Pawn $110 – Barn Vineyard here shows rich powerful more spicy notes
4. Capture $90 – Border Vista Vineyard Osoyoos has citrus notes but peachy soft showing lots of oak
5. Fool's Mate $80 – Blend of the 3 vineyards easy drinking with yeasty nutty oaky styling
The first buzz resulted from their initial successful release now over a year ago in New York showing the wine trade there that world climate change was raising the pH of the grapes and lowering natural acidity presenting a new opportunity for other wine regions to make top class chardonnays.
Your scribe had a chance on February 2, 2017 to visit the winery (no tasting room) with the winemaker Phil and was very impressed with the careful attention to detail of separate lots in the cellar and the potential shown of the many barrel samples tasted including the amazing texture of Capture 2015 and open aromatics of Queen Taken 2015 both from early harvests of the warmest year ever. Watch for these 2014, 2015, and 2016 in the pipeline!
The just concluded 39th Vancouver International Wine Festival presented the Queen Taken Chardonnay 2013 at 2 seminars where it showed very well:
February 15: BC: Diversity & Purity
February 17: Okanagan Estate Collection –  Excellent trade seminar featured 2 outstanding wines from each of 4 of their wineries: Mission Hill (winemaker Darryl Brooker, Cedar Creek (winemaker Taylor Whelan), CheckMate (Phil Mcgahan), and about to open this April Martin's Lane (winemaker Shane Munn) – watch for sensational 2014 pinot noir Naramata Bench! Queen Taken showed even better here with better glasses and perfect service temperature. Phil advised of their double curtain procedure in the vineyard so the top of the canopy gets sun and more golden colour while underneath provides clean fresher grapes. Looks for more malic acids to change later into tartaric. 2013 used 50% wild yeast & 50% inoculated for a cold ferment at 8-9 C. 17 months in cask on the lees with careful stirring and bottled unfined & unfiltered. 14.3 alcohol with 6.37 g/l total acidity.
March 1: An opportunity arose for me while in Paris this month to show off this 5 bottle Grand Master Set of 2013 to several top restaurant sommeliers. The main event took place at the exciting newish 2 star Michelin restaurant Le Gabriel @ La Reserve (www.lareserve-paris.com). This is a leading hotel in the 8th and part of Michel Reybier Hospitality (connection with Domaine Prats) and accordingly a wide choice of 18 vintages back to 1967 of Chateau Cos d'Estournel St Estephe and other treasures. Sommelier Jaimee Anderson is so enthusiastic about fine wine and she has done a remarkable job in a short period of time in assembling an ever improving great wine list. I liked her openness to these New World wines and a true appreciation of their quality. The packaging including the bottle shape and unique labels was admired. Most everyone seemed to prefer the single vineyard concept rather than the blend and they generally felt the wines presently showed a little bit too much oak for the impressive balanced fruit. We all know that less can be more! Sommelier Baptiste at the 3 star Michelin Epicure at Le Bristol (arguably currently the best restaurant in Paris) is interested in the elegance of Queen Taken. All in all a very good export exposure for BC wines. Some may say this is like bringing "coals to Newcastle" but these wines certainly do have merit and expect even more complexity from the subsequent vintages. Hopefully in the near future we will see a CheckMate Chardonnay or some other rapidly improving quality Canadian wine on one of these prestigious restaurant wine lists in Paris.
---
You might also like:

Loading ...