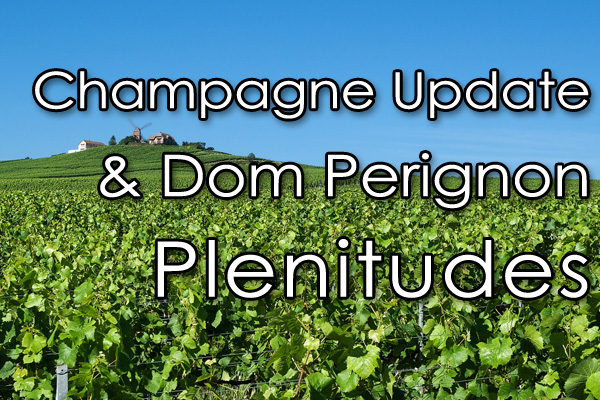 A recent Spring visit to Champagne was exciting as usual with some interesting revelations. The first was the recognition of global warming in the vineyards. Most Champagne houses visited were speaking of some of the ripest grapes of highest pH levels they have seen in recent years with lower acidity levels. Some producers including Gosset, Lanson, and Alfred Gratien had a long history of blocking the malolactic fermentation (MLF) conversion of malic acid to tartaric acid for maximum freshness but in the last decade have been using some MLF to obtain softer roundness in the style. However, generally many have been using 100% MLF but now everyone has become a big believer in being very flexible with what the vintage delivers & the cuvee being produced and not to follow a rigid regime concerning MLF. I suspect that as newer "hot" vintages are released we could see more finished Champagnes with less MLF and many with only partial MLF for consistency and better balance.
A second important trend is for more respect and demand for aged Champagnes. In the past it was always a treat to drink a mature top vintage bubble and some producers like Salon & Krug among others really shone in this arena. Fond memories of the classic 1990 Pol Roger, the slow maturing 1988 Salon and the remarkable initially high acidity austere 1979 Krug that is now really singing out! On this visit our opening reception wine was 1985 Krug en magnum that was initially shy on release but is today so rich full complex and delicious.
An extended visit with Richard Geoffroy, Chef de Cave drove home the point of how important aging Champagne has become with his new "plenitudes" of Dom Perignon (DP). Though DP is all Grand Cru from 17 best villages blended to create the distinctive DP minerality and unique vintage creation it is matured a minimum of 9 years before release. However that is not enough time because DP continues to evolve reaching new heights or plenitudes as shown as P1, 2, or 3 on the neck label. Voila! P1 (10-15 years – good fresher minerality & harmony like 2006 is coming along), P2 (15-25 years – youthful energy and vibrancy shown presently by 93, 96, 98) and P3 (over 25 years "the spirit of DP" – now exhibited by vintages like 69, 70, 71, 73, 75, 76, 78, 82, 83, 85, 88, and 90 with aged complexity of wonderful coffee and other special expressions. P2 & P3 do not have the neck frozen when they are disgorged. Could a P4 be the next one?
Hart Davis Hart Wine Co (hdhwine.com) featured a selection of these DP plenitudes directly from the cellars of Dom Perignon ranging from 1969 -1998 at their just concluded successful Auction in Chicago at Tru Restaurant on June 24 & 25, 2016. Aged Champagnes are certainly in!
Admire the 10 unique features of DP set out as their Manifesto:
1. DP is always a Vintage Wine
2. DP is always an Assemblage
3. We create the assemblage of DP blanc & rose with a perfect balance of black and white grapes
4. We require the best grapes of Champagne
5. We are fully committed to respecting the Terroirs & the Seasons
6. Intensity must be based on precision
7. The fruit of DP is revealed on the palate
8. DP's complexity is based on a commitment to slow maturation
9. DP's mineral character is a unique Aristocratic Signature
10. DP style is deeply distinctive
Have you tried a DP or one of their new aged Plenitudes?
---
You might also like:

Loading ...