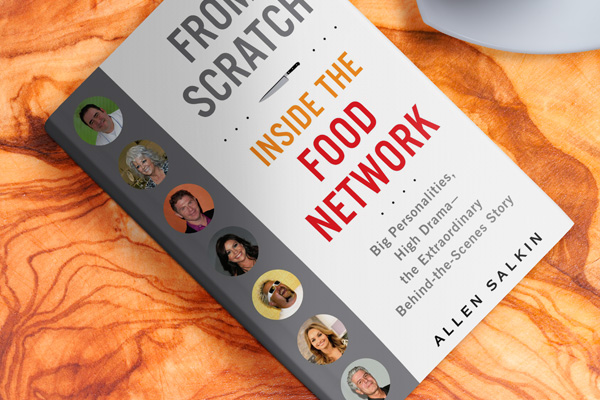 By Joseph Temple
Since its inception in 1993, the Food Network has gone on to be a television juggernaut, available now in nearly 100,000,000 American homes and worth approximately $3 billion dollars. And by placing the culinary arts at the vanguard of pop culture, this cable channel has been successfully minting "celebrity chefs" for more than two decades, from Emeril Lagasse to Giada De Laurentiis. "We're not trying to be the Gourmet magazine of the airwaves," said one former network president. "Our shows are chock-full of recipes but reinterpreted in television terms for our audience, which is young, urban, and more interested in food as part of their lifestyle. It's up to us to be bold."
To document this meteoric rise is journalist and author Allen Salkin, whose 2013 book From Scratch: The Uncensored History of The Food Network gives us twenty years worth of juicy gossip about both the channel—and its larger-than-life personalities. Why did network executives decide to kick Emeril off the air after hosting their flagship program for over a decade? What was going on behind the scenes as Paula Deen's career was imploding before our very eyes? Viewers of the network will simply devour all of this tabloid material. But more importantly, Salkin's book provides us with some great insight on how the channel first got off the ground.
When TVFN premiered on November 23rd, 1993 as one of hundreds of new cable stations flooding the airwaves, very few in the industry gave it a chance. Back then, food and cooking shows were seen as something housewives watched on weekend mornings or during the daytime in between soap operas and picking up the kids from school. The idea that anyone would want to see a food-oriented program in prime time was simply ludicrous. Additionally, the fact that most of these shows like Julia Child's The French Chef aired on PBS led many to believe that there was no money to be made through advertising. After reading the first two chapters of From Scratch, you start to realize just how big of a gamble this whole endeavor was.
Strolling down memory lane, Salkin takes us through the early years when the Food Network featured hosts such as Robin Leach and aired classic shows like Ready.. Set… Cook! and the British import Two Fat Ladies. Running on a shoestring budget and desperately scrambling for content, the network even bought old episodes of classic cooking shows like The Galloping Gourmet in order to fill its schedule. What's interesting to note is that the founding president originally envisioned it as "CNN with Stoves," featuring more journalistic programs like Foods, News and Views which attempted to seriously analyze the politics and laws surrounding what people ate. But steering the ship in another direction was a New Orleans chef who would eventually put the network on the map.
After some fine-tuning, a flamboyant and extremely likable Emeril Lagasse quickly took off as the face of the Food Network during the 90s with catchphrases like "Bam!" and "Time to kick up a notch." Cooking in front of a rowdy studio audience and featuring a live band, Emeril Live soared in popularity, helping the network move beyond its core demographic as the culinary arts met The Tonight Show. While today there are many detractors of the network who feel it is more about entertainment than food, Salkin reminds us that back then, even a distinguished chef like Emeril wasn't immune from these sorts of attacks. Describing the atmosphere of the show as "a little bit of the wrestling ring or the roller derby," New York Times dining reporter Amanda Hesser declared him to be "more jester than cook," noting that "professional foodies are a bit dismayed at the tone of the program."
Of course, as non-chefs like Sandra Lee, Guy Fieri and Rachael Ray started to dominate the lineup, criticism and the Food Network has gone hand in hand. Ironically, one of its biggest foes is CNN's Anthony Bourdain, a former network star who has ridiculed numerous personalities for their lack of knowledge or for allegedly "selling out." Dissecting these criticisms at length, the author also provides a number of counter-arguments, including one from Julia Child who compared some of these shows to her very own. "It's entertainment programs that bring in the money … You have to make teaching an entertaining thing to watch … It has to be lively to and fascinating."

Sandra Lee's infamous "Kwanzaa Cake" provided tons of fodder for critics of the Food Network.
Unfortunately, despite being on the cutting edge with series like Japan's Iron Chef and Good Eats, Salkin also reminds us how network executives completely missed the boat with slicker and edgier programs like Fox's Hell's Kitchen and the Bravo's hit franchise Top Chef. Instead of copying the Food Network's family friendly culture, its competitors did the exact opposite by featuring more reality-based chefs who don't shy away from smoking cigarettes and using an unhealthy dose of profanity. However, as the author points out, personalities like the foul-mouthed Gordon Ramsey and chefs decked out in tattoo sleeves would have never fit in with a network that takes pride in a wholesome image.
And with this image, Food Network personalities have been able to cash in—big time! While earlier TV chefs like Child and James Beard dabbled in endorsements, they were being paid no more than a "C-level actor" for their efforts. But this all changed as superstars like Ray, Lagasse and the others were able to monetize their success to a whole new level. With only a few thousand dollars dedicated to the production of its earlier shows, hosts were able to promote their products as a way to compensate them for their lack of salary. Beginning with Emeril's spices, a very lucrative market took shape from kitchen gadgets to the numerous cookbooks that fly off the shelves year after year. Given the multi-million dollar achievements of these undertakings, it makes you wonder if they should change their name to the Marketing Network?
Whether you're interested in the history of cable television, the politics behind choosing the next primetime show or simply a fan of these big names, From Scratch has something for everybody. Meticulously researched and full of fascinating anecdotes, it is a book that will make you the center of attention the next time you're at a dinner party as you tell your friends story after story about this game-changing channel and the people that made it into the powerhouse that it is today.
---
You might also like:

Loading ...