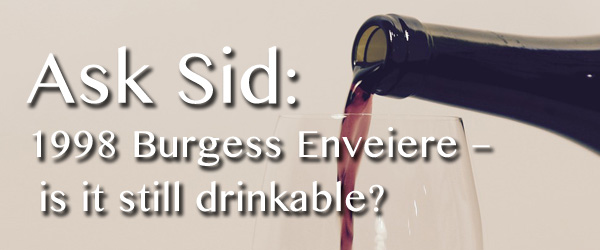 Question: I was given a bottle of 1998 Burgess Enveiere – is it still drinkable?
Answer: I have visited the historic original Souverain winery on the western slopes of Howell Mountain in the Napa Valley which was taken over by Tom Burgess in 1972. Burgess made some impressive "boutique" wines in the seventies and eighties but as their production increased the winery got more commercial. However, the first Bordeaux styled Enveiere ("to send a message") was special from 1997 (a great vintage) to celebrate their 25th anniversary in a tall bottle with attractive black & gold labelling. Tasting it shortly after release showed a full rich textured cabernet sauvignon blend with power & lots of spicy new oak. I haven't tried their 1998 but the year was much cooler resulting in a later harvest with less consistent ripe fruit. Notice your question comes from that beautiful spot of Kona Hawaii. Unless you are only vacationing there warmer storage conditions could also be an issue in favour of earlier drinking. Your 1998 could be drying out now but should nonetheless be lovely drinking showing that hillside cab statement in a more elegant lighter styling. Enjoy it with food!
---
You might also like:

Loading ...