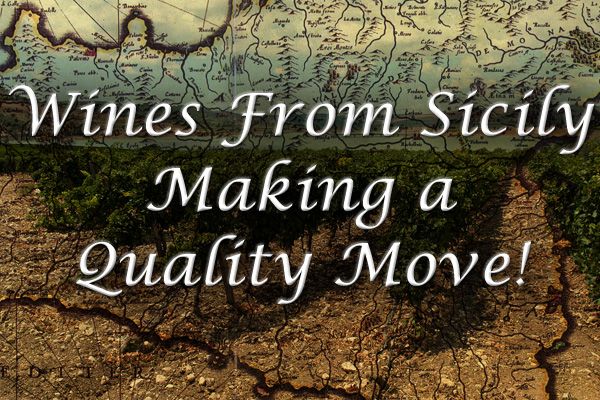 By Michal Osmenda (Flickr: Planeta winery) [CC BY-SA 2.0], via Wikimedia Commons
My wife Joan and myself last month enjoyed leading @alumniUBC wine and food tour of Sicily well organized by Worldwide Quest. Recommend the inspiring insights you receive on these tours by using local experts like the knowledgeable tourist guide from Palermo corinnascaletta@gmail.com, Valeria Carastro of the Etna Wine Lab, and Danilo Cavallaro a PhD Volcanologist & Geologist a world expert on Mt. Etna. I previously posted here on the 6 wine estates of Planeta (April 18) and some memorable food experiences (April 24). However I also feel a need to alert you to some winery updates there and the exciting potential for their wines. Among the many highlights that deserve spotlighting were these 5:
1. Tenuta Regaleali Estate (www.tascadalmerita.it) – This wine estate is part of the eight generation family Tasca d'Almerita and now is an international brand producing 3 million bottles a year from 421.65 hectares of vineyard diversified over 30 different labels showing 50 grape varieties. They also produce a smaller batch of artisan level Natura in Tasca (naturaintasca.it). Like how they are tracking the annual weather conditions at their 5 estates around Sicily benefiting all growers. Regaleali always has less rainfall (only 585 mm. in 2012 and less in 2014 of 572 while their other 4 estates are higher and all increased in 2014); lower average temperature around 15.7 in 2012 and 15.8 in 2014 while Capofaro (on island of Salina-heartland of Malvasia) is 17.9/17.8; and most importantly the July/August range of temperature is 17 while less at others including only 10 at Capofaro.
2. Cantine Florio (www.duca.it) – Part of Duca Di Salaparuta group with Corvo. Historic Marsala Florio now exporting to 155 countries and on the comeback trail as it has been under the radar compared with other fortified wines like sherry and port. Though first one produced in 1833 their old stocks were destroyed in World War II bombing and 1939 is the oldest one left. Check out sweet Targa Riserva 1840 Marsala Superiore DOC Riserva Semisecco selling there for 13.90 euros from Grillo grapes aged minimum of 7 years in Slavonian oak. Tasted the "soft as velvet" 2003 bottled in 2014 versatile at cooler 10C for aperitif with gorgonzola cheese or 16-18C with dessert of crunchy nut brittle or dried fruits.
3. Occhipinti (www.agricolaocchipinti.it) – Exciting hot winery in Vittoria started by natural wine woman Arianna Occhipinti in 2004 first renting 1 hectare of land and now with about 125,000 bottles of top Frappato & Nero d'Avola. Built a modern gravity flow winery there at 280 metres elevation in 2013 with all cool concrete fermentation and stainless steel only for storage. Soil is red sands for first 30-60 cm then limestone subsoil. Like to use old time tradition of grafting their vines in the field from choice older vines and not from a nursery. They are organic certified but don't put it on the label and don't water the vines so they "go deeper and become independent" according to Damiano Buscema. Export market presently shows USA first, Norway second, and Canada third.
Some wines to investigate:
2014 SP 68 Bianco with 60% fragrant Moscato Di Alessandria & floral 40% Albanello expecting sweetness but dry fresh minerals with 12 days on the skin giving structure almost tannin with green notes of thyme and rosemary from Albanello. Used Diam on 2014 but switching to natural cork for 2015. Delightful.
2014 SP 68 Rosso of 70% Frappato & 30% Nero d'Avola from youngest vines spent 6 months in concrete and smells of spicy red fruits with fresh acidity for value drinking during the first 5 years.
2014 Il Frappato shows dramatic herbal earthy complex nose from older 40 year old vines spending 14 months in large oak vats and shows elegant tannins with a capacity to age well.
2012 Siccagno of 100% older vines Nero d'Avola 22 months in older big Slavonian wood with 30 day maceration is dark big bold full ripe and will age a long time. Again lower 13 alcohol with a lovely freshness and acidity tension is here that shows so well in all their wines. Impressive.
2012 Grotte Alte is the special unfiltered Cerasuolo Di Vittoria only DOCG in Sicily so complex integrated and elegant with a 50:50 blend of both the previous grapes almost 4 years in 25 hl Slavonian. This is on the market now with 6,200 bottles and 2010 only 4300 bottles. No 2009 or 2011 were made. 2013 probable. One to watch for and collect!
4. Feudo Maccari (www.feudomaccari.it) – This 150 hectare estate with 50 separate plots combining new plantings and some already 60 years old on the southerly hills near Noto was established in 2000 as part of the Antonio Moretti's Tenuta Sette Ponti stable. All vines are vertical bush "alberello" special trellis system on one stake with no horizontal wires. Leave lots of canopy cover "never enough" and no spraying for bugs who can't survive the hot over 30C temperatures. Calcium, clay, sandy dry soils retain moisture well and there is a persistent whippy wind.  Refreshing vibrant 2015 grillo with excellent minerality and the easy forward great value 2014 nero d'avola using no wood expressing the easy forwardly fresh fruit. My fav the 2013 Saia (named after irrigation canals built by Arabs to collect rain water) of their older best vines 12 months in wood is exotic spicy cacao and so elegant with quality showing through. 2014 will be very special while 2015 is a hotter year. Special treat tasted was a fantastic 2010 magnum of Saia on a magnificent drinking plateau! Also look for their international grape variety blend in the Maharis label.
5. Frank Cornelissen (www.frankcornelissen.it) – Mount Etna is a magical region and presently most fashionable – for good reason! This unique terroir from volcanic lava and dust is really amazing. Hard to describe the wines except for a special elegant earthiness from Nerello Mascalese grapes with a Burgundy cru distinctiveness. Frank Cornelissen came to his Northern Valley vineyards at 600-1000 metres on Mt Etna in 2000 with his first harvest 2001 and his latest one 2015 is his 15th. He says he has learned a lot about man and nature working together but modestly states he still has a lot to learn. He strongly believes he has a point of view and a vision in his search for specific vineyard expression in the bottle. Uses no barrels or wood but only neutral containers to showcase the fruit and the terroir. Working hard to improve the quality and reduce the variables. He would like to put the empty wine bottle right over the vine grapes to make the wine but as that is not possible he wants as little intervention as possible. Doesn't believe in chemicals or spraying. When I asked him about wind blowing same from neighbouring properties he told a story of his accepted offer for free care of 2 adjoining hectares which he later purchased. His wines are so special including a tasty vibrant earthy mineral laden 2014 Feudo Di Mezzo Soltana single vineyard from the lower valley. Can't help but admire his intense drive to release as small lots all his 2015 at the same price as 10 different Single Cru vineyards a la Burgundy. Some vines are from 1910 and the youngest 1960. When questioned by this scribe whether some were not showing Grand Cru quality and others only Premier Cru he replied he preferred Magma and Barbabecchi but Chiusa Spagnola, Pontale Palino, and others also have merit. Soltana he says may only be 1er cru but there are outstanding underrated ones in Burgundy too like Les Amoureuses. Frank will let the market decide which are his best cru vineyards. Talk about future new vineyard excitement. What a leader he is for both Mt. Etna & for all of Sicily! Congrats.
---
You might also like:

Loading ...