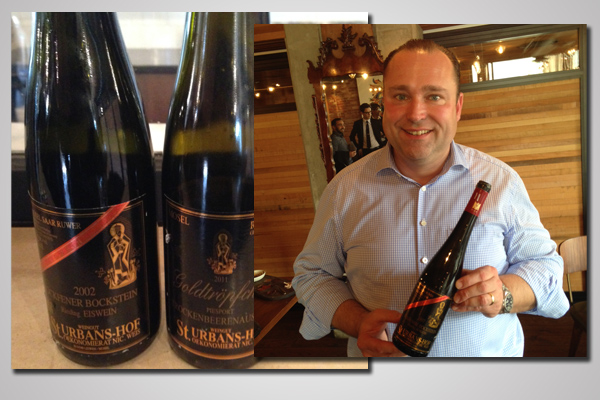 Above Right: Nik Weis
Reminded this month how wonderful Riesling from the Mosel can be with their amazing ability to age. A treat showing of 14 wines by Nik Weis Owner & General Manager of St. Urbans-Hof (www.urbans-hof.com) confirmed this brilliantly. This respected producer has close ties with Canada because their Weis clone (21-B) of Riesling was planted in 1978 at Tantalus (previously Pinot Reach), Sperling, and Summerhill in B.C. & Vineland in Ontario among others. As Nik so aptly put it they have been the Noah`s Ark for Riesling vines.
The first 3 wines served were Kabinett (no added sugar) of at least 70 Oechsle (around 16 Brix) which results in light, ripe, healthy but not over ripe styling. They used to be before global warming even drier and lighter than they are with current vintages. The differences in the vineyards shone brightly with the liquid gold of the Goldtropfchen from Piesport richer than the Bockstein from the cooler Ockfen in the Saar with typical floral lilac violet and even tars. Respect how Nik believes every year is different and unique always looking of for that magical moment to stop the fermentation with the right amount of residual sugar and acidity still in balance. This is really the art of not winemaking a term Nik does not like but caretaking to make the best wine naturally.
Next came 5 wines from Spatlese grapes which Nik compares to a ripening banana with some browner spots giving more flavour and spice. More minerality was shown here which led into a discussion about the smell of petrol (from marmalade to kerosene). Nik feels that petrol should not be too prominent to be out of balance to the other key elements of the wine. If it completely dominates he feels that it is caused by being grown in an environment that is too dry & hot not the most suitable terroir for Riesling. Here we tasted Laurentiuslay their warmest vineyard from older vines back to 1951 facing South-South West showing the most mineral oils and petrol aspects. The 1998 was a cool vintage showing almost atypical delicacy for Goldtropfchen but with that usual honey beeswax spiciness.
A spectacular finish of 4 Auslese, 1 Eiswein, and one TBA showed so much more richness and complexity. Asked Nik about the old days when the experts told us the Mosel & Saar relied so much on their bright fruit acidity that sometimes this was lost on the very sweet wines. Rheingau was said to have a more steely underlying structure to support these late harvest beauties. Nik replied that the region had changed with so many Rheingau wines now focused on producing Trocken from Auslese grapes. Nonetheless these wines were superb with my favourite the delicious 1997 Bockstein Auslese that was so fresh and alive that it didn`t seem sweet. 1990 was also a treasure but so much fuller richer softer with maturing colour. Icewine takes advantage of the cooler Bockstein vineyard with excellent balance for the honey caramel floral spieces! TBA is picked berry by berry at 200 Oechsle (divide by 4 for about 50 Brix) and only 6.4 alcohol. What a nectar!
Tip: Nik very enthusiastic about vintage 2015 as a once in a lifetime year so a must buy.
The wonderful wines in serving order all by St Urbans-Hof:
2012 Goldtropfchen Kabinett
2012 Bockstein Kabinett
2004 Goldtropfchen Kabinett
2002 Bockstein Spatlese
2002 Laurentiuslay Spatlese
1998 Goldtropfchen Spatlese
2007 Bockstein Spatlese
2007 Laurentiuslay Spatlese
1990 Bockstein Auslese
2010 Laurentiuslay Auslese
2007 Bockstein Auslese
2006 Goldtropfchen Auslese
2002 Bockstein Eiswein
2011 Goldtropfchen TBA
---
You might also like:

Loading ...