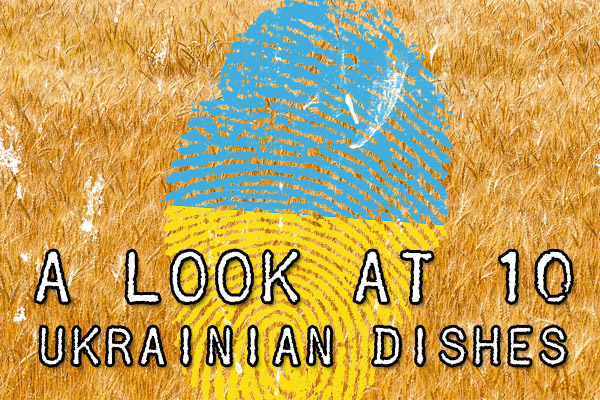 By Joseph Temple
With the temperature dropping and winter looming, are you looking for something tasty to keep you warm?  If so, you might want to have a look at some delightful dishes from our friends in Ukraine.  While many of us associate this Eastern European country with cabbage rolls and perogies, there is so much more to this nation's proud culinary history.  So, have some bread with salt (representing hospitality and friendship) and try cooking some of these Ukrainian dishes that are richly steeped in tradition and culture.
Smachnoho!
---

1. Borscht
No list of Ukrainian foods is complete without mentioning Borscht – a staple of every traditional kitchen.  Originally made from cow parsnip, this soup is extremely popular across Eastern Europe, made mostly of beets and rich meat stock.  However, during Christmas, it is served meatless with rye bread.

2. Deruny
Deruny are pancakes made of grated potatoes and onions.  Fried in oil until they're golden brown, sour cream or apple sauce is usually served with this comforting dish.  The Ukrainian version is often thinner than what most Westerners are used to, but still quite filling and delicious.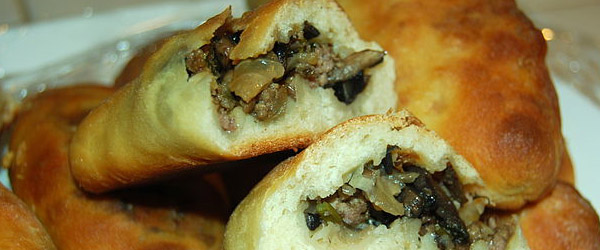 Evilmonkey0013 at English Wikipedia [CC BY 3.0], via Wikimedia Commons
3.

Pyrizhky



Sold in train stations and public squares across Ukraine, buns like pyrizhky are stuffed with meat, cabbage or potatoes and either baked or fried before serving.  Like other Ukrainian dishes, sour cream and dill is usually added to this delicious street food.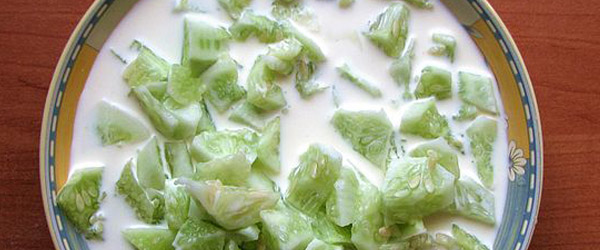 By Mariuszjbie (Own work) [CC BY-SA 3.0 or GFDL], via Wikimedia Commons
4.

Mizeria
A simple salad consisting of cucumbers in a sour cream dill dressing, mizeria was first invented in Poland where cucumbers were introduced by Queen Bona Sforza.  Its literal translation is misery.  This peasant dish may have been named to reflect the hard times associated with the poverty of the depressed region.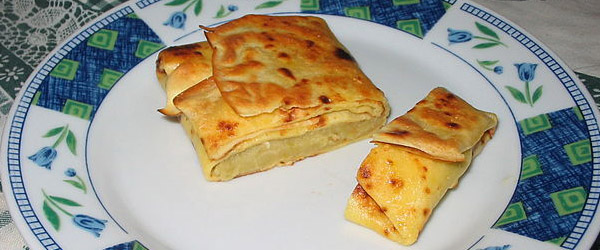 Kagor at the Ukrainian language Wikipedia [GFDL or CC-BY-SA-3.0], via Wikimedia Commons
5. 

Nalysnyky
A thin crepe filled with meat, mushrooms or sauerkraut, many Ukrainians favor putting sweetened cottage cheese in their nalysnyky.  They also can be made into a thin, multi-layered cake using a savory filling or a simple sweet jam like plum butter for a special treat.
blank
blank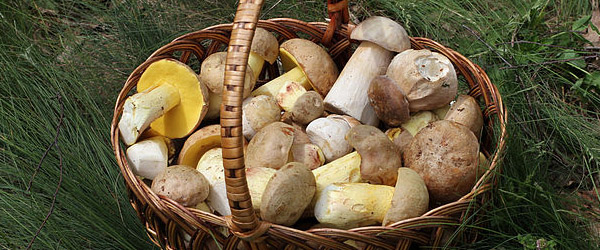 6. Foraged Mushrooms

In Ukraine, mushroom picking is a national pastime with the country's vast forests providing an excellent selection for those who love to forage.  Once dried (historically to last the winter), these mushrooms are used in countless dishes such as rich gravies, mouth-watering soups or in tiny perogies called yshka which are served with clear borscht on Christmas Eve.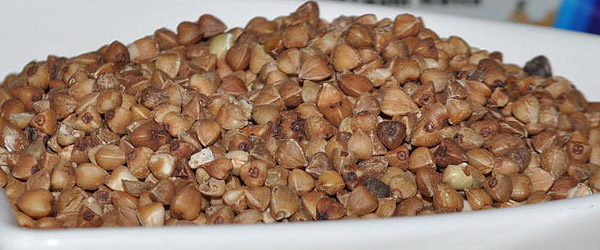 By Candrichuk (Own work) [CC BY-SA 3.0], via Wikimedia Commons
7.

Kasha
With potatoes and bread being a bedrock for the nation's collective diet, it should come as no surprise that Ukrainians have been harvesting wheat from the same land for nearly 7,000 years.  Used in a variety of dishes, a popular grain known as Kasha (or buckwheat) has a number of different applications.  Whether as a meal topped with fried bacon, onions or gravy, it can also be used in cabbage rolls and in liver sausage called a kyshka.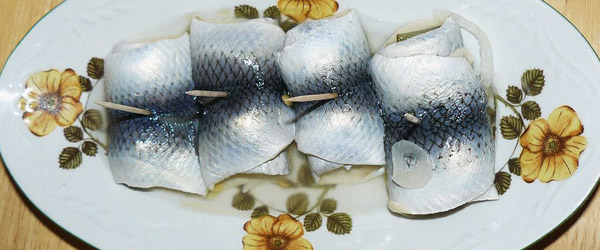 By MOs810 (Own work) [CC BY-SA 4.0], via Wikimedia Commons
8. Pickled Herring

Often served with sour cream, sliced onions and rye bread, pickled herring works as an appetizer or as part of a salad mixed with potatoes, beets, pickles or chopped apples.  Also, since most Ukrainians strictly observe religious traditions, pickled herring is served on Christmas Eve as one of twelve meatless dishes that symbolize each Apostle.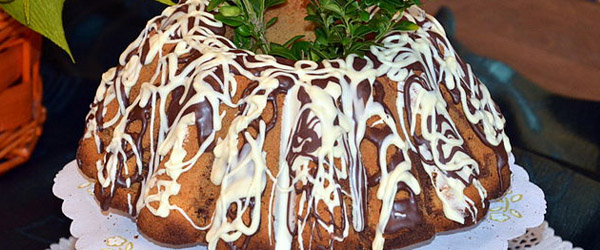 By Silar (Own work) [CC BY-SA 3.0], via Wikimedia Commons
9.

Babka
Baked in tall tins, Babka is a dessert of rich yeast bread and lots of eggs.  During Easter, it is often crowned with many decorations such as little dough rosettes, designs of wheat stalks or a symbolic cross.  Sometimes, for a special sweet treat, Babka is flavored with raisins, dried fruit such as citron peel, chocolate or cinnamon and drizzled with fondant.  Don't tell Baba, but you can even add some colored sprinkles for the kids.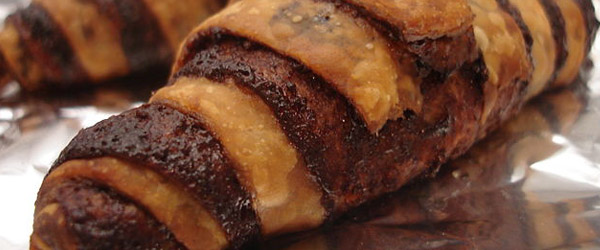 By Yair rand (Own work) [CC BY-SA 3.0], via Wikimedia Commons
10.

Rugelach
Another decadent dessert is rugelach, which is very delicious but quite labor intensive.  These bite sized pastries are filled with either ground walnuts, chocolate, cinnamon, apricots or prune jam.
Sources:
Dalton, Meredith. Culture Shock!: Ukraine. Portland: Graphic Arts Center Publishing, 2000.
Hardaway, Ashley. Ukraine (Other Places Travel Guide). Other Places Publishing, 2011.
Kopka, Deborah. Welcome to Ukraine: Passport to Eastern Europe & Russia. Dayton: Milliken Publishing Company, 2011.
Kraig, Bruce & Sen, Colleen Taylor. Street Food Around the World: An Encyclopedia of Food and Culture. Santa Barbara: ABC-CLIO, 2013.
Nichol, Christina. Essential Spices and Herbs: Discover Them, Understand Them, Enjoy Them. Berkeley: Callisto Media Inc., 2015.
Stechishin, Savella. Traditional Ukrainian Cookery. Winnipeg: Trident Press, 1973.
---
You might also like:

Loading ...