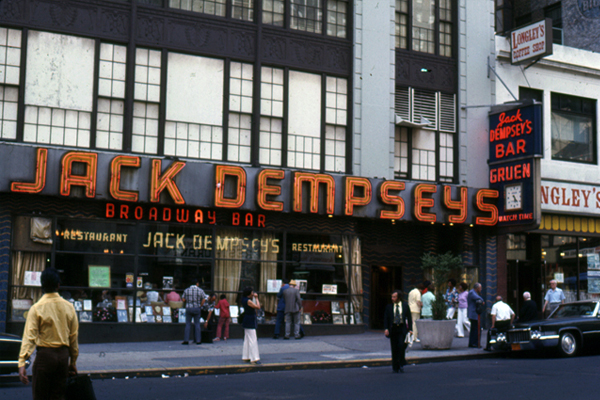 Outside of Jack Dempsey's Restaurant, circa early 1970s
By Malco23 (Own work) [CC BY-SA 3.0], via Wikimedia Commons
By Joseph Temple
The year was 1935.  While America struggled through the Great Depression, "Cinderella Man" James J. Braddock proved that there was still some hope for the little guy when he beat Max Baer for the heavyweight championship of the world in one of the greatest upsets in the history of pugilism.  And across the street from Madison Square Garden—the undisputed Mecca of boxing—William Harrison "Jack" Dempsey, arguably the best prizefighter of all time, traded in his gloves for the role of restaurateur at the corner of Fiftieth Street and Eighth Avenue.
Featuring live bands, dancing and no minimum charge, Jack Dempsey's Restaurant, which eventually moved to 1619 Broadway quickly became a landmark watering hole for both native New Yorkers and fight fans eager to see the world-famous "Manassa Mauler" in person.  Boxing historian Bert Sugar recalls, "I was walking up Broadway and I saw Dempsey in the window.  Dempsey himself!  I couldn't believe it. I thought it was a cut-out."
Greeting patrons with a genial "Hiya, pal," Dempsey could usually be spotted in the corner booth where he eagerly signed autographs and posed for photographs (long before sports memorabilia became such a lucrative business).  Of course, for any boxing fan, it must've been a dream come true to sit down over a Tom Collins while Dempsey told you the story of his epic battle against Georges Carpentier, marking the sport's first million-dollar gate.  Or how about eating Maine lobster while Dempsey described his version of the infamous "Long Count" during the rematch with Gene Tunney in 1927.  Few places in the Big Apple could match the atmosphere like the one at this restaurant.
"Bubbling over with Music, Gaiety and Good Food," wrote Charles Sievert for the World Telegram.  "Jack Dempsey's Broadway Restaurant attracts record 'gates' for the same reason the Manassa Mauler did in his Champ Days—plenty of action and color to be found," according to Earl Wilson of the New York Post.
For over thirty years, after entering and seeing a giant painting of Dempsey's championship fight with Jess Willard hanging on the wall, patrons could enjoy appetizers of stuffed celery, shrimp cocktail, and chicken gumbo, entrees of soft shell crab on toast, pot roast, and schnitzel a la Holstein, finished with a dessert of Fruit Jell-O or Pie with cheese.  The menu was relatively short by today's standards, but was certainly an example of the times – a mixture of American and French cuisine.
Being such an iconic spot, Jack Dempsey's even served as a backdrop for one memorable scene in Francis Ford Coppola's 1972 masterpiece The Godfather.  As Michael Corleone waits to be picked up by Sollozzo and McClusky outside the restaurant, the signage illuminates what is about to happen next—a life and death struggle.
Unfortunately, just as Manhattan entered a period of sharp decline as soaring crime rates and urban decay plagued the city, Jack Dempsey's suffered along with it, having to close its doors for the last time in 1974.  But looking back at the restaurant's nearly forty-year history, Dempsey was certainly a trailblazer in successfully transitioning himself from the boxing ring to the dining room.  Long before other celebrities decided to invest in the restaurant industry, Dempsey proved it could be done through a powerful one-two combo of an irresistible atmosphere and a larger-than-life host eager to please his legions of adoring fans.  The food came second.
Sources:
Kahn, Roger. A Flame of Pure Fire: Jack Dempsey and the Roaring '20s. New York: Houghton Mifflin Harcourt, 2012.
Miller, Donald L. Supreme City: How Jazz Age Manhattan Gave Birth to Modern America. New York: Simon & Schuster, 2014.
Vecchione, Joseph. New York Times Book of Sports Legends. New York: Simon & Schuster, 1992.
---
You might also like:

Loading ...