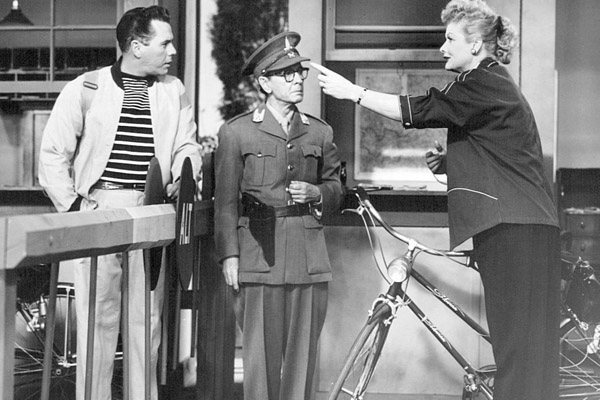 By Joseph Temple
"Did you ever see the I Love Lucy episode where Lucy stomps on the grapes?"
It's been nearly sixty years since the episode first aired on CBS, and still to this day, people are laughing about it.  The hysterical scene where Lucy does battle against a seasoned Italian grape stomper inside a vat has become so memorable that whenever you discuss the winemaking process, somebody eventually makes reference to it. But even more fascinating is the fact that this iconic television moment wasn't the result of any brilliant script writing or carefully planned out choreography. What took place that day was instead a delightful blend of impromptu method acting mixed with the comedic genius of Lucille Ball.
Airing on the night of April 16, 1956, "Lucy's Italian Movie" was part of a string of fifth-season episodes where the Ricardo's and the Mertz's trek across Europe from London to Paris to Monte Carlo.  It was a formula that proved popular in the ratings with many middle-class viewers who were experiencing an unprecedented wave of post-war prosperity which allowed them to travel abroad for the first time in their lives.
Following their stay in Florence, the two couples head south to Rome where Lucy is discovered by an Italian movie producer who wants to cast her as an American tourist in his next motion picture titled Bitter Grapes.  Mistakenly thinking her role is that of a grape stomper, she decides to learn the ropes by rolling up her pant legs at a vineyard in Turo.  But while in the vat with another stomper, a back and forth brawl ensues causing the audience to laugh uncontrollably throughout the entire ordeal.
Looking back, it's almost hard to believe that this riotous scene that has stayed in our collective memories for over five decades was never in the original script. According to writer and producer Jess Oppenheimer, "I can't remember exactly when or how it was added.  It might have been that they called us down to the set because they felt it needed more … or they might have just improvised on their own."
In preparation for this ad hoc moment, real grapes were brought in from a local California vineyard.  Remembering what it was like to be in the vat for the first time filled with fruit, Ball described it as "stepping on eyeballs.  We started stomping on the grapes, and I made a dance out of it, and then I slipped."  And for the foil, Lucy's husband/producer Desi Arnaz found an actual grape stomper when most wineries were mechanized.  Teresa Tirelli had never acted before and spoke very little English, requiring a translator to be on set to help guide her through the scene.  However, with much of the instructions being lost in translation, what transpired between the two women, unknown to viewers at the time was mostly a legitimate fight.
According to author Bart Andrews, Ball had wanted the scene to look as real as possible—and that's exactly what she got:
"Since we hadn't worked with the grapes in the vat during rehearsals, I had no idea what I was in store for.  Once the fight started, the lady was bent on drowning me.  At one point, she literally held my head under water, and I had to fight to get my breath back.  A lot of that was edited out of the final print.  Looking back, of course, I'm glad it happened that way because the scene was so good."
When Ball accidentally hit Tirelli during one take, she responded back with full force as a method actor.  "Down I went, with Teresa on top of me … She just held me down, hitting me.  I thought she was trying to kill me.  I had grapes up my nose, up my ears."
Airing a month after filming, the episode became so famous that many viewers who watched it thought that was how wine was made in the present despite the industry's numerous technological advances by that time. "They [I Love Lucy] set back the vision of the Italian wine industry 100 years," wrote author Thomas Pellechia in describing the impact of that one particular episode.  And in 2015, the fact that people still talk about it it is a testament to the comedic genius of Lucille Ball who risked her well-being that day in order to create some television magic.
Sources:
Adir, Karen. The Great Clowns of American Television. Jefferson: McFarland & Company, Inc., 1988.
Kanfer, Stefan. Ball of Fire: The Tumultuous Life and Comic Art of Lucille Ball. New York: Knopf Doubleday Publishing Group, 2007.
Oppenheimer, Jess and Oppenheimer, Gregg.  Laughs, Luck– and Lucy: How I Came to Create the Most Popular Sitcom of All Time. Syracuse: Syracuse University Press, 1996.
Pellechia, Thomas. The Complete Idiot's Guide to Starting and Running a Winery. New York: Penguin Group, 2008.
Scott, Michelle. Corked by Cabernet. New York: Penguin Group, 2009.
---
You might also like:

Loading ...