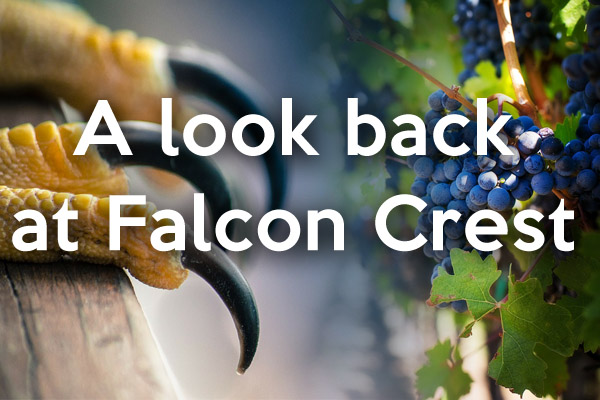 By Joseph Temple
If you enjoyed watching prime-time soap operas as much as you loved drinking wine back in the 1980s, then Friday night was definitely your night!  That's because right after J.R. Ewing's scheming on CBS, viewers could uncork their favorite bottle, sit back and be transported to Tuscany Valley (i.e. Napa Valley) where a world of sex, blackmail and deceit would unfold at the Falcon Crest Winery.
A Top 20 show for several seasons, fans couldn't get enough of the constant infighting between the Channing's and Gioberti's, two related families battling for control of their Northern California vino-empire.  Dubbed "Dallas with grapes" by TV critics, the picturesque scenery of a Victorian era hilltop mansion surrounded by palm trees and bountiful vineyards proved to be a great hook in attracting viewers.  Within a short time, Falcon Crest was able to create its own legion of devout followers who tuned in every week to watch Angela Channing, a ruthless matriarch fight tooth and nail against her nephew Chase Gioberti (and later Richard Channing, the illegitimate son of both families) for power over the winery and their related businesses.
In reality, the stunning home that people saw in the opening credits was Spring Mountain Vineyard, purchased by vintner Mike Robbins in the 1970s.  The surrounding area, near St. Helena could trace its commercial winemaking roots back to the late 19th century when Charles Lemme and the Beringers planted the first vines. More than a hundred years later, the region has gone on to be a recognized American Viticultural Area (AVA) and a keystone of the world famous Napa Valley.   And with the Judgment of Paris shocking the wine world in 1976, there probably wasn't a better backdrop than Spring Mountain for a salacious soap that quickly gained a worldwide audience.
Although the ownership has since changed hands and its new proprietors are quick to downplay any connection to the show, there is no doubt that during this soap opera's heyday, Spring Mountain was one of the hottest pieces of real estate north of San Francisco.  Author James Conaway in his book Napa: The Story of an American Eden writes,
"Sometimes Robbins had trouble getting into his own driveway.  He put signs saying the house and some of the grounds were off limits, but the tourists wandered around anyway, looking at his olive trees and at the pool beyond the box hedges, peering through the windows."
Cashing in on the show's popularity, Robbins eventually introduced a separate label named after the program, which tourists eager to bring home a souvenir bought in droves.  However, when the show ended in the spring of 1990, all of this hyper commercialism would leave a bad taste in the palate of Robbins, who decided to sell his estate two years later.
But almost twenty-five years after the show's cancellation, there is no escaping the enormous footprints left by Jane Wyman, Robert Foxworth and the rest of this all-star cast.  "I've been trying to figure out why this looks so familiar," said one visitor to author Rick Kushman during his tour of Spring Mountain Vineyard for the book A Moveable Thirst: Tales and Tastes from a Season in Wine Country.
"Wasn't this where they made Falcon Crest?"
What are your thoughts on this great slice of 80s television nostalgia?  Did it help or hurt the wine industry in general?
---
You might also like:

Loading ...