Your scribe has a long time passion for the wonderful unique flavours of Summer fruits. This is the season for fresh blueberries, cherries, raspberries, strawberries, melons, apricots, peaches, plums, watermelon, and so many more. Look forward to our local produce of all of them in the marketplaces – as local fresh in your own region is always best. However, perhaps my favourite berry fruit is wild blackberries or brambles. They grow all over the place here in Vancouver and I enjoy the challenge of awaiting their key perfect ripeness and foraging among the thorns picking the best berries. They are delicious on their own or sprinkled on cereal, yogurt, or whatever. We freeze them on trays and store them in plastic bags as well for future use. Some may dislike the seeds but what an amazing flavour and yet so healthy! Feel they really shine best for a dessert and presently are enthralled with both our blackberry crisp and homemade blackberry ice cream – or just as a straight puree with no seeds. Suggest you get out there and harvest some edible wild berries from your own region. Please let us know what you are finding and using.
A tried and true recipe for an easy Blackberry Crisp that we are really enjoying presdently with our freshly picked wild blackberries follows:

BLACKBERRY CRISP
Prepare your topping:
1/2 Cup Walnuts (toasted) and chopped and/or Almonds (toasted)
1/2 Cup Flour
1/3 Cup Oats
1/3 Cup Dark Brown Sugar
1/3 Cup Butter
1/4 teaspoon Salt

Mix dry ingredients for your topping, cut in butter, and set aside.

Preheat Oven to 375F

In a large bowl mix about 4 Cups washed & dried blackberries with 2-3 peaches, peeled , pitted, and sliced. Toss with 1 Tablespoon flour & 1/2 Cup berry sugar. Spread fruit evenly into a baking dish & cover with your topping. Bake for 35-40 minutes until the crisp topping is golden brown & juices bubble up on the sides. Serve hot or cold.

Enjoy!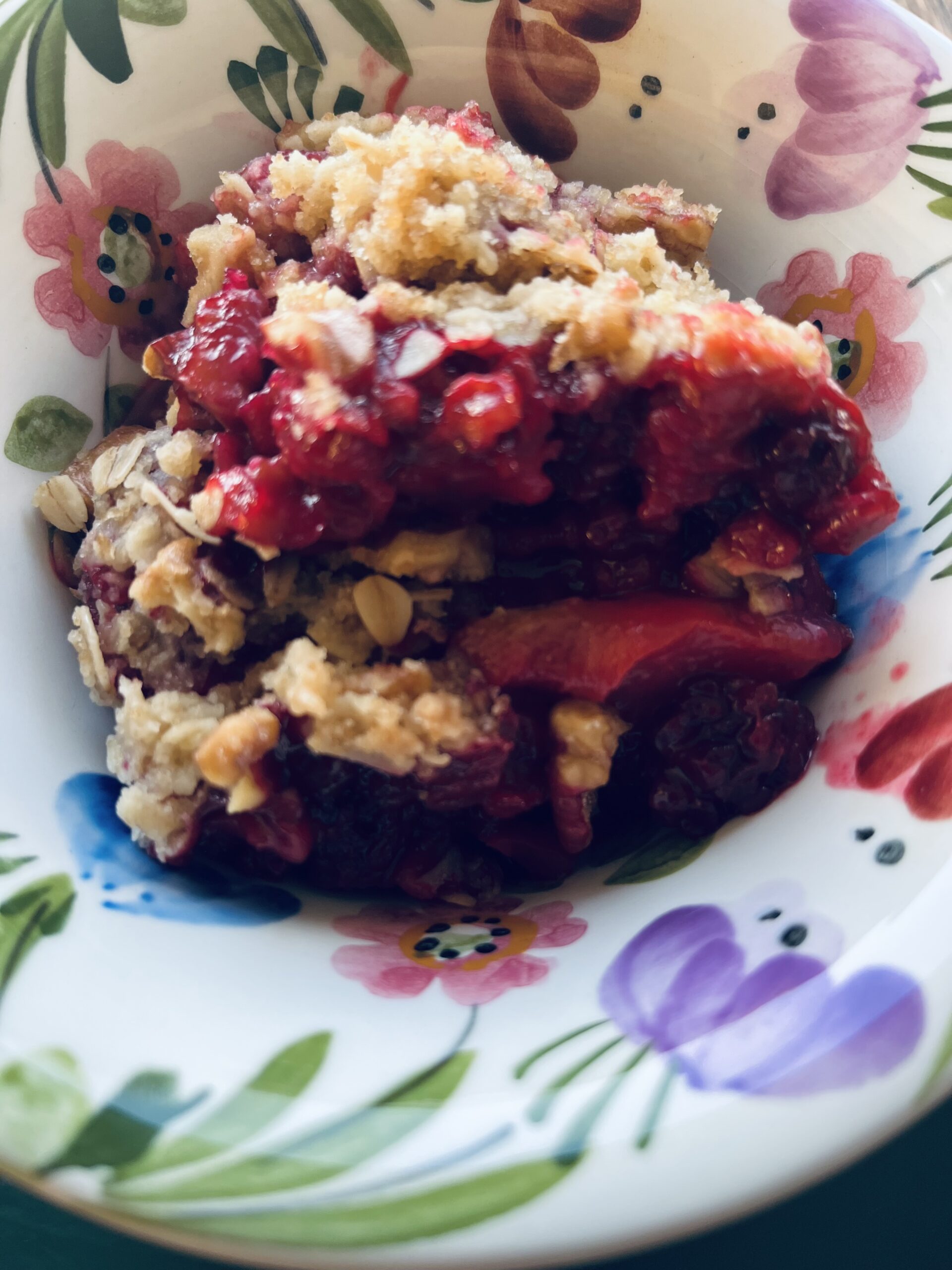 ---
You might also like: