Lots of recent articles expressing the growing concern about the effect of climate change around the world on established terroir vineyards. Certainly becoming easier to obtain ripe higher sugar grapes at harvest time but less so in finding the ideal acidity with other elements for perfect elegant balance in the resulting wine. Lots of measures being taken from grape selection, canopy management to earlier picking dates but the jury is still out on their ultimate success in retaining the recognized respected Burgundy style. No doubt about it though as Bob Dylan would sing "The Times They Are A-Changin'" for wine terroirs everywhere.

However, one of the positive results of climate change your scribe has noticed more recently is the big improvement at the lower end of white Burgundy. Easy to admire the continuing classy complexity (if not the escalating prices) of Meursault Perrieres or Chevalier-Montrachet but it has been harder to find interest in Bourgogne Blanc. Sure there were exceptions like the old well-tended vines of hallmark producer Coche-Dury Bourgogne Blanc and a few others. But generally at the bottom end you were getting wines that showed lighter thinner higher acidity not quite ripe fruit at higher yields often from younger vines and cooler sites. Not anymore. Many of those non-classified vineyards including outreaching Hautes Cotes de Beaune and even Hautes Cotes de Nuits are now ripening the Chardonnay fruit much better and producing wines with subtle apricot, pear, and peach notes rather than just high apple-citrus. Sure they don't have the body of a Puligny-Montrachet but they are rather delicious even early on and at fair value. Perfect for what you want from a current purchase. Also, don't forget the much improved Village AC wines instead of just restricting your buys to Premier Cru & Grand Cru selections.

The BCLDB, private wine stores, and Vancouver restaurants are becoming aware of this new trend and are importing accordingly. Tasted many available Village & Bourgogne wines during 2023 and am impressed most by the earlier harvested 2020 vintage whites (after larger crop 2018 & smaller crop 2019) tending to a fresher pure more classic style. Challenging small crop 2021, and surprising 2022 plus unique 2023 should also land some treasures.

One of my favs 2020 Chassagne-Montrachet by Philippe Colin 13 abv is stylish aged in larger oak (450 & 500L) with a lovely balancing acidity which will age well throughout this decade to enjoy with a special meal. As well the 2020 Chassagne-Montrachet Rouge Les Chenes by Philippe Colin grown in deeper clay soils shows bright sweet cherries (not over-ripe 13.5 abv) and structure to evolve nicely. Cult Wines have brought in Domaine Gros Frere (Lutte Raisonnee) Bourgogne Blanc Hautes Cotes de Nuits. Last week for dinner at ELISA STEAKHOUSE (another Toptable group excellent restaurant) the comprehensive wine list developed by Wine Director Franco Michienzi shone brightly including young appropriate white Burgundies – see excerpt attached. After our discussion that we desired a tighter almost Chablis-like mineral salinity type Bourgogne Blanc to go with their outstanding whole grilled Branzino with covolo nero (Tuscan black kale), Franco recommended 2020 Domaine Francois Mikulski at 13 abv that was so perfectly paired to the dish plus so delicious. Q.E.D.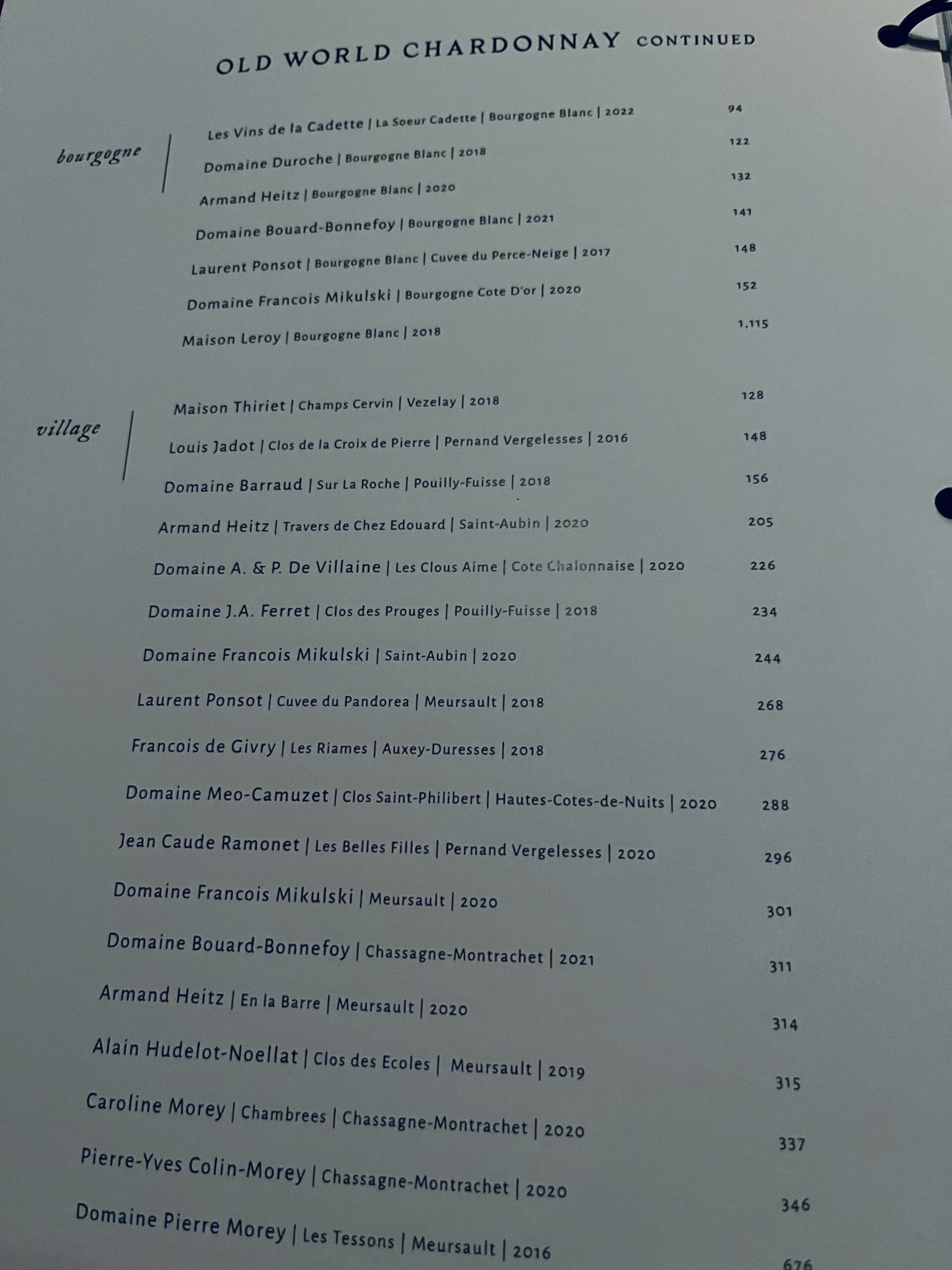 ---
You might also like: