Many educational wine seminars as is usual were held during #VIWF2023 including a California spotlight at Taco Fest Wine Mingler evening event, public seminar of Eureka in the Glass!, and a seminar An Era in the Making. This last Trade seminar was moderated by the insightful Elaine Chukan Brown ably assisted by Mark de Vere MW from Robert Mondavi Winery and Nicolas Paris MW Diretor of Wine & Spirits Education from E & J Gallo Winery – one of the real highlights of the week! 
The very worldly knowledgeable panel asked the question "Where is California wine now? How unique is it?" California is so diverse producing light fresh styles to full rich ones using many different grape varieties. Three maps illustrated the important influences of the cold Pacific Ocean and the tall mountain ranges among many factors on the grape vines development. Elaine made the emphatic point that California is now the 4th largest in the world by volume with an important global scale – like a Country – plus lots of capital behind it. They focused on 10 wines to help show where California wine is presently:
1.  NV GLORIA FERRER, SONOMA, BLANC DE BLANCS
Single variety of 100% chardonnay including Wente clone do well here in this cooler region ripening slowly to keep the fresh acidity. "How can I make this Sparkling more complex?" Long slow ferment provides texture (but not heavy) with admirable freshness of "Granny Smith apple & Asian pear"
2.  2020 DRY CREEK VINEYARD, DRY CREEK VALLEY SAUVIGNON BLANC
Surprised that they were showing 2 Sauvignons and no Chardonnay. We compared this one with 3 sauvignon varieties from a region of less heat but cooler breezy winds using 83% stainless & 17% barrel-fermented resulting in a more citrus style. Consumers expecting a more New Zealand like presentation but California different with warm days but cold air at night resulting in perfect grapes less herbaceous with good acidity
3.  2021 SPOTTSWOODE, NAPA VALLEY, SAUVIGNON BLANC
More classic and more Bordeaux-like with 96% SB & 4% Semillon (helps body) using French oak, Stainless Steel, Clay Amphora, and Ceramic vessels to advantage. Wineries like Mondavi are using battonage (lees stirring) for more texture resulting in a richer mouth feel for aging. Mark says "wineries are much more serious with Sauvignon Blanc recently" Elaine adds that "there still is good Chardonnay produced in California"
4.  2020 RAEN SONOMA COAST PINOT NOIR
Interesting to compare 2 Pinot Noir from Sonoma this one 100% whole cluster (and Walt 100% destemmed). Lighter colour (stems dilute) but open & enticing even though 2 years younger with delicate structured complexity. Interesting.
5.  2018 WALT SONOMA GAP'S CROWN PINOT NOIR 
East side of Petaluma Gap protected from Ocean winds. Deep ripe pure voluptuous pinot with more extraction showing. Impressive depth of fruit.
6.  2019 RIDGE, ALEXANDER VALLEY, GEYSERVILLE ZINFANDEL
Two Zinfandels to compare with this old vines field blend of 32 lots from 43 in total fermented has 71% Zin plus 19% Carignane + 7% Petite Sirah & 3 % Alicante Bouschet showing amazing Geyserville power even from a cooler year with wonderful elegance in American oak. 14.5 abv
7.  2019 BLACK STALLION, NAPA VALLEY, LIMITED RELEASE ZINFANDEL
Vineyard selection of mainly mountain smaller bunches of 100% Zin with 18 months in both American & French oak. Big more alcohol (15.5 abv) & some minerality noted.
8.  2017 PAHLMEYER, NAPA VALLEY MERLOT
Two sites with cooler Napa volcanic soil and another one 1000 feet elevation. Concentrated but not too extracted. We all agreed with Nicolas that "this 100% Merlot & 100% new oak showed better acid & tannins than usual for a Napa Merlot". Nicolas says "older vines and mountain fruit make a big difference" He believes "Merlot doesn't always get the best soils that usually go to Cabernet Sauvignon but they are pushing Pahlmeyer in this better direction".
9.  2018 CHAPPELLET, NAPA VALLEY CABERNET SAUVIGNON
Finished up with two excellent Cabernet Sauvignons! This is at a higher elevation on Pritchard Hill pioneered by Chappellet but now home to so many Cult wineries. All mountain fruit Estate Grown blending 85% CS with 10% Petit Verdot & 5% Malbec
10. 2010 ROBERT MONDAVI, NAPA VALLEY, TO KALON VINEYARD, RESERVE CABERNET SAUVIGNON
Lower elevation but the very historic To Kalon Vineyard. HIgher CS 97.5 with 2.5 PV with same 14.5 abv. Mark gave credit to Robert Mondavi for discovering this special terroir vineyard. They are protecting it with reduced carbon footprint plus gentler sustainable farming methods that includes buying the first 6 (numbered #1- 6) new Electric Tractors in September 2022. Elaine says other wineries have ordered some since the initial purchase by Robert Mondavi and we will be seeing a lot more Electric Tractors in California vineyards.
An inspiring Trade seminar on the latest developments in California wine. Very well done indeed! My congrats.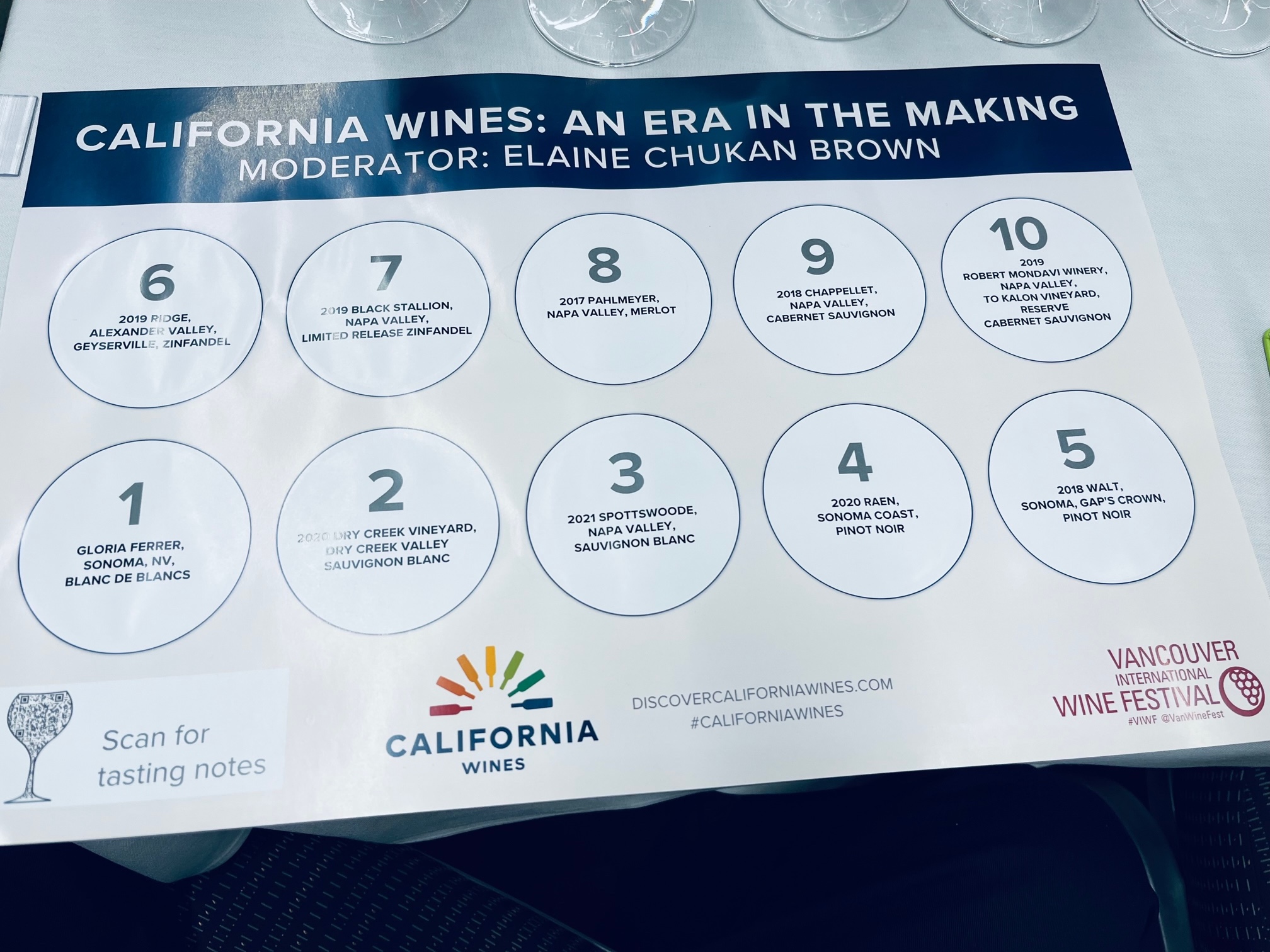 ---
You might also like: