Happy New Year! Hope the 2023 year provides lots of interesting wine and food experiences for all of you. Over the festive season your scribe was fortunate to try several wonderful mature wines from around the world including some choice bubbles (fresh bright rich complex 1990 La Grande Dame en magnum from Veuve Clicquot). One of the strongest impressions made was the solid performance of some older cabernet sauvignon variety wines from the unique terroir terra rossa red soils in Coonawarra Australia. Long time admirer of the Wynns Coonawarra Estate Grown Cabernet Sauvignon which has been featured on this Blog before on January 18, 2021 linked here. Tried many vintages of that famous Black Label and though some of the editions back in the early 1960s showed a tad too much volatile acidity since then (especially over the last 30+ years) they have proven to be one of the very best quality big production value ageable cabernets in the world. Just tasted again the classic 2013 (the 58th vintage) which continues to elegantly shine at only 13.5 abv showing young black currant plum notes with a touch of spicy mint – and of course that lovely opulent 1986 & famous herbal 1976 (Jimmy Watson Trophy winner) surprisingly still so drinkable.

Paired this time with the 2013 Wynns was the 1977 Laira Coonawarra Cabernet Sauvignon made & bottled by Brand (established in 1966 but with old vines already planted and before the sale to McWilliams). This my last bottle was in hopeful anticipation being the best young cabernet your scribe tasted during his visit to Australia in 1980 for the IWFS World Convention. Extensive write-up on this Convention in my Monograph "An Appreciation Of The Age Of Wine" where some older Grange Bin 95 treasures of 1971 & that Decanter Living Legend 1955 were served. Laira is named after a ship shown on the front label by original owner sea captain Stentiford from the 1890s which was a popular wine on release for the 1977 winning Gold Medals in Brisbane & Melbourne shows. Tasted spectacularly in 1980 though James Halliday in his book "Wines & Wineries of South Australia" (1981) states: "Putting recurrent question of volatility to one side, I believe that Eric Brand consistently produces the greatest – certainly the most distinctive and full-flavoured – Coonawarra reds. It may be that very edge of volatility which lifts Brand's wines out of the ruck, although their colour is usually stronger and structure better than other Coonawarra reds." Halliday goes on to write that this $4.50 cabernet sauvignon 1977 is " Deep-coloured, intensely flavoured with complex fruit structure augmented by new wood. The 1976, 1977, and 1978 wines were absolutely superb."

This 1977 vintage of Laira has been admired over the last decade in Cellar Tracker with high scores in the 90s but all reviewers complaining about the fragile corks. Our bottle did have a very small cork but came out intact with my Durand even after 45 years. The wine was still a dark red mature colour but wonderfully smooth displaying complexity with elegance, finesse and delicacy. Doesn't disappoint with volatility or lack of fruit but is very mature. Of course much less bold fruit than the 36 years younger Wynns 2013 but a lovely endorsement for the longevity of Coonawarra Cabernet Sauvignon. Recommend buying a few bottles of more recent Coonawarra vintages and putting them away – but maybe for only 10-20 years rather than 45.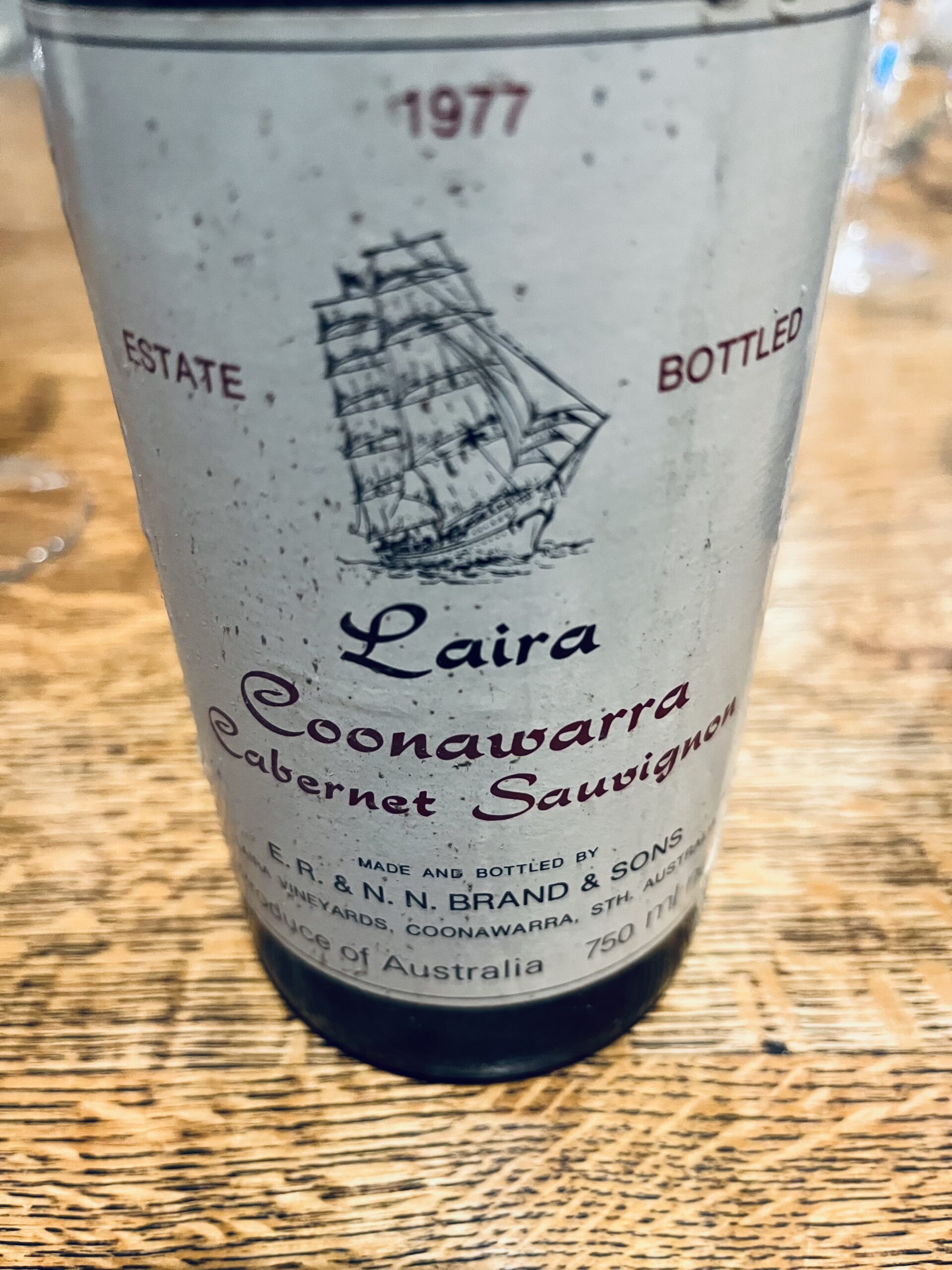 ---
You might also like: