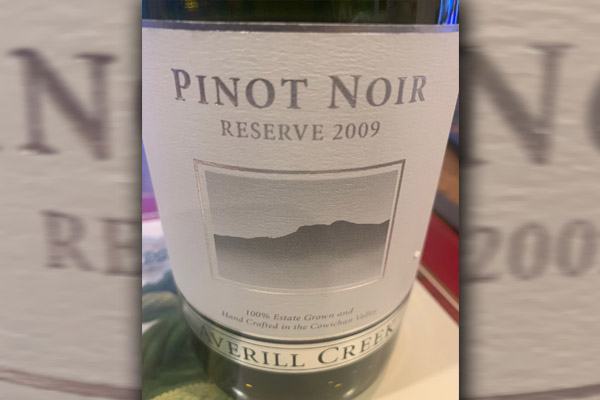 Canada's wine profile is finally reaching world credibility. Although Icewine (first produced in 1973 by Hainle in BC and later in Ontario) has been successful for a while it is really only in the last couple of decades that high-quality table wines have blossomed. Even so the pinot noir variety was one of the slowest to show developing progress.
Looking back at the results of the Canadian Wine Awards confirms this observation:
2005 (5th Annual CWA): 43 entries of Pinot Noir 16 Medals but no Gold. Two Silvers 2003 Coyote's Run Estate Reserve ($36 Ont.) & 2003 Mount Boucherie Summit Reserve ($16.90 BC).
2006: 44 entries of Pinot Noir with 1 Gold to 2004 Coyote's Run Black Paw Vineyard ($36) but 7 Silver all from BC led by CedarCreek & Quails' Gate with 2 each and Mission Hill.
2007: 41 entries with 16 medals, no Golds but 9 Silver 7 BC led by highest scoring CedarCreek Platinum Reserve Block Four ($55) – still producing great wine from this block today – and 2 2005s Niagara Peninsula by Flat Rock Cellars Gravity & Hidden Bench Estate Beamsville Bench. Your scribe, a long time judge for CWA noted "Pinot
Noir is indeed the heartbreak grape for both producers and judges. Maybe they are just too young and closed up at the time of year we taste, but Canada needs to keep on with this variety; with older vines, we will see some big, heralded winners." DJ Kearney observed: "We are still trying to set our pinot noir rudder. There are charming wines and there are clearly over-oaked wines."
2008: 54 entries, 20 medals,16 from BC led by 3 Golds of Mount Boucherie, Quails' Gate, & Church & State.
2009: 62 entries with 29 medals and finally starting to show more style and class.
2010: 62 entries 44 medals with 4 Gold & 15 Silver (17/19 from BC).
2011: 82 entries 32 medals with 2008 Howling Bluff Pinot Noir Naramata declared Red Wine of the Year!
Certainly there were a few wineries during this period that were making terrific pinot noir (and who didn't usually enter wine competitions) including pioneer Blue Mountain posted here October 22, 2018 plus Foxtrot Vineyards here November 16, 2015 and February 18, 2019.
As a long time follower of Averill Creek in the Cowichan Valley on Vancouver Island it was with anticipation on March 11, 2022 to taste again their remarkable 2009 Reserve from 100% Estate grown pinot noir fruit. A south facing slope of Mount Prevost was planted with 4 different clones of pinot noir from 2002. Big admirer of owner Andy Johnston's dedication and drive with low yield cropping special terroir to produce eventually Canada's best pinot noir. Admired his earlier submissions to CWA without even receiving a medal. Even though they were rather light bodied they showed potential for purity, balance, and elegance and your scribe encouraged Andy by advising they were on the right track and to persevere with this difficult variety. They did and later were awarded CWA Gold for this 2009 Reserve. For more details on an interesting well written up Averill Creek vertical 2005-2012 check out the #24 one on bcpinotnoir.com. They also have been helped considerably recently for complexity and structure by experience, older vines, and fortunate climate change. In fact their 2018 Barrel 24 (15 year old vines) was made available only to CRU Society members at $120.20/bottle and is already sold out. What a statement of support that makes!
Lots of other top Pinot Noir producers in Canada are presently worth investigating. Be sure to check out among many possible choices the fantastic consistency and finesse of Meyer Family Vineyards, Martin's Lane, 1 Mill Road, Tawse, and Le Clos Jordanne. Prince Edward County in Ontario is attracting deserved attention led by Closson Chase and Rosehall Run.
As for the 2009 Reserve of Averill Creek it was delicious. Younger vines with 15 months French oak now integrated into a very smooth mature soft savoury spicy cherries and tobacco. Wonderful still fresh pairing for tomato lasagna with homemade pork sausages. Back label notes "Enjoy now or cellar for up to 10 years." On a lovely plateau now but they underestimated the staying power. No rush. Well done indeed for a first Reserve. Future for Averill Creek is bright indeed. Congrats.
---
You might also like: