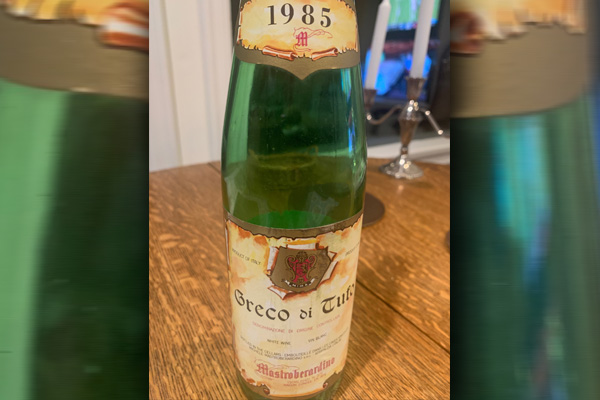 Long time follower of the wines of Italy. Back in my early learning days of the seventies focused mainly on their reds with so many excellent value wines flying under the radar. Tried many whites but often found them rather soft, simple, early oxidizing, and generally disappointing. My earliest favs were the lively Pieropan Soave Classico from their own Veneto vineyards of Garganega & Trebbiano and first vintages (from 1975 on) of Jermann "Dreams" Vintage Tunina from Friuli-Venezia Giulia. In the late 70s & early 80s visited each April at Vinitaly in Verona and was exposed to so many "new" Italian wines. It was around 1979 that Tony Terlato first imported into the USA that
popular Pinot Grigio from Santa Margherita. By the mid eighties many beacons of hope were shining brightly including among others the first vintage 1985 of Cervaro Della Sala Chardonnay (with that fresh touch of Grechetto) from Umbria by Antinori and balanced 1985s from Mastroberardino in Campania of Fiano di Avellino & Greco di Tufo. Also check out Falanghina from Campania. Today there are a plethora of white wine choices across the 20 regions of Italy all so well made from designated vineyards using state of the art winemaking. Enthusiast about so many from the Northeast those lovely crisp wines from Alto Adige (Alois Lageder), Friuli-Venezia Giulia (try versatile Friulano), and Veneto (Soave), Northwest for solid Roero Arneis DOCG and Cortese, Passerina and Verdicchio from the Marche, to the South for Sicily with Carricante, Catarratto, & my fav structured Grillo, to
another Island for Vermentino di Sardegna. A wealth of value priced treasures to explore.
Nostalgic home dinner on January 17, 2022 full of great memories as we enjoyed our last bottle of 1985 Greco Di Tufo from Mastroberardino beautifully paired with a fresh black cod plus a farro vegetarian dish. Worked magically. We were delighted with our earlier 11 bottles (purchased at BCLDB in May 1989 at $8.55/bottle) but kept this one an extra long time to see the longer aging potential of Greco. Remember learning so much from my wonderful late friend Antonio Mastroberardino (passed away in 2014 at age 86) a true wine visionary. Antonio dined at our home in Vancouver and kindly gifted to me his outstanding legendary red Taurasi Riservas of 1968 – a wow Castelfranci. He stated that aromatic Fiano di Avellino usually had the higher acidity and balance for aging longer. However, this Greco (a clone brought from Greece in 1st century BC) is from Tufo (volcanic rock subsoil) DOCG and has aged beautifully. Look at the still young colour in the glass at nearly 37 years of age. Some minerality there but that defining "cheesy" character (like Parmigiano Reggiano) with rich smooth complex flavours. What a statement it made! Probably my best bottle of it yet. Amazing.
Lots of reasons – including ageability – to be excited presently about the quality status of Italian white wines. Recommend you try some and experiment with cellaring a few.
---
You might also like: