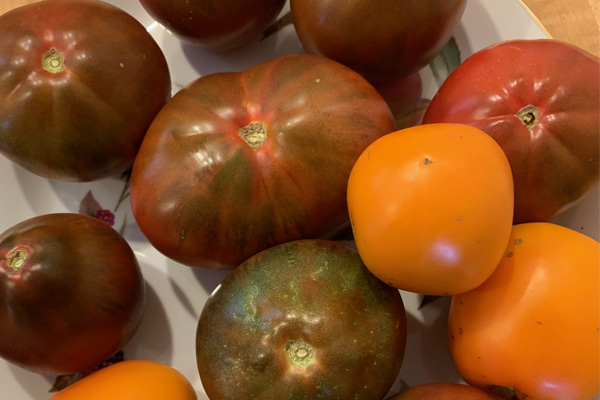 On reflection during these continuing most difficult Covid times looking back positively on some of my food joys of Summer 2021. SEASONAL. What a glorious word and worthy concept – "depending on, or varying with the season". Sustainable, organic, biodynamic, and all the other current buzz words are important too but don't forget to take advantage of what is fresh and currently available in your marketplace by the seasons. Tried to pick a Top 5 out of so many foods that we enjoyed this Summer and early Fall. Here's a brief overview:
5. LETTUCES: Growing your own is fun and productive. Fav was Arugula.
4. VEGETABLES: So many enjoyed but favs were thin green beans, red beets, fennel, and sweet corn on the cob freshly picked!
3. FRUITS: Most Summer fruits are a special treat. Picking and consuming wild blackberries topped our list but was closely followed by blueberries, cherries, and succulent juicy peaches. Local Strawberries are our usual chart topper but seemed less successful this year under the more trying weather conditions.
2. SEAFOOD: Cherish the wild salmon catch every year with Chinook, Sockeye and Coho slightly more available than lately. Halibut and Brill (or Petrale) Sole are wonderful.
1. HEIRLOOM TOMATOES: Clear winner for us. Longer season this year with the last crop of smaller sizes just purchased yesterday at the Sunday Kits Farmer's Market. Still love those deep red delicious Black Krim ones. Wrote here more than 7 years ago now in September 2014 about these and other varieties. Are tomatoes really a fruit? Yes apparently so because they contain seeds and grow from the flower of the tomato plant. Almost sweet and juicy enough to qualify as well. However your scribe continues to use them as a vegetable for a starter course salad. Perfect on their own but even better with a complement of ripe avocado, best burrata, green Castelvetrano olives and high quality fresh Extra Virgin Olive Oil. So good.
Excited to turn the page to later Fall produce and already buying and enjoying so many different seasonal goodies. The highlights are of course studying the different fresh apples (reported to be 7500 varieties around the world) from sweeter Fuji to quite tart sour Granny Smith. Always so many to taste from best early on Ambrosia to
better lasting Honeycrisp. Another joy is the many types of Winter Squash (there are Summer Squashes too) with our fav still being bell shaped Butternut (pale outside and orange inside not to be confused
with dark green outer skin Buttercup). Explore.
What were some of the seasonal Summer foods near your home that brought you some culinary joy in 2021?
---
You might also like: