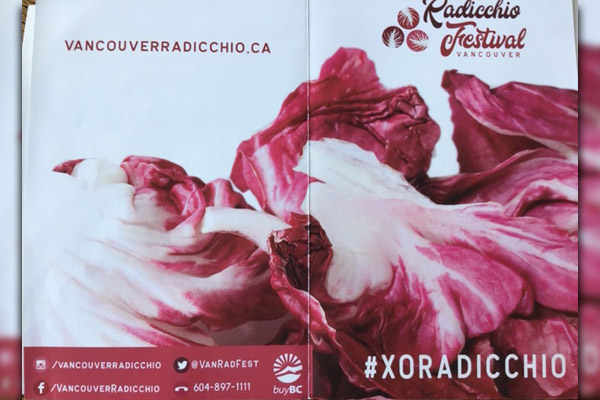 Your scribe's update trip to Italy last month reinforced my opinion that Europe appreciates using more bitter greens for both taste reasons and health benefits compared to North America. Various chicories (dandelion plant family) are utilized there in many ways throughout a meal to great culinary advantage. In America the use seems much more limited to a salad course sometimes including radicchio for colour or some curly endive thrown in. Certainly those bitter flavours take some getting used to compared to our often "sugar" dependent taste preferences. Sort of like learning to enjoy a classic campari & soda as an aperitif or the increasing use of Aperol by the cocktail crowd. However this may be changing as there is a trend developing and it is encouraging to see farms now growing a wider range of these varieties with suppliers trying to make them more available for the consumer. This was brought home at several recent events including "Every Chef Needs A Farmer" written up here previously. Obtained impressive description cards to get to know several of these chicory varieties better plus a recipe on the back of each for a suggested use. Here are 6 interesting ones you might consider to persue further:
1. Chioggia Radicchio – Apple, Fennel & Radicchio Salad
2. Castelfranco Radicchio – Winter Radicchio & Citrus Salad
3. Sugarloaf Radicchio – Sugarloaf Pasta with Lemon & Almonds
4. Punterelle – Punterelle Salad with Anchovy
5. Escarole – Italian Wedding Soup
6. Pink Rosa Del Veneto – Rosa Del Veneto Winter Citrus Salad
You might want to buy some seeds and try growing some of these exciting greens yourself. Should be worth it!
Do you already enjoy a specific chicory bitter green you can recommend with a recipe?


center
---
You might also like: