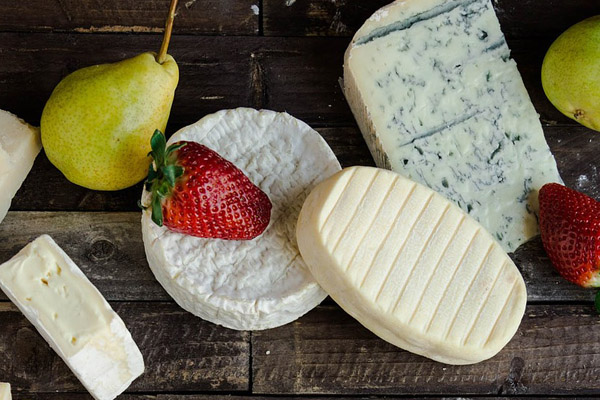 Cheese gets more like wine everyday with the explosion of new regions producing it and the many AOC & DOP ("Protected Designation of Origin") designations for those such as Parmigiano-Reggiano. Seems to be a local cheese to try in almost every farming district you visit and so many shops are specialized in the sale of a wide variety of product. There are also continuing debates on pasteurized vs. unpasteurized cheeses and quotas that we won't get into here.
We are lucky to have Les Amis du Fromage (www.buycheese.com) Vancouver's busiest and best cheese shop – there are actually two. Long time IWFS member Alice Spurrell with her daughter Allison and their competent crew do a great job. I asked Allison to guest host this week with a few of her "hot" cheeses and tips on storage as follows:
"Top  cheeses:
For our store, we tend to sell less in the way of trendy cheeses as we do traditional cheeses. Our "cheese friends" seem to like to know the history of the cheese and find out a little about where it comes from. It's just like learning about geography through a love of wine, the same applies to cheese. These are the really big sellers for us in July 2013:
·        Secret de Campostelle – this is one you would appreciate, delicious smooth aged sheep's milk cheese from the Pyrenees. The taste is a little earthier than Ostari but it is a little less aged that the AOC Ossau Iraty.
·        Caccio di Bosca – this is an aged pecorino (sheep's milk) from Tuscany made by Il Fortetto. This cheese is aged for a year and is studded with truffles. How can you go wrong!
·        Epoisses – this is one of my favourites, a classic washed rind cheese from Burgundy. Although this isn't a cheese for everyone due to its strong smell and taste, it seem to be flying out of the store these days.
·        Abbaye de Tamie – is a monastery made cheese from the Savoie in France. This is a typical monastic cheese in style – washed rind, semi firm texture, but the similarities end there. This is  a cheese that I would travel miles for, it has a fabulous earthy taste with a finish of hazelnuts and barnyard! Intense but amazing, and it has been made by the monks since the 11th century
·        Honeybee Goa Gouda – I know it sounds a little odd, but there is something about the touch of honey added to the curd of this cheese, that gives it a really memorable taste. The cheese itself is rich and caramelly from natural aging and the honey is just one more interesting layer.
·        Extra Aged Mimolette – this poor cheese goes though hardship in the US and Canada every few years. Apparently Agriculture and import agents aren't as keen as we are about those little friends living on the outside of this naturally crusted cheese from the north of France. The bright orange colour and the rich tasting flavour has a group of fans though so they're  always willing to wait for it to come back in stock
·        Bra Duro – this excellent  DOP designated raw cows' milk cheese from the area around Bra is a little grassy, earthy with a great tangy finish. Nice with a glass of Prosecco for a summer evening.
·        Extra Mature Farmhouse Cheddar – from England. This is a stock item for many of our customers and we were out of stock for almost 4 months! Now that it's back in stock everyone is buying it up. This is a great classic British cheddar, tangy, creamy and a little rich. Great with a nice glass of port in the winter or for a picnic lunch during the  great summer weather we're having.
·        French Butter – does that count as cheese? I think it should J  We have been able to get French butter since January this year it has been a very happy addition to my cheese fridge. It has nice company there with the other Farmstead butters as well as all the French Camembert. Salted, unsalted demi sel – it's all delicious!"
Allison you left out 3 of my top favs: Comte – at all ages, Parmigiano-Reggiano, and triple cream Brillat Savarin!
"Storage Tips – The way I keep cheese in my fridge in the store is in Cling film. I know some people don't love that option but if you' re trying to wrap a huge piece of cheese it is practical. As long as you continue to re-wrap your cheese in fresh saran wrap every time you open it, it should last for weeks in your fridge if it is a firm cheese. Soft cheese last less well once they are open, so that's why it is always a better idea to buy just what you need for the week and shop more often. Everything tastes better when it hasn't been hanging around in your fridge. Your fridge will probably smell better too.
There are quite a few options for storing cheese if you would prefer to not use plastic wrap. Formaticum is a great US company that makes really easy to use cheese paper sheets and bags. You can also use parchment paper although it won't breath the same as the cheese paper, and some people feel that tin foil is a good option. I'm not sure about that myself, as I'm not sure I like the way tin foil breaks down over time. Basically you want to make sure you put cheese away free of other food crumbs so you don't speed the growth of mold. Our fridges hold many diverse foods so if you have vegetables in your fridge and they may still have dirt attached to the roots, that dirt can transfer to the cheese if it's not wrapped properly. If you don't want to bother with rewrapping the cheese every time you open it, it is a good idea to keep it in a sealable container or zip lock bag."
Wine and Cheese Pairings is another whole topic. However, you might check out the helpful information at www.winefetch.com/wine-cheese-pairings site that lets you search by either the wine or the cheese you are serving.
Please weigh in about cheeses you are enjoying presently and any other tips you have for us on this broad food and wine matching topic.